By Gail Wood
John Ladenburg's proposal to build a public golf course could have been viewed as a pipe dream.  Now that wild idea is getting more national attention every day as we inch closer to Chambers Bay Golf Course serving as the site of the 2015 U.S. Open.
Ladenburg, the former Pierce County Executive, spent all his political clout on his ambitious dream of building a public golf course on an old, deserted sand mine overlooking the Puget Sound in University Place. The cost of building the golf course – $24 million – is about to result in a huge, mega-lotto return when the four-day tournament begins on June 18.
Based on the economic impact from other cities that have hosted the U.S. Open, it's estimated that the professional golf tournament will bring in $140 million.
"We know we have hotels and restaurants that will be full," said Pat McCarthy, who followed Ladenburg as the Pierce County Executive. "They are already booked for all intents and purposes. The State of Washington will reap another $8 million."
The impact is primarily tourism dollars – money spent on hotel stays, restaurant meals and retail sales tax from folks buying tournament shirts, caps and memorabilia. McCarthy is convinced that this isn't a one-and-done opportunity for attracting tourism dollars. By hosting the U.S. Open, Chambers Bay and the greater Tacoma area becomes a destination.
"I think we'll have that afterglow as well," McCarthy said. "We'll keep going in this direction and it will help."
Hosting the U.S. Open is like investing in advertising. As television coverage shows professional golfers Phil Mickelson, Rory McIlroy and Martin Kaymer playing a picturesque course set on Puget Sound to viewers worldwide, they will be enticed to visit. McCarthy compared that exposure to Denver Bronco quarterback Payton Manning shouting out "Omaha" as he calls signals.
"They were saying, at the time, in Omaha that they couldn't have spent enough money to get that publicity," McCarthy said. "In a way, I liken that to this (tournament). There's no way that economic development people in the State of Washington could ever get this kind of exposure."
There are a lot of unknowns for a community hosting its first major PGA event. One of the biggest needs and biggest questions is who will help. Who will volunteer their time to make this happen? Tom O'Toole, Jr. the president of the United States Golf Association (USGA), got his answer quickly.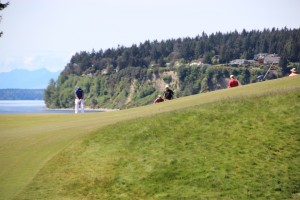 "This community is truly incredible," O'Toole said Monday at the U.S. Open media day. "We were humbled by the support you've given us."
Three days after Chambers Bay was announced as the site of the U.S. Open, more than 5,000 people filled out applications to volunteer. Tickets sales for this championship sold out in an unprecedented amount of time. There have been 32,000 tickets sold for each day of the four-round tournament.
"Over the past 18 months you have asked how you can help and have willingly lent your time and energy to produce this championship I know all of us can be proud of," O'Toole said.
From the start, Ladenburg's proposal to build a golf course faced opposition from people who said it was a ridiculous plan. Build a park instead, they suggested. But Ladenburg did both, building a golf course and miles of walking trails.
Without Ladenburg's direction and passion, Chambers Bay would not have been built.
"I want to thank the people who helped make this vision come true," USGA Executive Director Mike Davis said. "And it starts with John Ladenburg. Without your vision, we would never be here and this golf course wouldn't be here. And it was fun to work with you and watch you operate. You had naysayers along the way and you made it happen. So well done, my friend."
From the start, the goal was not to just build a golf course with a spectacular view, but to build a course that was world class. That mission is accomplished.
"This is so much more than a golf course," Davis said. "It's one of the great golf courses I might add in the United States, or for that matter the world.  This is much more."
Davis talked about what Chambers Bay used to be – a pile of sand and simply an "environmental negative." Now it's been turned it into a park and "this great golf course" that can host PGA national championships.
"When we're all gone, they're going to look back a hundred years from now and say, wow, what a vision somebody had to make this public," Davis said. "It's just terrific."
Thanks in large part to Ladenburg's vision, Chambers Bay is the site of the first U.S. Open ever to be played in the Pacific Northwest. The championship that began 115 years ago will leave a lasting legacy on the greater Puget Sound area.
"Let me say this," McCarthy added. "We want this to be the gift that keeps on giving."
"We're ecstatic about having our entire region, the entire Puget Sound, being engaged in this fabulous event and it will be down here in Pierce County," McCarthy summarized when talking about the impact. "We look forward to rolling out the red carpet for all of our folks and our brothers and sisters up north."