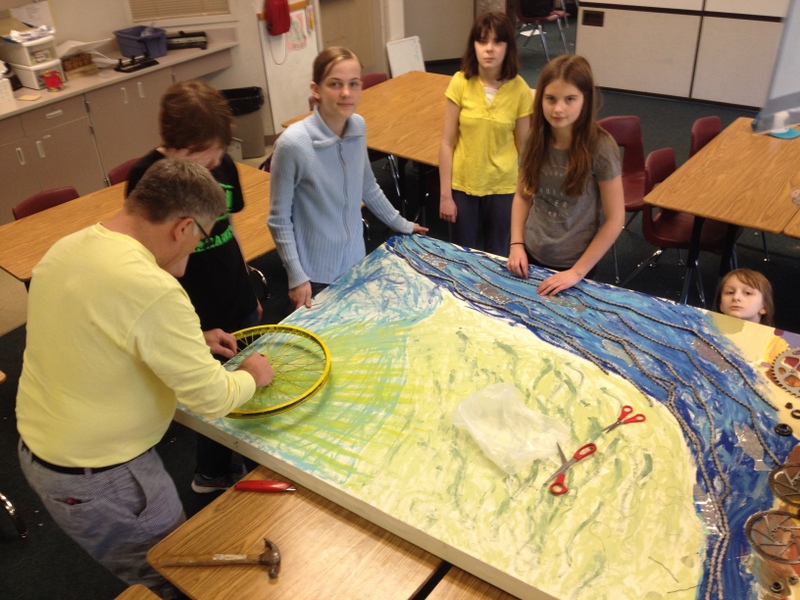 Submitted by Lara Lathrop Anderson for Team Oly Rides
Fighting Cancer took on a whole new meaning for me when I was diagnosed with early stage breast cancer last summer. The disease was picked up in a routine mammogram that my new doctor ordered for me. My diagnosis came as a total shock. I am a healthy and active woman with no history of breast cancer in my family. When I got the results, it was surreal. I felt like I was watching a movie of my life in slow motion.
People who know me would say I am a person of action and accepting the diagnosis came quickly. I wanted to start fighting cancer as soon as possible At the age of 42, I had a lumpectomy and 6 weeks of radiation to combat the disease. As of today, I am cancer free but I am committed to help in the fight against cancer in any way I can. I tell every woman I know to go and get a mammogram. Because of my early diagnosis and because of invaluable research done by Fred Hutchinson Cancer Research Center, we were able to stop it in its tracks.
Obliteride is a bike ride held in Seattle where teams fundraise for Fred Hutch Cancer Research. The rides range from 10 to 150 miles in length. Each rider is responsible for fundraising a minimum of $500 each.
Team Oly is made up of  6 Olympians, who will be riding in Obliteride August 9 to help cure cancer faster. Our riders include myself, Dana Pethia, Kim Peterson, Megan Mikkelsen, Scott Anderson and Mark Matlock all of whom have been touched by cancer in their own lives.  Nobody is immune to cancer and we see our loved ones and ourselves being diagnosed regularly. Team Oly is going to do its best to raise money and awareness for this amazing cause and have fun in the process.
Team Oly plans to receive donations from family friends, friends of friends, sponsoring businesses/organizations and fundraising events. Because cancer is a disease that has a far reach and touches most everyone's lives in some way,  Team Oly believe reaching its goal won't be difficult. They believe in their hometown and its ability to pull together and help out.
To donate to our Team Oly please click here.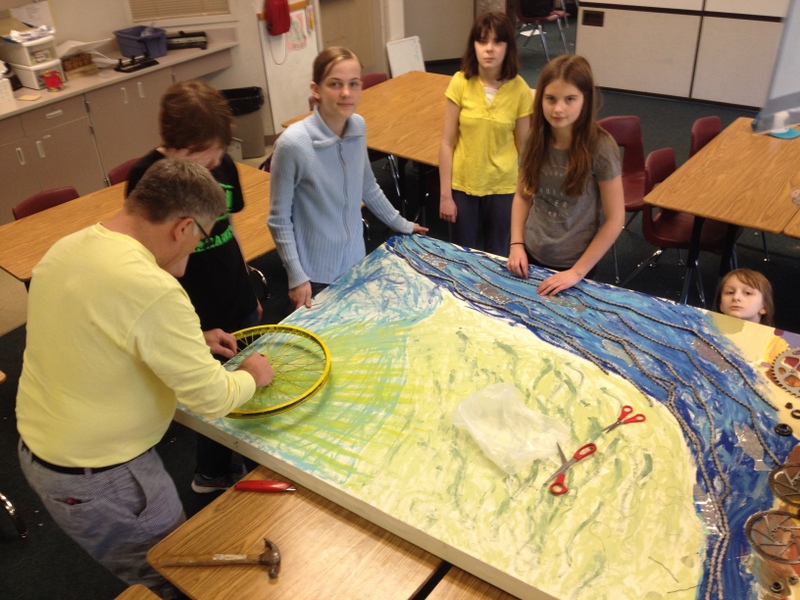 Arts Walk at Red Door Interiors – Art Inspired by the love of Bicycles
Team Oly will promote Obliteride by getting adults and kids to get creative with art projects inspired by the love of bicycles. Who doesn't have childhood memories of being on a bike, wind in your face and feeling free? With those memories in mind, Team Oly is asking friends to get creative. We have been collecting bicycle parts from friends and businesses like Old Town Bicycle. These bits and pieces of bikes will be used to execute these creations of sculpture, furniture, paintings, lamps, whatever. Art will be displayed  around Olympia at various businesses to promote Obliteride and we encourage people to bid on the art pieces at an auction event this summer.
We will be introducing a selection of art pieces at Red Door Interiors in downtown Olympia for Arts Walk, Friday April 24.
Lara and Scott's Son, Aidan Anderson attends the Marshall Middle School's Alternative Program Class. In his class, the students were given a box of bike parts, some tools, wire and a large canvas and told to create an art piece that represented their love of bikes. The group had a lot of great ideas but they couldn't get the subject matter away from the dreaded disease cancer. As a group they decided to create a piece inspired by a quote by Albert Einstein: "Life is like riding a bicycle to keep your balance you must keep moving." They felt that this quote relates to the act of fighting cancer or anything difficult in life. This piece as well as many more creations will be on display at Red Door for Arts Walk.