By Douglas Scott
Capitol State Forest is located just five miles from downtown Olympia.  I encourage you to take the short trek to explore one of the hidden natural gems of Thurston and Grays Harbor Counties. At 91,650 acres in size, Capitol State Forest is larger than 19 National Parks and offers a myriad of activities for all types of outdoor enthusiasts. Many who explore the region do so by car, motorcycle or ATV, but the Capitol State Forest is a popular destination for day hikers, mountain bikers and trail runners. With 61 miles of trails dedicated to hiking, biking and horse riding, as well as 82 miles dedicated for ATV and motorcycle use, the Capitol State Forest is awaiting your adventures.
Hikers interested in exploring Capitol State Forest have a few amazing options, including one of the more interesting areas in the entire state of Washington. Near Capitol State Forest, Mima Mounds has intrigued and confused those who explore the 2.75-mile trail that meanders around the large mounds of dirt. While not technically in the Capitol State Forest, Mima Mounds is a great hike before getting into the woods of the region. Mima Falls, located near the Evergreen Sportsmen's Club, is a short hike to a pretty waterfall right near Mima Mounds. Be aware that the sound of gunshots at the shooting range can interrupt your attempt at solitude along this small but pretty waterfall trail.
Mima Mounds and Mima Falls are great, short hikes, but the most popular trail in Capitol State Forest is the McLane Creek Trail near Black Lake. The main trail is just over one mile in length and weaves through forests, along creeks and next to beaver ponds. It is one of the most interesting nature walks  in the region, as well as home to returning salmon each fall. If you haven't been there, McLane Creek is a fantastic, popular, family-friendly and dog-friendly destination.
Second to McLane Creek in popularity is the trek up to the 2,659-foot Capitol Peak, which offers incredible views of the entire Pacific Northwest. Stunning panoramic sights await those who make the hike, giving dazzling glimpses of Mount Rainier, Mount Baker, Mount Adams, the Olympic Mountains, the Satsop Towers, Grays Harbor and the Pacific Ocean. With such a great view, the cellphone towers at the top of the peak can easily be ignored.
For mountain bikers, Capitol State Forest is an excellent local place to ride, offering great trails and excellent views. While there are miles of trail options to explore, the most popular — and arguably best — trail to ride is the Greenline Route starting at the Fall Creek trailhead. Rising to ridges with stunning views, and weaving through forests and logged-out areas, riders who enjoy fun terrain and great views will get a kick out of this trail. For added distance, riders can start at the Margaret McKenny Campground and ride to the Fall Creek trailhead. This route is a bit more difficult but is an excellent addition for those looking for an outstanding ride.
While hiking and biking are popular, the fastest growing use of trails and roads in Capitol State Forest appears to be trail running. Capitol State Forest is home to numerous official and unofficial trail races, giving runners the best trail runs in Thurston County.
"I love Rock Candy Mountain," Korey Konga, a local trail runner, explains. "For me it's great because it doesn't take long to get to from Olympia, and I can get a nine-ish mile run in with 2,000 feet of climbing. The views on the way up are pretty amazing on a clear day, as well."
Korey adds that Rock Candy Mountain and North Rim Trails are great for intermediate trail runners, while beginners will enjoy starting at the Margaret McKenny Campground where they can follow the McKenny trail out as far as they would like.
"I love the location of Capitol Forest. It's really convenient, but mostly I just love how gorgeous it is out there," Korey recounts. "I talk to a lot of people who have no idea how extensive the network of trails is in Capitol Forest, and it's right in our backyard! I've run the Capitol Peak MFA 34-miler twice, and they also put on a 50-miler out there. The possibilities are seemingly endless, and I love that."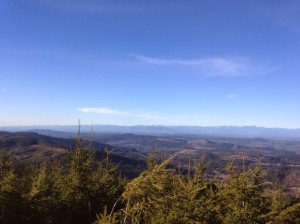 While Korey is a big fan of the region, he does issue an important and needed statement. "Capitol Forest is a beautiful area, but I would like to remind everyone to, like in any other wilderness area, be aware of your surroundings. People discharge firearms for target practice in certain areas, and there is wildlife out there. I recently had a bobcat jump out of some long grass and chase me. She may have had kittens nearby, but it was scary and it's good to remember to be alert and know what to do in different situations. Be aware of the weather, practice back country ethics, know how to interact with wildlife and always be prepared."
Whether you explore Capitol State Forest from your car, ATV, Motorcycle, horse, hiking boot or running shoe, one thing is for certain: Capitol State Forest is a fantastic place to get into nature and start reconnecting with our backyard. Miles of trails are waiting for you to discover, all within a few minutes from downtown Olympia.
For more information on the trail system of Capitol State Forest, please contact the Washington State Department of Natural Resources and download the trail map.
Follow the map below to get directions to seven destinations: