Editors Note: You have reached our 2015 Summer Camp article.  For current summer camp options, visit our 2017 summer camp story here.
By Kathryn Millhorn
"Long stormy spring-time, wet contentious April, winter chilling the very lap of May; but at length the season of summer does come," promised Thomas Carlyle. Our mild winter kept us busier than usual, without the snow to drive us indoors. But amidst all the gorgeous spring activity, don't forget to sign your kids up for summer camp.
No matter what their interest, organizations around the region have something to offer. Whether your goal is to learn a new skill, maintain old ones, or just keep them out from underfoot, you're sure to find something to meet any need. Not all listings are complete or open for registration at this time, but check back soon for up-to-the-minute options.
SPORTS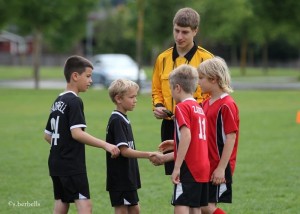 Alley Oop Gymnastics – Let the kids bounce off our walls instead of yours this summer! Kids have a blast jumping on trampolines and learning gymnastics for 8 hours, 5 days a week. Three camps are  offered: June 22-26, July 27-31, and August 17-21, with an early bird registration discount by May 15, 2015.
Seattle Sounders FC Summer Camp: These run all around Puget Sound but the Olympia camp in June 15-19 at Pioneer Park. All ages welcome.
Camp Speedy: Hosted by/at Evergreen State College, these include basketball, volleyball, soccer, and swimming for ages 8-15.
Black Hills Gymnastics: Summer camp details will be available any day but they traditionally offer half and full day options for ages 3+.
Olympia Area Rowing Junior Novice Rowing Camp: Teens ages 13 – 18 get a chance to learn to row with OAR this summer.  Three and six week sessions available starting June 22.  Try out what is often called "the ultimate team sport".
MUSIC
Musical Boost: Hosted by Play On Greater Olympia (POGO) this is a free orchestra/band day camp which will be held at Jefferson Middle School. Follow their Facebook link for specifics and dates.
STEM
Camp Invention: For grades 1-6, kids study marine science, video game design, and making a STEM-based kart to race through obstacle courses.
Girls Without Limits!: Camps and afterschool clubs teaching middle and high school girls the principles of STEM learning through computer programming, video editing, aviation, biology, and more.
Sylvan Learning: Robotics and coding camps for grades 2-8 where kids design, build, and create games and more.
Discoveries Summer Camp: Held at Olympia's NOVA School, kids grades 4-6 learn STEM through cooking, life science, art, illustration, physical science, computers, engineering, and exploration.
Young Women Without Limits:  The YWCA of Olympia has expanded their popular Girls Without Limits program to high school girls looking towards college and careers in STEM fields.  The Jun 29 – July 2 camp will visit a different college campus each day, learning about STEM programs and meeting women currently working in STEM fields.
AQUATIC
Summer Youth Sailing Camps: Take to the water with US Sailing certified instructors at the Olympia Yacht Club! Kids 5-18 can learn with no experience needed. Please provide your own life jacket.
South Sound YMCA: Whether it's beginner swimming lessons or Go H2O! which features water balloons, pool scrabble, and more, the Y has your water needs covered.
DANCE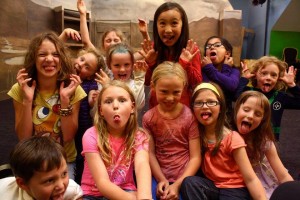 Johansen Olympia Dance Center: Summer dance workshops available for dancers from 4+ which feature ballet, jazz, hip-hop, improv, and tap. Special themes include "Sleeping Beauty" and "Angelina Ballerina" camps. Located in downtown Olympia.
Studio West Dance Academy: Also for dancers 4+ and include Frozen Dance Camp, Ballet Princess Camp and Ballet Boot Camp along with summer classes and intensives. Located on the west side of Olympia.
THEATER
Olympia Family Theater: Kids aged 4-17 can frolic as Dr. Seuss characters, superheroes-in-training, or future Broadway stars. Singing, dancing, and silliness guaranteed.
Creative Theater Experience: Held at Olympia High School, the program is open for grades 1-12 and culminates in a performance at the end of the season.
ROBOTICS
Sylvan Learning Center: Problem-solving through Lego robots? Yes, please! Build-a-Bot and the Bot Lab are open to kids grades 2-6.
South Sound YMCA: Choose either the Robotics Lab or Robotics Camp, for a hands-on robot building experience for kids aged 5-12.
FARMING/NATURE
Wolf College Day Camp: Held at Millersylvania State Park, transportation options are available. Kids aged 5-13 experience the park, games, swimming, archery, and so much more.
Nature Nurtures Farm: Hands-on time with plants, animals, and nature in a classic farm setting for kids aged 7-12. A separate horse camp is also available with hikes, crafts, and riding.
Nisqually Reach: In its 15th year of camp programming, the Nisqually Reach Summer Camp includes plenty of hands-on activities to introduce your kids to fundamental, biological, and ecological principles in a  fun, science-based curriculum. Five different sessions occur throughout the summer.
Environmental Connections Outdoor School: Held at Priest Point Park, sessions include Nature Art camp, animals and tracking, plant medicine, and outdoor survival skills.
Seed to Table Camps:  For kids ages five to twelve, these week-long camps include a variety of gardening, cooking, and art activities in a spacious and beautiful garden setting. Walking field trips included.
Find even more ideas for nature camps in this article.
OLD SCHOOL SLEEPAWAY CAMP
Camp Fire Summer Camp: Camp Orca is for campers in grades 3-12 can spend a week at Summit Lake enjoying canoeing, cookouts, hiking, archery, crafts, and campfire time. Pack sleeping bags, flashlights, and nostalgia.
Wolf College camps: Sessions run all summer long across our great state for age 9+. Explore Mt. Rainier, Lake Sammamish, Lake Goodwin, the Salish Sea, and the sagebrush canyonlands. Parents welcome at separate/concurrent expeditions.
Camp Bishop: Just down the road in Mason County is Camp Bishop hosted by the YMCA of Grays Harbor.  Read more about this experience here.
EXTENDED CARE CAMPS
Community Christian Academy:  Situated in the heart of Lacey, the CCA Summer Camps offer options from STEM to gardening, and crafts to sports.  Offered to children entering first through seventh grade, the bible-based camp day runs from 6:30 a.m. to 6 p.m.  Field trips to area attractions are included as is lunch.  Sign up for a few days, a week, a month or all summer.
Olympia Waldorf School: Kids aged 3-12 can experience music, games, art, dance, and more from 7:15am until 5:30pm. The program can be scheduled by the week or by the day, as needed.
South Sound YMCA: Their camps can run from as early as 5:45am until 6pm at locations all around Olympia. Camp choices are made one week at a time so the topics stay exciting. The majority are for ages 5+ but there is a half day Kinder Camp for potty trained 3-5 year olds.
Black Lake Bible Camp:  Located on Olympia's Black Lake, campers, starting with first grade, can arrive at 7:30 a.m. with care extended until 5 p.m. as an option.  A true "camp" experience with water activities, cabin time, crafts, and more with a Christian foundation.  Also offered are overnight camps for kids fourth grade through high school.
CRAFTING
(re)Fabulous: Future fashionistas can craft their own clothes, toys, and accessories with a variety of class options. Choose either individual Saturday make-it-and-take-it classes or enroll in a more detailed design camp.
Hands On Children's Museum: Crafty class offerings include print making and paper arts, toy inventors, Lego architecture, and art lab. For age 3 through grade 4.
General fun and mayhem
Parks and Rec Camps:
Lacey Parks and Recreation has opportunities for ages 6-12. Sign up for one week or all 9 for field trips, activities, crafts, and fun.
Olympia Parks, Arts, and Recreation information includes classes for all ages with easy online registration and an interactive recreation guide.
Tumwater Parks and Recreation offers youth sports leagues and a 'Back in Time' summer day camp for kids aged 5-12. You can enroll for a week or the entire summer and explore the twentieth century.
South Sound YMCA: Unsure what will catch their eye? All camps run in 1-week cycles and include topics like cooking, drama, robotics, sports, exploration, crafting, detective work, rock 'n' roll, science, and space exploration. Locations are throughout Lacey, Olympia, and Tumwater meaning there's something for everyone.
Boys & Girls Clubs of Thurston County: Clubs are based in Lacey, Olympia, Tumwater, and Rochester and offer summer camps and extended stay opportunities. Check your local club page for their dates, times, and options.
PRE-K
Hands On Children's Museum: For little ones ages 3-K, these run either 9am-12pm or 1pm-4pm from June 22 through Sept 4. Must be able to use the bathroom independently. Options include playing with water, pets, robots, dinosaurs, art, drama, and cooking.
Olympia Family Theater: Drama, stories, songs, and games for ages 4-6. Come be a superhero, poet, teddy bear, or citizen of Richard Scarry's Busytown.
Summer Youth Sailing Camps: Future pirates aged 5-6 can learn to sail the high seas…or at least Puget Sound. Please provide your own life jacket.