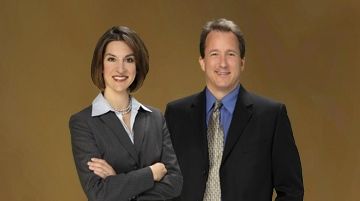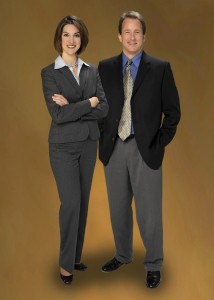 "In the real estate business you learn more about people, and you learn more about community issues, you learn more about life, you learn more about the impact of government, probably than any other profession that I know of," said sitting Georgia Senator Johnny Isakson.
As the second generation behind Olympia's Van Dorm Realty, Jeff and Diane Pust are deeply passionate about this community. Diane's parents Bob and Marjorie Van Dorm started the company in 1980. Diane joined at the same time, working as an assistant to her father. Jeff Pust's father is beloved broadcaster Dick Pust, who spent more than 50 years on the airwaves at KGY radio. While both have held other real-estate-friendly careers like appraisal and banking, Jeff says their 29 years of experience comes because "it's really in the blood."
Since taking the helm, Jeff and Diane have expanded the elegant West Olympia Van Dorm offices to more than 100 brokers, ensuring there is always a live person available on the phone or in-person seven days a week. They've also recently updated their website to make things more user-friendly, accessible, faster, and more detailed.
One of their key beliefs is instilled into every transaction they facilitate and broker they hire. They strive to "do right by people" because "when we sell a home, we want to build life-long clients" explains Jeff. This ethos means that the majority of customers are repeat buyers or the friends and family of past clients.
When looking at the 2015 housing market, most economists are "cautiously optimistic." With almost three decades of experience, Jeff and Diane anticipate a "slow progression towards a better market." Jeff is excited that "overall, real estate in this county has been a good investment" and their firm is on track to have the best month since 2007.
Diane encourages the wary, be they first time homebuyers or those looking for a change of scenery, to call or drop by and chat with one of their staff. "Wherever you are, come on in" because there is always someone on hand to answer questions, provide guidance, or pair you with an available broker. On average the Van Dorm staff has been with the company for more than a decade so no matter what type of property you're looking for their varied Property Search listings can meet your needs.
Van Dorm Realty handles every type of real estate transaction from homes, businesses, investments, and land. Diane is even this year's president for the Thurston County Realtors Association. She and Jeff are proud that "Van Dorm Realty has been very active and successful in local real estate for 35 years." By riding out the many ups and downs of a recently turbulent market, they've earned the knowledge, contacts, and skills to help you make the right choice.
The Van Dorm office is centrally located at 1530 Black Lake Boulevard in West Olympia. You can reach Jeff and Diane there either by phone at 360-943-3800 or online at their individual broker webpage (Jeff's is here, Diane's is here).
The home buying process often makes people nervous, especially with the rocky legacy of the last few years. Jeff and Diane Pust want to help change assumptions, reassure timid buyers, and help their community find "something tangible" to call home.