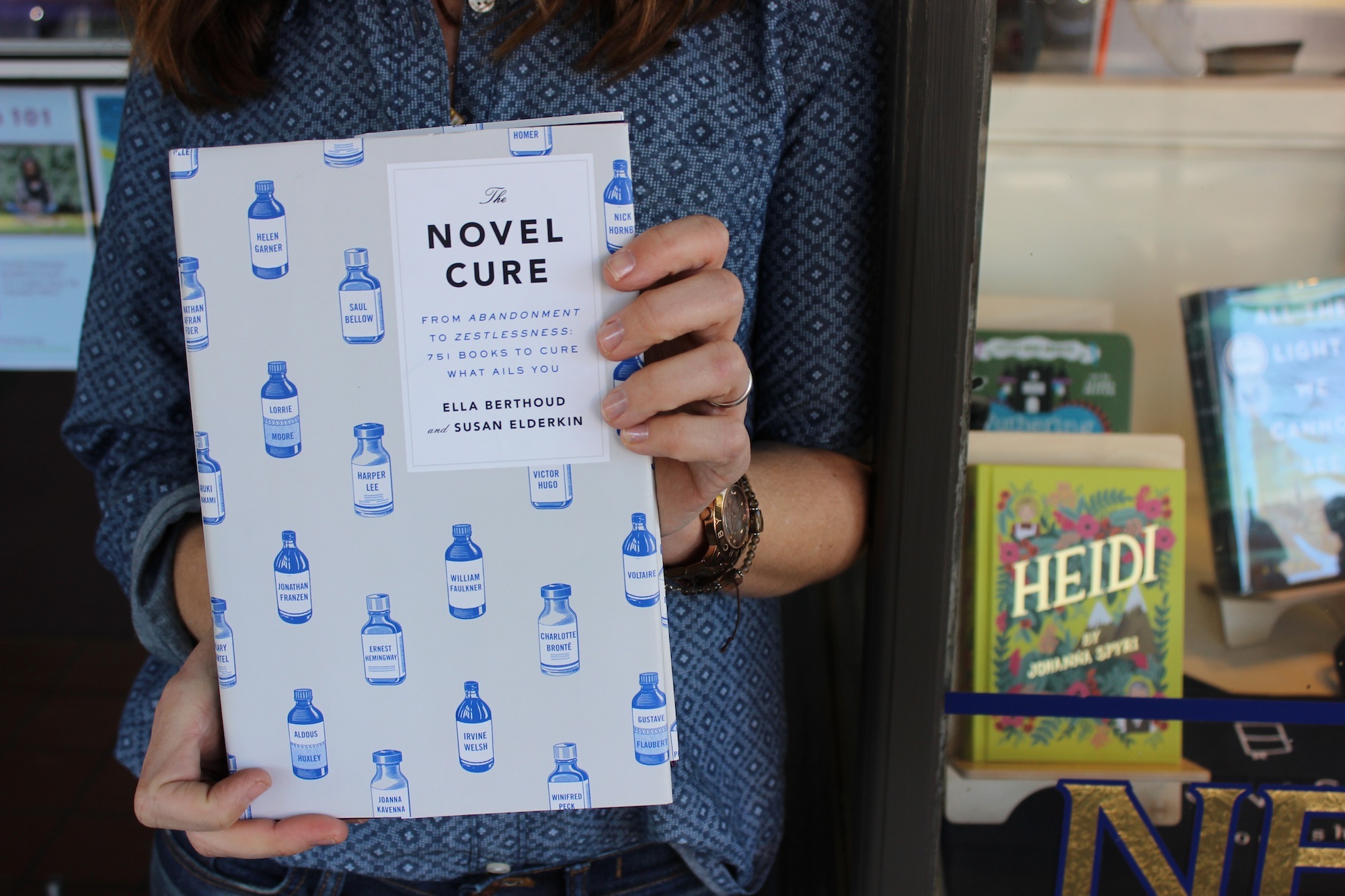 By Kelli Samson

For 80 years Browsers Books has had a certain charm.  It's been filled with friendly employees, lots of unique used books, and the kind of quiet I really treasure in a house of words.
But one winter day this year, a window display stopped me in my tracks. There was a garland of construction paper hearts. There were growlers with a new Browsers logo stamped on them. There was a vintage, lit-up sign made of old carnival letters spelling out "Book." Something was up, and it was something good.
I pushed open the door, entering the bookshop I'd always dreamed we'd have here in Olympia. It's a marriage of the now-closed Fireside Books and The Shop Around the Corner from You've Got Mail.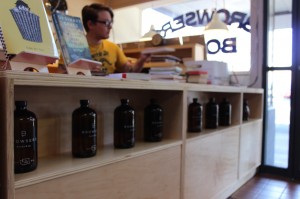 It's inviting. The new paint job out front is a stout navy blue, which goes well with the painted sign on the windows. There are hip new lighting fixtures way up in the tall ceiling, while the lower ceilings boast a cozier glow, as well. The carpeting is gone, and wood floors have taken over. Where there were primarily used books, there are now some new ones. My favorite blank books are now for sale. Sometimes there is the cutest dog, George, there to greet customers with his exuberant welcome. The displays have subtly shifted, and the store has taken on a new warmth, elegance, and sophistication.
The book whisperer responsible for polishing up this diamond-in-the-rough is none other than ex-librarian Andrea Griffith. She is not the librarian of yore. She is a young, enchanting, stylish mother of two little girls. She's got the preppy thing down pat, her all-time favorite book is Lucy Maude Montgomery's Anne of Green Gables, and I want to be her new best friend.
Griffith grew up in Richland, but she fell in love with Browsers in college while on dates with her future husband Telfer here in his hometown of Olympia. The couple kept a soft spot in their hearts for the space even while they moved to California and then New York City for his job as an anesthesiologist. When the store came up for sale late last year, they purchased it, together with her in-laws, Chris and Melinda Griffith.
"We all had joked for years that we should own this book shop someday," recalls Griffith, "and now we do, all four of us."
Griffith is the fourth in a legacy of women who have owned the shop. Browsers was started by Anna Blom, sold to Ilene Yates, then purchased by Jenifer Stewart before the torch was passed on to Griffith. She and her husband have two young daughters, so perhaps there is a dynasty in the making.
In addition to the updates made to the physical space, Griffith has really honed-in on the branding of Browsers. A new logo has been put to good use on growlers, totes, and social media. She is able to successfully reach a younger demographic while still retaining the loyal customers of years past.
"I feel like the quality of interesting, used books is something I want to stay the same. I want the shop to still feel familiar to long-term customers, " explains Griffith.
It is precisely this type of fresh air that is going to keep downtown Olympia not only alive, but thriving. Out with the old and in with the new.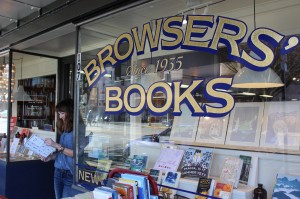 "I love our downtown. I feel like it's going to take a new generation of people to keep these businesses viable," says Griffith. "I'm excited for a new generation of readers to discover the shop."
Browsers offers both in-store credit or cash for your used books, though in-store credit offers a better deal. "We also do a lot of special orders," says Griffith.
Looking for some recommendations from the owner herself? Griffith has recently enjoyed Station Eleven by Emily St. John Mandel and All the Light We Cannot See by Anthony Doerr, both of which are available for purchase at the shop.
You can follow Browsers on Facebook and Instagram, or find them on their website, browsersolympia.com.
Browers Book Shop
107 Capitol Way N
Olympia, WA
360-357-7462