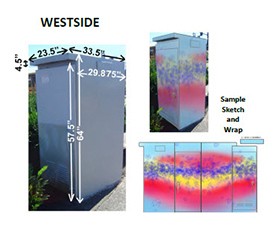 Submitted by The City of Olympia
The City of Olympia is seeking up to 20 art designs to be applied to vinyl wraps to cover traffic control boxes in Downtown and Westside Olympia.
General Guidelines
$500 honorarium for use of design.
Artist will submit concept designs using supplied templates HERE.
Designs will be made available online at olyspeaks.org for public vote to determine the 20 to be fabricated.
Artists do not fabricate or install the final art on the box.
Selected artist designs (which can be prepared as illustrations, paintings, computer designed images, quilts, mosaics, photographed sculptures or photographs), will be printed on to a vinyl wrap, and applied to the traffic boxes.
Wrap will be removed after 2-3 years, depending on condition. They may be removed at any time at the discretion of the City.
Find additional details in the Call for Art/Entry Form HERE.
Entry Deadline: Receipt of Entries – Thursday, May 28, 2015, 5pm
For more information, please contact Stephanie Johnson, Arts & Events Program Manager, at 360.709.2678.