Up until the last forty years, the Thurston County Courthouse has always been located in what people would know as "downtown Olympia."
While our definition of the space considered "downtown" has expanded over time, the courthouse has moved slowly away from the downtown core since the 1930s.
The first site for what was supposed to be the county courthouse eventually became Sylvester Park. Edmund Sylvester, one of Olympia's founders, deeded the lot to the city for a park. (Read more about Sylvester's legacy in Olympia here.)  The town in turn deeded it to the county for a courthouse. The lot went unused.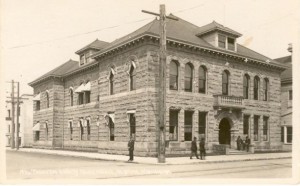 Before the 1890s, the Thurston County Courthouse bounced around between various temporary, swapped and bought locations. There was no permanent, purposefully built courthouse until almost exactly 40 years after the county itself was formed.
At one point, county government swapped buildings with the City of Olympia, accepting a smaller building in exchange for a school taking over the inconvenient county building. Much like today's debate about wanting to move closer to the center of activity, the county leaders wanted to be closer to the port and commercial activity.
What we call "the old state capitol" really began its life in 1892 as the first purpose built Thurston County Courthouse. That original building was different than the structure we know today in two major regards. The annex built onto the the east end of the original building was built after the state bought it in 1902. Also, the original clock tower burned down in a fire in 1928.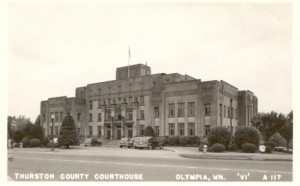 County government moved a couple of blocks north along Washington Street, landing at the corner of 4th and Washington for almost 30 years. This location is at the current site of the State Theater which houses Harlequin Productions.
That simple squat building lasted until 1930 when the county built a traditional looking courthouse on Capitol Way across the street from the capitol campus. Like many other government buildings that would soon crop up on that side of Capitol Way, it replaced a single family residence (in this case a mansion owned by a territorial general). It was also one of many buildings in Olympia designed by noted and prolific architect  Joseph Wohleb.
It is at this point in the history of the county courthouse that things take an interesting twist.
Thurston County government outgrew the Wohleb-designed courthouse and (at the cost of $2.6 million) the Capital Center Building (the so-called "Mistake on the Lake") in the late 60s. The county never did move in. After attempting to buy property from the city near the old city hall on Plum, threatening to leave Olympia for Lacey, county government settled in to the current site on Lakeridge Drive.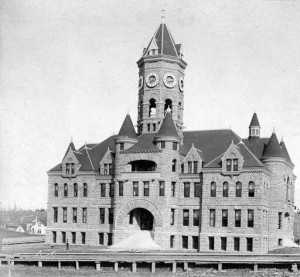 References and further reading
Olympia History: Mowell House Site
Olympia History: Thurston Courthouse on Franklin
Olympia History: Old State Capitol
Olympia History: Courthouse at State and 4th
Olympia History: Capitol Way Courthouse
Olyblog: Capitol Center Building, It Blowed Up Real Good