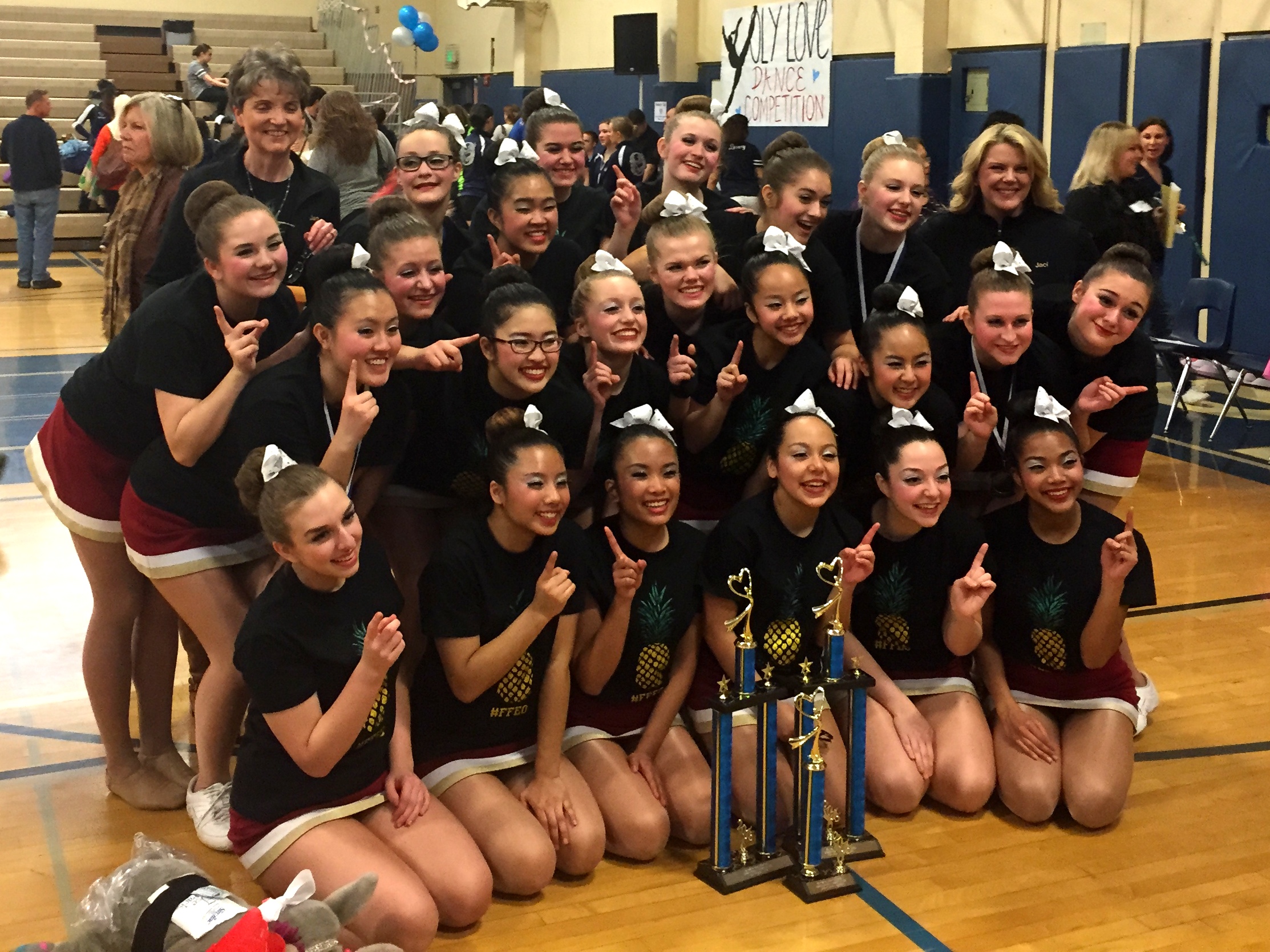 By Claire Smith, Capital High School Intern to ThurstonTalk

State. It's a word that gets any high school sports team or organization's blood pumping. And if there's one team who can't wait for their state competition, it's the Capital High School Cougarettes.
The Cougarettes have trained vigorously over the past eleven months for this big finale. They have qualified to compete in the 3A state competition in the military, pom, and dance categories. Last year, they earned second in military and won the pom division. Their pom routine had the highest score at state of any routine – 290.4 out of a possible 300 points. Eager to come back with just as much energy this year, the Cougarettes haven't been wasting a single moment of the 2014-2015 season.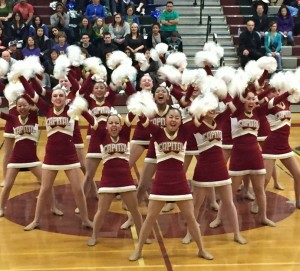 These ladies train six days a week, anywhere from two to six hours depending on the day. The girls in the dance routine often stay later to get a little extra practice. It takes dedication beyond measure, but the Cougarettes create a sisterhood within the gym walls making it fun. Freshman Annabel Parody, who danced ten years prior to joining the Cougarettes this season, says, "Drill is such a close knit group of girls – we are all a family."
Their dedication certainly shows. The Cougarettes haven't returned from a competition with anything lower than a third place finish, and have collected nineteen trophies over this season alone. On March 7, at the district competition, the Cougarettes were Triple Champions for 2A/3A schools, earning first in every routine, and had the fifth highest overall score in their military routine.
The Cougarettes also received an award this season bringing pride to all of Capital High School. The Cougarettes are the Academic State Champions for 3A schools. Their combined GPA is the highest of any school in the state. Not only are these girls powerful dancers, but they're also a force to be reckoned with in the classroom.
It's not just all work and no play for the Cougarettes. They participate in community activities, such as the Big Brother and Big Sisters auction, where they danced a routine choreographed to fit the event's Great Gatsby theme. They also have fun practices, playing the infamous "Ships and Sailors," and coordinate Spirit Weeks where they dress up to match a theme.
The Cougarettes don't view dance as a sport that requires grueling effort. "We see it as a way to express ourselves," captain Carina Valtierra says. Anyone who's ever seen the Cougarettes dance understand this – the passion and joy they feel is expressed across their face and through their bodies.
The team has learned skills far beyond simple dance steps. They'll finish this season with so many powerful and positive thoughts. Co-captain Nancy Lang sums it up perfectly when she states, "Even through the tough times, you have to keep pushing and believe in yourself and your teammates. Without a single ounce of hope, you won't get anywhere. The power of positive thinking can do almost anything, and that's what drives our success."
The team's foundation is built on positive thinking and they thrive on it. If you listen closely, the dancers will yell encouragement at each other throughout their routines. Every time they hit the floor, they believe in themselves and what they can accomplish as a team.
The Cougarettes are led by coaches Jan Kiefer and Jaci Gruhn. The team's leadership consists of captains Kristelle Cariaga, Carina Valtierra, co-captains Isabelle Shrestha, Nancy Lang, and lieutenants, Maddie Soran and Ella Collins.
These ladies have become who they are thanks to Coaches Kiefer and Gruhn. Kiefer has coached for eighteen years and is 100% dedicated every day. She and Gruhn are early to every practice and give the team their full attention. With her "smidges," Kiefer makes sure the girls have precise formations and spacing, while Gruhn makes sure the girls are always trying to get to the next technical level. But these two amazing women are more than just coaches. They are shoulders for the girls to cry on, ears always ready to listen, and hearts that couldn't possibly give more love if they tried. They're the perfect balance and often call each other "yin and yang."
There are two seniors, nine juniors, eight sophomores and four freshmen on the team this year. Very few members of the team have prior dance experience. Coaches Kiefer and Gruhn judge tryouts on potential, not starting skill. The hours the Cougarettes put in clearly shows when it comes time to perform.
There's also a special chemistry the Cougarettes have that make them unique. "We fight for each other. We are really close to each other on this team – we're like sisters. We fight, we love, we do everything that a family would do," says co-Capitan Isabelle Shrestha. "Dance team is family."
All the work these ladies have put in is about to pay off. On Friday, March 27 at the Yakima Valley Sundome, the Cougarettes will compete one last time as the 2014-2015 team in 2015 Dance/Drill State Championships and leave it all on the floor.
Good luck ladies, your music is on…