Submitted by Deborah Jane Ross, Research Coordinator, Olympia Historical Society and Bigelow House Museum

Parades, processions, and protest marches – Olympia's citizenry has seen them all. Mostly, we enjoy them; sometimes we ignore them; and occasionally they make us nervous or angry. A political march during Legislative Session may cause our city's jaded citizens simply to look up from our restaurant table and shrug. On the other hand, a parade that involves children or animals – or better yet, both – is bound to bring out the throngs, particularly if the sun is shining.
Recently, the Olympia Historical Society and Bigelow House Museum was given a photograph depicting members of the Second Army Division at Fort Lewis marching up Capitol Way. The photograph was undated but was clearly taken some time in the 1940s. As the Society and Museum's research coordinator, I had the job of identifying the date and event, which is described further below. As I read through old newspapers, I started thinking about our long love affair – mostly – with parades, processions, and protest marches. Here are a few examples.
Funerals
Many of us are old enough to remember the days when, if a funeral procession passed by, citizens were expected to stop and bear witness. Men doffed their hats and stood in respectful silence. One day, in the 1890s, a group of Chinese-born residents passed down Capitol Way bearing a casket, apparently that of a small child. As customary, citizens stopped what they were doing, and many offered condolences to the mourners. But something must have made the authorities suspicious: the next day the newspaper reported that the tiny coffin was in fact, filled with opium: a clever ploy to get past high duties on that import.
On March 18, 1900, a very special funeral procession drew thousands of spectators from around Puget Sound. Our city had agreed to provide a final resting place for eleven soldiers who had been killed in the Spanish-American War. Their remains had not been claimed by relatives or were unidentified. The funeral took place at the Opera House on Fourth Avenue (near where City Hall is now). The next day, a cortege, with hearses pulled by matched teams of white and black horses, proceeded from there down Fourth Avenue and up Capitol Way, to the Masonic Cemetery. A statue still exists there marking these gravesites.
Military and Commemorative Parades
Military parades through downtown Olympia are unheard of today, but at one time were not uncommon. Parades sometimes marked the deployment or return of troops from conflicts. One such parade occurred on May 10, 1946, a year after V-E Day ended the European conflict in World War II, and three weeks after the venerable Second Army Division had been reassigned to Fort Lewis. The photograph recently donated to the Society and Museum captures the soldiers marching past the McKenny Block, where the Schoenfeld Furniture Building is now. Olympia's mayor asked our citizens to dress in summery clothing for the event, and, fortunately, the weather cooperated. The newspaper reported that there were 8,000 participants in the parade, including the hit of the "show," 45 dogs from the 50th Scout Dog Platoon. Commercial establishments were decked with flags, and displayed trophies and memorabilia from the war in their windows to celebrate the arrival of the Second Division to our area.
Our city has commemorated centennials at least three times with parades. There was a parade in 1950 to celebrate the founding of Olympia, another in 1953 to commemorate the creation of Washington territory, and a third in 1989 to celebrate our state's centennial. Each was an occasion to dress up in period clothing and advertise local businesses and organizations with elaborate history-themed floats.
Causes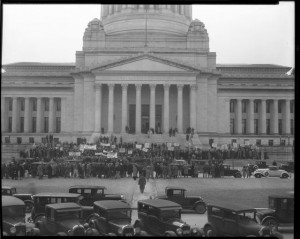 As our state's capital city, we naturally play host to a variety of groups that march for or against different causes. During Legislative Session, these marches can become so frequent that they are barely noticed by local residents. It is handy that the distance between state-owned Sylvester Park and Capitol Campus is fairly walkable, and that means that Capitol Way is often used for political marches.
In 1932 and 1933, a group called the Unemployed Citizens' League, along with several other organizations, marched to Olympia to draw attention to dire conditions resulting from the Great Depression. The community of Little Hollywood, by the shores of the Deschutes Estuary (now Capitol Lake), hosted a number of protesters at first. But the numbers grew so large that the sheriff and mayor of Olympia became alarmed. They conveyed the protestors to Priest Point Park, where they camped out for several days. From the park, the groups marched to Olympia and gathered on the steps of the Legislative Building. The marches succeeded in drawing attention to unemployed workers' plight but were ultimately deemed failures to effectuate meaningful legislative changes.
More recently, the Occupy movement engaged in similar protest marches to highlight the disparities between rich and poor in our country and community.
Just for Fun
Naturally, the most popular among our ambulatory events are those focused on fun and celebration. The venerable Pet Parade has been sponsored by The Olympian newspaper since 1928; the Lakefair Parade since 1958, soon after the creation of Capitol Lake. A comparatively recent event is Procession of the Species, observing its 21st year in 2015 and celebrating our wonderful natural environment.
One parade which might have been placed in the "cause" category only a few years ago is the annual Capital City Pride Parade, now viewed largely as an occasion for celebration. Begun in 1991 by groups that were considered outsiders at the time, the event now commemorates the remarkable achievements of the Lesbian, Gay, Bisexual, and Transgender community in these few years, while continuing to highlight and combat instances of discrimination that remain. So it is appropriate to close this brief visit with a wonderful photograph of former Mayor Mark Foutch, Grand Marshal of Capitol Pride in 2007 (and now president of the Society and Museum), resplendent in the band uniform his father wore as a prominent leader of a brass band, in the best tradition of celebratory parades throughout our nation.