By Mary Ellen Psaltis

There's nothing quite like finding perfection: the right thing at the right time and the right price. It's even better when it involves a bargain. I've been hunting around Thurston County for fun, uplifting, silly and wonderful ways to take $5 and turn it into an experience worth far more. Interested?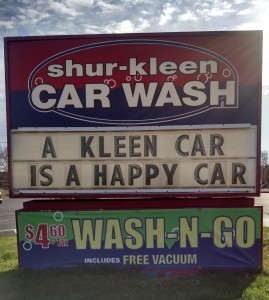 Take yourself and enthusiastic young ones on a short trip under the sea. Put your car in neutral and be pulled along a foamy path with multiple-arms creatures slapping against your car. Leave the dirt behind. (Note – this $4.60 price is only available at the Lacey location.)
But there's more. Before you dive under the vast ocean, park your rig at one of the vacuum stations and suck out your mats, floors, carpets and seats. The hose is plenty long to get into all the nooks and crannies of your car, but be careful. Unattached hair clips and other lightweight items will quickly disappear down the blue hose. You do the vacuuming, but it's free with the car wash. Otherwise the cost is $3. The joy of getting into a clean car for a few days brings me astonishing mental health – definitely cheaper than a therapy session. There's even more. As you await your turn through the actual car wash, your vehicle will be prepped with soapy brooms by one or two attendants. It's true, this whole experience is a thrifty $5 (including tax), but consider giving the guys a tip – totally worth every cent.
Kiss of Spring
The primroses are out and about. To me, they are an early sign of longer, warmer days. Some stores are selling them for the thrifty pice of "buy two and get one free." That's three for under $5. Primroses prefer the cold, damp nights, so if you are using them to brighten your indoor tables, stick them outside at night. Pluck the blooms as they fade. Ralph's Thriftway had inviting bunches of tulips greeting me at the entrance last week. Find out for yourself how joyous it is to have fresh cut flowers or small potted ones in your home. This is another affordable psychological lift.
Dollar Tree
We know you can find scads of seasonal decorations, which can be fun. But here's another idea. Head farther back into the store to the puzzles & game section. I buy a 500-piece puzzle to take on trips. Yes, the quality is not exceedingly high – the pieces are small and a bit thin. But the quantity of hours spent manipulating them are relaxing. You don't have to wait to take one on vacation. Open a box at home. Puzzles are a way to unplug from your electronic devices. It's a family-friendly activity. The store also has puzzles with fewer pieces, depending on the age and ability of your family members. Puzzles can be passed along to others. We leave ours at our vacation resorts for the next people to sort out.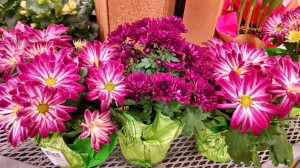 Tea Time
A tasty box of twenty tea bags can be had for under $5. That's less then a quarter per cup. I like a robust black tea in the morning. Afternoons go well with Lady Grey. There are abundant fruity or herbal varieties that are caffeine free. You and nineteen of your dearest friends could have a giant tea party. Or, you could put a few bags in your tote and share at work. Sip a cup after the evening's dishes are done. Tea allows you to stop a moment. Someone's always drinking tea at Downton Abby. Join them.
Note Writing
Before you exit the Dollar Tree, pick up a packet of eight notecards with envelopes. When you purchase eight stamps, you will reach your $5 limit. Now you get to send greetings of cheer and words of love. These days hand-written cards sent via snail mail are a treat to receive. Mail a card to your Aunt Bessie in Chicago, your son away at college and your best friend from college who now lives in Texas. Feeling ambitious? Clip a magazine article or funny comic strip to fold into your card. It feels good to drop your mail into the big blue box on the corner and you can be sure those at the receiving end will be smiling.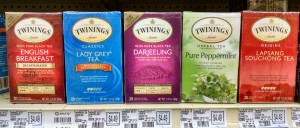 Lunch Time
I am resistant to suggesting you spend any money on suspiciously un-nutritious fast food. They do their best to reel you in with cheap prices. Instead, get a healthy sampling of salads at Bayview's deli counter. Take your treats upstairs and look out onto Budd Bay. Whether it's a dreary drizzle outside or a mountain popping day, you can take a few moments to appreciate the beauty of our town. And, you've let someone else do your meal preparations for you.
A $5 bill can go further than you might first think. Now that I'm on the hunt for these bargain delights, I am seeing more of them – think home spa and wine. Stay tuned.
Eat Well Be Well
Thrifty Thurston highlights inexpensive family fun in Thurston County. The weekly series focuses on family-friendly activities throughout our community. If you have a suggestion for a post, send us a note at submit@thurstontalk.com. For more events and to learn what's happening in Olympia and the surrounding area, click here.