By Kelli Samson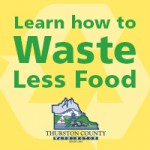 I am well-versed in borrowing a cup of sugar or a bit of flour from a neighbor for a recipe, but some stout beer? This was a first.
When I told Fish Brewing Company's events manager, Max DeJarnatt, that I wanted to feature a St. Patrick's-themed cake using one of their stouts, he didn't let the fact that it wasn't quite done brewing yet stop them from being neighborly. Since the cake's success doesn't depend on the carbonation of the beer, he invited me down to the brew house. Head brewer Paul Pearson opened the vat and cheerfully sent me home with enough for a few cakes.
I don't know about you, but I'll take some free beer – flat or not – over a cup of sugar any day.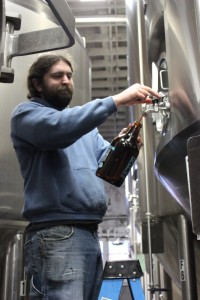 Fish Brewing's Over and Out Oatmeal Stout fittingly debuts on St. Patrick's Day this year at the Fish Tale Brew Pub. In addition to this rich, chocolate-y spring seasonal, there will be a special menu served for the evening. After the holiday, it will take about a week for this new stout to make its way to the stores.
I've certainly celebrated more than one birthday at the Fish Tale. Being a St. Patrick's Day baby, it's a given that I love this unique holiday. After all, what's better than everyone dressing in green, pinching one another, and boisterously drinking black and tans in what feels like your honor? I could do without all of the St. Patrick's Day-themed gifts I have managed to receive over the years, but it's not a bad trade off.
This year I thought I'd give back by sharing one of my favorite chocolate cake recipes. It's one that incorporates that holiest of Irish beers – the stout. The combination of the beer, chocolate, brown sugar, and cacao nibs adds a complex depth of flavor to this treat, while the presence of sour cream makes it perfectly moist.
I highly recommend waiting for the Fish Tale Over and Out Oatmeal Stout to arrive in stores later this month, but, if that's just not possible, another stout will do.
This cake perfectly serves twelve, and it's particularly indulgent when served with a dollop of freshly whipped cream.
May the road always rise up to meet you, the wind always be at your back, and all that jazz.
Chocolate Bundt Cake with Over and Out Oatmeal Stout
Ingredients:
1 cup salted butter (plus extra for greasing the pan)
1/4 cup cocoa powder (for greasing the pan)
2 cups of all-purpose flour
1/2 cup whole wheat flour
3/4 tsp. baking soda
3/4 cup Fish Brewing's Over and Out Oatmeal Stout
12 oz. semisweet chocolate chips
3 eggs
1 cup sugar
1 cup brown sugar
1/2 cup sour cream
1/4 cup cacao nibs (Theo Chocolate makes the best. These can be found at the Thriftway stores in the bulk section and at both Olympia Co-op locations)
1/2 cup heavy cream
Directions:
The cake's depth of flavor comes from the Fish Brewing Company's spring seasonal, Over and Out Oatmeal Stout.

Preheat your oven to 350 degrees with the rack in the middle.

Generously grease a bundt pan with softened butter, then coat with cocoa powder. Tap out the excess powder.
Whisk together the flour and baking soda. Set aside.
Melt the butter with the stout in a small pan on the stove. Once melted, remove from heat and add eight ounces of the chocolate chips, whisking until smooth. Set aside.
In a mixing bowl, beat eggs and sugars together until fluffy. Add the chocolate mixture and sour cream, continuing to beat until combined.
Reduce speed to low. Slowly mix in the flour mixture and cacao nibs until combined.
Pour batter into bundt pan. Bake 45-55 minutes, until few crumbs show on a toothpick.
Let cake cool in pan for 30 minutes. Then release the cake onto a cooling rack to finish cooling.
Once cake is cool, make the glaze. Bring heavy cream to a boil in a small pan. Remove from heat and add the remaining four ounces of chocolate chips. Let the mixture sit for five minutes, then whisk until smooth. Set some waxed paper on your counter beneath the cooling rack, because this will be messy. Pour the glaze over the cake. Let set.
The Fish Tale Brew Pub can be followed on Facebook.
515 Jefferson St. SE
Olympia, WA
360-943-3650