By Kelli Samson

For me, it was love at first bite.
When I first tasted one of Left Bank Pastry's apricot croissants, or "oranais" in French, it was like my surroundings shape-shifted. Suddenly, my taste buds transported me to the front stoop of a patisserie in Colmar, France, where I once stood out of the rain during a sudden summer storm, un-daintily shoving an apricot tart into my mouth.
If you found a way to teleport yourself to a happy memory, you would, right? I feel very fortunate that, at least once a week, I experience a tasty flashback to this exquisite moment just by eating one of Gary Potter's pastries. I swear he somehow bakes all that is enchanting about France right into the dough.
When I mentioned to others that I was going to meet the man behind this culinary magic, I got intriguing responses. Erica Kinsel, the French teacher at Capital High School, wondered if she could tag along. "Please tell him that I developed a bit of an afternoon almond croissant habit at the end of my pregnancy," she begged. "But what I really love are Left Bank's kouihn amanns. They are buttery, salty-sweet deliciousness. Olympia Coffee Roasters usually sells out quickly, so it's a good day when there's one left in the case."
Alison Kloft of the Back Door Bakery and Michael Elvin of Bar Francis both told me what a great guy Potter is, that he really cares about quality, and that he can be, well, mysterious.
My interest was further piqued because Left Bank Pastry has had no internet presence during the four years since it opened, though this will change in the coming months.
And did I mention that Gary Potter has never before granted an interview?
The pressure is on.
Foodies, allow me to introduce you to Gary Potter.
He is very tall.
You have likely tasted his fine pastries at establishments such as both the East and West-side Olympia Co-ops, Bar Francis, Olympia Coffee Roasters, Mud Bay Coffee, the Back Door Bakery, and, recently, Lacey's Schoolhouse Coffee. These are merely a few of the places to which he supplies delectable treats.
We may love every bite of everything he makes, but what's the scoop on Left Bank Pastry?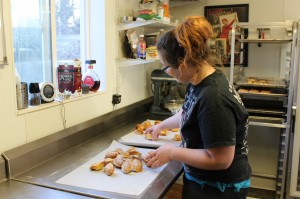 Originally from Eastern Washington, Potter attended college at Western Washington University. It was there that he became friends with someone who taught him how to make baguettes. Baking bread became a bit of an obsession for him as he worked on his psychology degree, giving him a creative outlet and enabling him to work with his hands. "I totally romanticized it," he admits. "This is a labor of love."
He continued to bake at home while he worked as a teacher at the Washington State Penitentiary in Walla Walla for nine years. After honeymooning in Paris with his wife and Left Bank Pastry co-owner Rochelle, Potter decided he wanted to bake full-time. But he didn't want merely to bake, he wanted to bake like a Parisian. There is a difference.
This took a lot of advanced planning. And, during our interview, I learned that Potter is a master of advanced planning. He is of the "slow and steady wins the race" mindset. My dad would say he measures twice and cuts once. He is careful.
For two years, he took French classes. "I was planning my exit from the prison, kind of like Shawshank Redemption," recalls Potter with a smile.
He moved with his wife and then-two-year-old daughter to Paris for two years while attending Le Cordon Bleu. His typical day at the acclaimed school was intense. "You could hear a pin drop during the three hours of lecture, then it was on to three hours in the kitchen," shares Potter. "There were no machines. We had to do everything by hand."
The original plan was to remain in Paris, working for a bakery, but the French have very high rates of unemployment. It was difficult for an American to find a job, even with appropriate documentation. Potter was understanding. "If there was a job, the bakeries were giving it to someone they cared about, like I would do."
His family returned to Washington, where Olympia reminded Potter of Bellingham. They settled here, and he worked at local bakeries like the Bread Peddler and San Francisco Street Bakery. He built his own kitchen with the intention of selling his goodies at the Olympia Farmers Market, but that has been a waiting game.
In 2011, Left Bank Pastry officially got under way and the accounts with local businesses began to roll in. And the name? "I really like the Left Bank in Paris. It's the bohemian part where all the great philosophers are from," he explains.
Over the years, even without a website or Facebook page or any kind of advertising, Potter has grown his business methodically and on his own terms. He is known for his commitment to perfectionism in his authentic Parisian baked goods. "Quality is key over everything else," he says. Most recently, Bayview Thriftway became the latest place to get your Left Bank fix.
With two small children, Potter's life is undeniably full. He fits baking in around his other duties, sometimes staying awake in the kitchen on his property until 3:00 a.m., baking to fill the next day's orders.
Potter is still plotting and planning out how to fulfill his ultimate goals: having a stall at the Olympia Farmers Market and owning a custom cake shop. "I'm going to go fancy," he says.
He may work one step at a time, quietly and mostly behind the scenes, but do not underestimate the persistence of Gary Potter.
Afterall, anyone who can take me to France for the price of a pastry has got a little something up his sleeves.