Submitted by Sara Hollar, Olympia High School Intern to ThurstonTalk
For ten days in January my household gained a new member – foreign exchange student Leah from Australia. Leah was our fourth exchange student in three years, preceded by Guillaume from France, Jorge from Spain and another Australian, Larissa. Over the years we've gained some insight on what to do with a visiting teen in Olympia, from the sights to the entertainment to the food. With a little creativity it's easy to give your foreign exchange student a fantastic time during their stay in the United States.
Sight-Seeing
Taking foreign exchange students sight-seeing around Olympia is a fun opportunity to play tourist in your own town. We've showed all of our exchange students around the Capitol campus. It's a chance to show off not only our most impressive architecture, but also explain some of the history of Washington State and a bit about how our government operates. The gift shop is great for buying souvenirs for exchange students to bring back to their families. Taking a picture with George Washington's bust (and rubbing his nose for good luck) is likewise a necessity. Outside the buildings, the campus provides a beautiful view of Capitol Lake and the Puget Sound.
If the weather is nice, it's also fun to walk along the Percival Landing boardwalk and look at the sculptures or visit the Heritage Park fountain. While we're downtown I love taking exchange students to the small boutiques and shops that line the streets. My favorite is Archibald Sisters because we always find something entertaining and very "Olympia" for our students to take home.
The other main attraction is Capital Mall. To understand an American teenager, it is required to spend some time at a mall. Our students come in search of clothing and shoes that are wildly more expensive in their home countries. The mall is also our destination for an American cinema experience and food court cuisine. A good bet with exchange students is to explore a mix of classic Olympia landmarks as well as local favorites.
Entertainment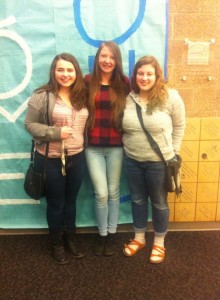 Entertainment in Olympia for teenagers is easy to find when you know where to look, especially when school is in session. Leah and her classmates from Australia really enjoyed going to the basketball games at Olympia High School to cheer on the team. Sports aren't as much of a focus in Australia as they are here, so the idea of a pep band and cheerleaders was foreign to them. They loved learning the school cheers and taking picture with our mascot, Pepper. I told Leah that she would have to visit again in the fall for the infamous Spaghetti Bowl. Whichever sport is in season, exchange students love to be a part of the American custom of high school sports.
While Leah was here we also got the lucky chance to support the OHS drama program. We attended the Mystery Theatre that students organized. This production was particularly exciting because of the interactive nature but really any OHS play or concert is a great experience.
Outside of the local high schools, other amazing entertainment awaits. There's so much to pick from but my family looks for endeavors that feel uniquely American. When our French exchange student Guillaume was with us, we attended Harlequin Productions' "Set in the '70s". The play was a look at quintessential American rock and Guillaume, an avid music lover, even recognized some of the songs.  Good entertainment for foreign exchange students is simply accessible, American fun.
Dining
One of my favorite things about hosting foreign exchange students is the excuse to eat out all the time. My friends and I welcomed the opportunity to frequent our usual favorites under the guise of showing them to our student. We visited King Solomon's Reef for milkshakes and fries and Bonsai Wok for teriyaki. Sharing my favorite restaurants really felt like sharing a piece of my life, considering how much time I spend at these places.
And then there were the places that I don't visit as often but were still very important for the foreign exchange experience, the fast food joints. Leah and I made a little game of ticking them off a list, from Dairy Queen to Taco Bell. We were both surprised at how much food we could buy for such little money. For Leah it was a lot of fun to try food she'd heard about before and then telling her friends back at home what it was like.
One of the most surprising hits for food was actually a simple trip to the grocery store. Our student Jorge liked going grocery shopping with my mom because our Safeway was so vastly different than the fresh fruit markets and butcher shops that he had in Spain.
During Leah's last weekend with us, we went to the grocery store and picked out the most "American teenager" food we could find. We bought Pizza Rolls, Bagel Bites, mini egg rolls, cheese fries, Twinkies and Hot Pockets. Then we invited some friends over and ate all of it in one night. Safeway's frozen section may have provided our favorite food episode. In the end, dining with an exchange student is a lot more about the new experience than the actual food.
I've loved the opportunity to show my hometown to these exchange students and they've also taught me so much about their cultures. Hosting a foreign exchange student is richly rewarding and simple to do with a little insight on how to give a teenager the full American adventure.