Submitted by Katy Johansson for Capital City Marathon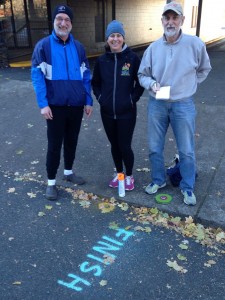 If you've lived in this community for any length of time, you've likely encountered your fair share of runners – particularly this time of year, when they take over sidewalks, street shoulders, trails and bike lanes on Saturday mornings. You probably even know their inspiration for lacing up: the Capital City Marathon.
What you may not realize about the event they are training for is that it is completely reliant upon volunteers.
"It is no exaggeration that the marathon would not exist without volunteers," said Jim Lux, who serves as president of the Capital City Marathon Association, the board that spends nearly a year planning and organizing the event. Even the race director, who oversees the marathon, half marathon, 5-mile race and kids' race, is unpaid.
The marathon, held annually the third weekend in May, enjoys immense support from residents all over Thurston County and even beyond. Lux estimates it takes 500 people – who do everything from supplying water, to staffing medical tents, directing traffic, distributing race packets and finisher medals – to pull off the race.
"This is a community event and we have purposely held on to the volunteer model. It's part of what makes our race so special, and a big reason it works as well as it does," Lux said.
The same thing that makes the oldest marathon in the South Sound so extraordinary, however, can also make its organization complex.
"It has become a bit of a scramble to find people willing to take on some of the critical roles – to do them well takes more than one race – that not only contribute to the event's success, but also ensure a safe event."
Lux is looking for a handful of people to take on some big tasks at this year's Capital City Marathon, which will be run May 17. And he knows first hand how fulfilling it is to help make it take shape.
"The fact that we are in our 34th year speaks to the importance of this event. The marathon adds to the fabric of this community. It's part of us," Lux said.
It certainly is a part of Lux, 63, who has been involved with it since nearly the beginning. The first women's Olympic Marathon Trials, held in Olympia on May 12, 1984, drew him to the sport of long-distance running, both as an athlete and a volunteer. His mother, the late Mary Lux, sat on the Olympia City Council at the time it lobbied to hold the trials here. He was lucky enough to have grandstand seats at the finish the day 50,000 people descended upon the city to be a part of sports history.
The very next year he volunteered at the Capital City Marathon's registration table on race day. He was drafted to take on course safety the following year, and has been in charge of safety ever since.
When you figure that the course is 26.2 miles long and there can be upwards of 2,000 runners on it beginning at 7:00 a.m. until as late as 1:30 p.m., that's an enormous responsibility.
"Just marking the course – setting out all the cones and chalking everything – is a race in and of itself," Lux admits. "We start the afternoon before, then go out again the morning of, which means we're sometimes finishing the work after the marathon starts."
Race Director Nona Snell has worked with Lux for nearly four years.
"We talk about how this race could not happen if we didn't have such a great group of volunteers, and that's true. I also can't conceive of how this race could happen without Jim, who has given it his heart and soul for 30 years now. It really should take three people to do what he does," she said.
This year, Lux is looking for specific support volunteers whose tasks include both figurative and literal heavy lifting during race weekend (May 16-17). Even better, would be a willingness to do these jobs for years to come. They include:
Course section leads to organize course volunteers for designated 5-mile sections of the course. This includes contacting existing and new volunteers in the months before the May event, instructing volunteers on responsibilities, distributing shirts and safety equipment, and monitoring the designated course section during the event.
Water stop assistants to set up and break down water stops and distribute water during the event. This includes delivering water and other supplies to stops along the course during the event, and assisting with organizing supplies before and after the event.
Longtime Capital City volunteer Fred Cook was also inspired by the '84 Olympic Trials. He started as a "hugger," assisting people across the finish line, in 1985. He took on a water stop the next year. Twenty-nine years later, he is still hydrating racers.
"It's just become a fun thing to do once a year," said Cook, whose festive Mile 14 water stop is at Woodard Bay. "And you get a lot of appreciative feedback from the people who are happy to see you out there volunteering. It's a good feeling to be part of such a well-run volunteer organization that is doing something good for our community."
Cook's family, including his three grandsons, the youngest of whom is 8, helps at his water stop. And to hear him speak of the runners, you'd think they were all relations meeting for some sort of holiday gathering.
"You get to see people you haven't seen all year, and meet new people. It's an extended family thing."
Cook, 72, is not a runner, but says you don't need to be to enjoy the experience.
"There's something pretty special about seeing people that you know, and even you don't know, who have continued this regimen for such a long time," Cook said of the people who spend months training for the race each year. "Their commitment to being physically fit may make them committable," Cook joked. "But seeing their sense of accomplishment out there on the course, that's pretty inspiring."
Lux agrees.
"Watching the runners' faces – how they feel before, during and after the race – should be enough to make anyone, runner or not, want to volunteer," he said.
There is no shortage of race day opportunities available. For more information about volunteering, contact the Capital City Marathon at racedirector@ccmaboard.org.
All photos courtesy Capital City Marathon.