By Alyssa Ramsfield

For the seventh year, Olympia Pie Bakers Guild will be giving back to the community through their sweet tooth. Their annual Pie Fest takes place February 28 at the Olympia Center. It is the perfect opportunity to partake in a pie baking contest and take a bite out of hunger in Thurston County.
"When the guild formed, we wanted to do a fundraiser for Thurston County Food Bank. We wanted to give back and we love making pie," explains guild member, Kathy Kinard.  "Pie really brings people together so we thought turning it into a festival would be great for the community."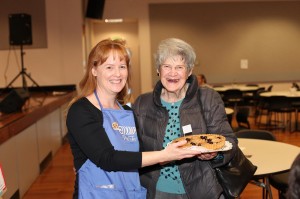 Getting started wasn't easy for the guild. "The first year was really hard," says Kinard. "We just hoped someone would show up. Twenty five people entered the contest that year. Last year, nearly 200 pies came through our doors. It's growing significantly every year."
The Thurston County Food Bank and The Senior Nutrition Program both benefit from this event. "At the actual festival, three cans of food can be used to pay for one slice of pie. It's this concept of trading food for food instead of using cash. All of the donated food goes to helping the food bank and nutrition program," adds Kinard.  "Every pie donated to the competition raises $50. That really adds up when you think about how that money can be used to feed a family for a week through the food bank."
The focus of Pie Fest is on the pie baking competition. "Sixty people entered our pie baking contest last year and we expect even more this year," explains Kinard. "There are rules involved in the baking and delivery of the pies, but anyone can take part with three age categories: youth, teen, and adult. There are ribbons and prizes given to winners of each category along with an overall grand prize winner for the event."
"Bakers come from all over Western Washington," continues Kinard.  "While the apple pie has usually reigned supreme, it is fun to see the variety of pies and the stories from the bakers behind them."
Judges from San Francisco Street Bakery, Lattin's Cider Mill, and The Bearded Lady will select winners.  Kinard adds that the mayor of Olympia has been a previous judge in the past as well.  "He did declare the official dessert of Olympia pie," she shares sweetly.
Pie Fest isn't just about pie, it's about bringing people together to support those in our community with the biggest need. "It's a great way to bring the community together," describes Kinard. "It leverages money for the community while coming together to have fun and eat amazing food. You don't have to write a big check. You just have to bring canned food and take part in eating some incredible pies."
For more information on this year's Pie Fest, visit http://www.olypie.org/.
Olympia Pie Fest
February 28 from 1:00 p.m. – 4:00 p.m.
Olympia Center  – 222 Columbia St NW
Olympia, Washington 98501