By Megan Conklin

Ken and Josie Johnson choreograph more than just dance in Thurston County.  The married couple choreographs traditions.
One local event that is quickly becoming a beloved winter tradition for dance aficionados in the area is the Olympia Dance Festival – a showcase of a dance styles and varieties from belly dancing to hip hop to ballet.
Ken and Josie, Artistic Directors for Ballet Northwest, launched the Olympia Dance Festival six years ago.  Ken said that he and his wife were inspired by similar dance festivals in Lewis and Pierce counties, but wanted to create something even more local. "We have so many talented dancers in our area. We wanted to bring them all to one location and showcase that talent," Ken explained. "We partnered with The Washington Center for the Performing Arts to create the festival."
The combination of the perfect venue and fabulous talent makes for an evening of exciting variety and entertainment.
The dance festival is an especially thrilling opportunity for young people who study dance in Thurston County. Ten-year-old Harper Gould has participated in the Olympia Dance Festival for the past two years and will perform again this year. "I love the dance festival because I get to perform in front of such a big audience," explains Gould, who will perform with the Comerford School of Irish Dance.  "And it is even more fun than the Nutcracker because I dance with a smaller group of girls."  This year the Comerford Irish dancers, one of eleven groups performing, will perform both hard and soft shoe numbers as well as a unique and delightful "four hand" dance traditional to the Irish dance custom.
According to Ken, one reason the kids enjoy this particular festival so much is the opportunity to connect with other dancers. "Dancers who know each other from school and from out in the community, but practice different styles of dance, get to perform together at the festival," Ken asserts. "That is really special."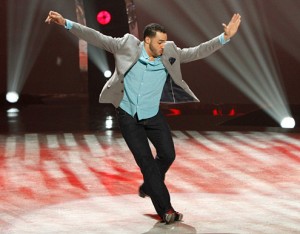 Because of the wide variety of local dance studios represented at the festival, it is a perfect event for parents with young children interested in dance to attend. The small sampling of different dance opportunities lets parents and children decide which style might be fun to try.
But the Olympia Dance Festival is not just for children. Many adult dance troupes will perform and there will be a special performance by Aaron Turner, a captivating tap dancer from Las Vegas who was seen on Season 10 of the hit show So You Think You Can Dance. Additionally, master classes taught by experts will be offered for festival participants as well as a Q&A session with Turner.
This year, the festival will include performances from Ballet Northwest, Ballet Theatre of Washington, Comerford School of Irish Dance, Debbi's Dance Etc., High Impact Dance, Johansen Olympia Dance Center, Mas Uda Middle Eastern Dancers, RADCo (Random Acts of Dance Collective), Scoil Rince Slieveloughane Irish Dancers, Southwest Washington Dance Ensemble, and Studio West Dance Academy.
The Olympia Dance Festival is fast becoming a Thurston County memory making tradition for all who love dance in its many incarnations. Whether you are a dancer yourself, or merely a lover of the art, be sure to get your tickets for this can't miss festival soon.
This year's Olympia Dance Festival takes place on February 28 at 7:30 p.m.  Tickets are $12 and can be purchased here.