By Gail Wood

In basketball, the typical reaction of a starter being benched is frustration. It unplugs, not inspires.
But nine games into River Ridge High School's season in boys basketball, coach John Barbee, with his team struggling through a 5-4 start, juggled his lineup. Thayer Murphy, a backup guard, became a starter. Mack Armstrong, a junior forward, became the sub off the bench.
And rather than fume, rather than check out, Armstrong cranked up in his intensity. Murphy, rather than wilt under a starter's role, has flourished, scoring a career-high 34 in the Hawks' recent 61-54 district playoff win against Lindberg. The backup who became a starter is averaging a team-high 12 points.
And Armstrong's goal never changed. It's still all about winning.
"We're all brothers out here," Armstrong said prior to a recent practice. "We're supportive of each other. As long as we're winning, that's all that matters."
For Armstrong, it doesn't matter if his points come as a starter or as a backup. That help-where-he-can attitude is why he's averaging 11.1 points off the bench, second on the team. He's been the designated points-to-the-rescue backup.
"I just come in off the bench wanting to be a boost and a spark," Armstrong said. "I want to do all I can to help the team win."
Armstrong's approach is a big reason why River Ridge turned its season around. After going 3-3 and then 5-4 to start the season, River Ridge, with a new lineup and a new gear as Barbee asked more from his team's defense, has won 11 of its last 12 games. As winners of the South Puget Sound League, River Ridge is now 18-5 after the Hawks beat White River 61-54 on Thursday in the district semifinals. They play Washington in the championship game on Saturday.
The biggest indicator of the Hawks' turnaround season is what they did against Franklin Pierce. In their first meeting with Franklin Pierce, the still-in-a-funk Hawks lost 72-71. The next time a revamped and rolling River Ridge blasted Franklin Pierce 73-35.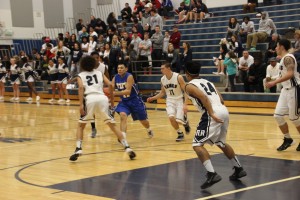 Barbee's magic worked. He said those losses were lessons learned, helping his team get better.
"We went through some growing pains early," Barbee said. "That was crucial. I think that put us in a good spot now."
Coming into the season, Barbee had reasons to be optimistic. Four of his five starters returned off a team that lost in the regionals. The only starter not returning was Austin Curry, the sharp-shooting guard who transferred to Timberline. Still, Barbee thought the parts were in place for a good season.
After all Kobe Key was back at point guard, giving the Hawks experience at a key position. He's not just a passer, but he's also a scorer. The junior guard is third on the team in scoring with 9.4 average.
"He's a good leader," Barbee said. "To go far, you have to have a good point guard and he's a good one. The key for us and the key for him is keeping him out of foul trouble."
Key, who plays a lot of minutes and is aggressive, has fouled out of a couple of games. In the playoff win against Lindbergh, Key fouled out in the closing.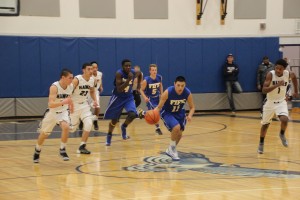 "It was a good opportunity for other kids to step up," Barbee said, putting a positive light on a negative moment.
Key, as the starting quarterback on the football team, is used to being a leader. As a team captain, he sees his role as being a rah-rah, get-it-going guy.
"My role is to just keep guys up," Key said. "Keep guys focused – and just play hard."
Murphy grew up quickly as he stepped into his new role as a starter.
"He got an opportunity and he made the most of it," Barbee said.
But it wasn't just the points Murphy scored that convinced Barbee to keep him in the starting lineup. It was his intensity on defense, the floor burns on his knees.
"The other thing about him is he plays hard on both ends," Barbee said. "He doesn't just come in and shoot. He's going to go to the floor for the loose ball. He's going to take the charge. He's going to do all the little things to keep him in the game."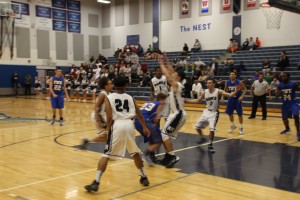 Murphy isn't enamored with his starter's job. He's driven by something other than his own stats and status.
"The only thing that matters is winning the game," Murphy said. "I'm a starter now. But if I didn't start and I got zero minutes and we won I'd be just as happy if I started and got 32 points."
Key is one of eight players on the basketball team who also played football. At a time when coaches are often upping the ante and asking their players to commit to one sport and play it year around, Barbee encourages his players to play other sports. It's all about having a good high school experience.
"That's what it's all about," Barbee said. "Some of my closest friends are from relationships I formed in sports."