By Barb Lally
Sue is a lovely senior who believes she is doing God's work by loving and caring for her two rescue dogs, Jessie and Bella. She lives alone, is legally blind and can't drive. Because she can't make it to the store and has difficulty preparing meals, Senior Services for South Sound's Meals on Wheels volunteers deliver nutritious food to her Boardwalk apartment door in downtown Olympia.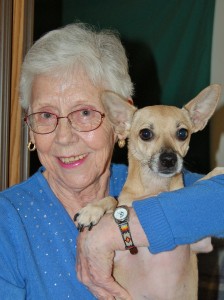 And now, because of a partnership that Senior Services for South Sound forged with the local non-profit Concern for Animals, the Meals on Wheels volunteers also deliver food for Sue's two precious pets.
"My dogs are family and they just mean everything to me," says Sue. "I just don't know what I would do without them. Since I don't drive, it means so much to have the assurance that I am getting meals for them."
A unique partnership fills a need
Last year, Senior Services for South Sound served more than 60,000 home-delivered meals to 400 home-bound seniors with its Meals on Wheels program. When they found out that some of those seniors had been sharing their own food with their pets, they sought a way to provide pet food to those who needed it.
"We formed a partnership with Concern for Animals and we were awarded a $2500 grant from the Banfield Charitable Trust to help provide pet food to Meals on Wheels clientele," says Cathy Visser, Senior Nutrition Program Director for Senior Services for South Sound. "We now deliver pet food to anywhere from 25 and 30 clients, many of whom would be even more isolated and alone if not for the steady company of their pets."
Cathy says they reached out to Concern for Animals because of the quality of their program.
"Concern for Animals is well known for its pet Food Bank and other pet services in the community," says Cathy. "They only serve clients with neutered pets and they offer pet neutering vouchers to potential clients. They purchase and send out high quality pet food as well."
For the last 35 years, Concern for Animals has offered assistance to those who couldn't afford to take care of their pets by providing a pet Food Bank, promoting spay and neuter procedures and assisting with vaccinations and emergency medical care when an owner can't afford a doctor's visit.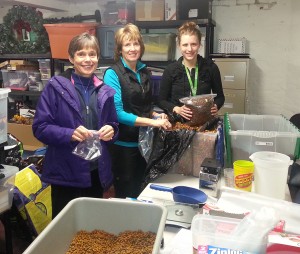 The effort to supply food for senior pets falls right into the Concern for Animals mission.
"For seniors, these pets are there at their side every single day providing a lot of hope and love in their lives," says Sarah Hinman, Executive Assistant to the Concern for Animals board, who has a passion for animals and has worked in several veterinary clinics. "For many, their animals are their only companions. I can't think of a better service to provide for seniors. We jumped at the chance as soon as Senior Services called us."
Concern for Animal's recent expansion to their new location has helped them meet the new challenge.
"We have a new office that provides a central location to package, prep and store all this food," say Sarah.
The organization that is needed to get the pet food to the seniors is no small feat.
"A month's worth of food can be quite a lot, especially if a senior has more than one pet," explains Sarah. "Our volunteers package it, label it and mark it based on which Senior Services site it goes to in the area. The Meal on Wheels volunteer drivers pick up the food from our office and deliver to each site. From there, the drivers deliver food for both senior and their pets."
The grant that funds the senior pet program ran out before the end of last year due to the program's popularity. Thanks to Concern for Animals donors, there was enough food to cover the seniors' needs until it came to time to re-apply for the grant for 2015.
How to enroll for pet food delivery
Senior Services of South Sound enrolls seniors in need of pet food while delivering Meals on Wheels to their homes.
"Enrollment forms are then sent to Concern for Animals and their team contacts the senior initially to ensure that they provide the correct amount and type of pet food," Cathy explains.
To qualify for food, their pets need to be spayed or neutered. Unlike the requirements of for the Concern for Animals Food Bank, the seniors do not have to have an income below a certain threshold. However, they must be a Meals on Wheels program member. They sign up for both programs with Senior Services.
"The founders of Concern for Animals didn't see much assistance for those who wanted to keep their pets but couldn't take care of them," explains Sarah. "They realized some people just need that little extra help to get them through a rough patch rather than having to re-home their pets."
"Pets are truly part of a senior's family," Sarah continues. "The last thing they want to do is lose them. Seniors can provide immense love for an animal. The pet gives back love, hope and companionship. That is what we are about. We want to keep families together."
For more information, to donate or to volunteer for the Meals on Wheels program and pet food delivery, call Cathy Visser at (360) 586-6181 x112 or email her at nutrition@southsoundseniors.org.
To learn more about Concern for Animals or to donate food, make a contribution, or volunteer please call Sarah Hinman at (360) 489-1478 or email sarah@concernforanimals.org.