By Megan Conklin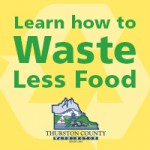 What are you doing for Valentine's Day? I unwittingly planned my next eighteen or so Valentine's Days three years ago when I gave birth to my fourth child, our daughter Grace, on this romantic, pink hued holiday. When discussing my due date with my midwives, I adamantly refused to acknowledge the possibility of giving birth on a holiday I considered to be off limits to the kiddos. Yet, Gracie proved to be defiant, even in-utero, and made her first appearance on February 14 regardless of my desires.
Many couples with children have Valentine's Day plans that include a sitter and a dreamy date. But, if you are like me, and are planning a Valentine's Day activity that is kid friendly, there are plenty of options for fun in Thurston County. And because all kids are created differently, I offer four distinct styles of Valentine's Day Dates from which to choose.
The Simple Cupcake Date
The thing about cupcakes is that they are modest and inexpensive, but really celebratory. Eating a cupcake is always a festive occasion. In our family we love to drop by Abby's Cookies and Cupcakes for a treat. We are especially enamored with Abby's new location in the south capital neighborhood. With cozy chairs and cute décor, it is the ideal date spot for you and the kids in your life. Other favorite cupcake spots around the county include Bonjour Cupcakes in Lacey and downtown Olympia and Miss Moffett's Mystical Cupcakes' adorable new storefront at the Capital Mall or their downtown location. Nothing says "Happy Valentine's Day" like a meticulously decorated, pink frosted cupcake.
The Creative Painted Plate Date
The Painted Plate, Olympia's pottery decorating spot is open on Valentine's Day this year. Visiting The Painted Plate with your child on Valentine's Day gives you the unique opportunity to create a heartfelt (pun intended) work of art together. Some friends we know have made it a tradition for one parent to take the kiddos to The Painted Plate either on or right before Valentine's Day (giving the other parent some alone time). Once there, the kids select and paint a special family Valentine's Day platter which is used later to serve up celebratory treats – a sweet tradition for a decidedly sweet holiday. Be sure to make reservations and check the store's website for Valentine's Day specials.
The Messy Hands On Children's Museum Date
The Hands On Children's Museum never fails to serve up kid friendly holiday themed fun. This year, in honor of Valentine's Day, there will be a special, self-guided card making exhibit in the Museum's MakeSpace arts and crafts area. Open from February 8 – 14, the space will have a variety of blank cards, fabric, lace, paint, and every other material you could use to create one of a kind valentines with your child. This is the perfect opportunity to have the messy and creative Valentine-making experience with your kids – without the clean up!  (Side note – the Museum's monthly Parent's Night Out is slated for February 14, if you need a moment of separate play time. Get details here.
The Old Fashioned Bowling/Roller Rink Date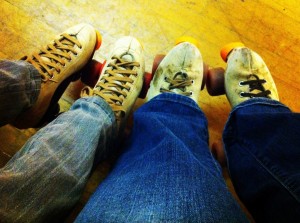 For some families, Valentine's Day is an opportunity to talk about timeless values such as friendship, love, and togetherness. A trip to the neighborhood roller skating rink or bowling alley is the epitome of old fashioned fun. In Thurston County, our local roller rink, Skateland on South Bay Road, is a blast from the past in of itself. They are open on Valentine's Day this year and families can skate for $4.50 per person for up to two hours – which is a great deal. A variety of area bowling alleys will be open and ready for Valentine's Day family fun this year. Westside Lanes in West Olympia is my family's bowling alley of choice and I am always surprised at just how much fun we have when we go bowling as a family. Aztec Lanes in Lacey and Yelm's Prairie Lanes are other great options for family bowling dates.
Valentine's Day doesn't have to be all about the grown-ups. Kids enjoy this love laced, candy laden holiday too. Me? I will be hosting a "princess-cupcake" three-year-old birthday party on Valentine's Day this year. If a romantic date with the love of your life is not on your agenda this year, perhaps a simple, creative, messy, or old-fashioned date with the whole family is.
ThurstonTalk aims to be your source for positive information and events happening in Olympia. If you have a suggestion for a story, send us a note at submit@thurstontalk.com. For more events and to learn what's happening in Olympia and the surrounding area, click here.