By Gail Wood

As the old proverbs says, you can't judge a book by its cover. And until you've read about Logan Pine's accomplishments, until you've heard about what he's done on a wrestling mat, you'd never guess who he is.
His quick smile and friendly manner all say nice guy. But when a wrestling match starts, nice guy becomes intense champion.
"I just really like wrestling," said Pine, a junior at Olympia High School. "It's in my blood."
He's not kidding. Pine's father, Pat Pine, wrestled at Elma High School and then at Simon Fraser University. Pat's three brothers all placed at state wrestling for Elma. And Logan's two brothers, Jordan and Kyle, both Olympia grads, also placed at state.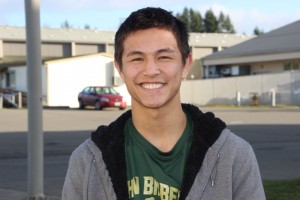 "I've been wrestling since I was five," Logan said. "My dad and I'd wrestle when I was little. But we don't wrestle anymore."
Dad knows better. Of Pine's 24 opponents he wrestled this season for Olympia, he's pinned 19. He's 24-0 at 138 pounds, coming off an impressive win earlier this month in the Gut Check Challenge where last year's state placers competed in a 32-man bracket. And last summer, Pine placed fourth at a national tournament at Fargo, North Dakota, earning him All-American honors.
"Logan had a really good summer," said Greg Hargrave, Olympia's wrestling coach. "His goal is to wrestle in college. I know he has the talent to wrestle somewhere."
At 138 pounds, Pine isn't the biggest guy around. But he might be the toughest. Despite his lack of size, he played and started at outside linebacker for the Bears last season.
"He's a tough kid," said Hargrave, who was the defensive coordinator for the Bears. "He's a small guy out there. But he's a power pack and a competitor."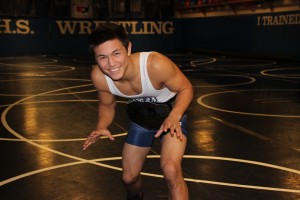 Pine is shooting for his third straight trip to state, placing sixth as a freshman and fifth as a sophomore. He's currently ranked fifth in state at his weight class. But at the Gut Check Challenge, he beat two state champs, one each from Oregon and Washington.
Last summer, Pine wrestled at two national tournaments. There was the tournament at Fargo, where he placed fourth. And there was a tournament at Daytona Beach, where Pine competed on a Washington all-star team, helping them take 12th place. He qualified for the team by winning a regional tournament in both Greco-Roman and freestyle wrestling.
Pine estimated he wrestled about 100 matches during his "off-season" time, the three-month period outside of the regular high school season.
"Wrestling is pretty much my life," Pine said. "I wrestle 10 months out of the year."
Like all wrestlers, Pine lift weights. He can bench press 235 pounds. But brute strength doesn't make a champion. Just ask Pine.
"It's mat time over everything," Pine said. "And athletic ability."
Being good, being a champion, means having a truck load of moves. Wrestling is like chess, always countering a move with another move.
"And it's just having a feel for the sport," Pine said. "Some people naturally are just going to be better in the sport because they have a good feel for it."
Pine has that feel.
He has favorite moves, moves that have helped him stack up opponents this season. But he wasn't going to share what they are, giving an opponent a scouting report on him.
"You make one move to set something else up to score on another move," Pine said. "It's a big mental game."
When someone comes out and head-butts Pine, he knows he has to be thinking what to do next. Or when someone comes after him with a fireman's carry, he's got to counter.
"You do a move and if that's not working you have to do a different one," Pine said. "It's all about set ups."
And quickness.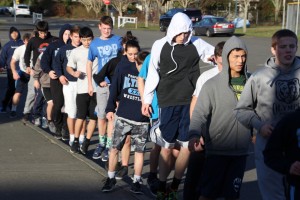 "I like to think I'm pretty quick," Pine said with a smile.
Pine is driven, focused on his goal of winning a state title. But there's a funny side to him. He's not so intense that he forgets to have a good time.
"He's a goofball," Hargrave said with a chuckle. "A lot of wrestlers are."
But he's got the serious side and gets things done. Pine also helps others get things done.
"He's a great kid," Hargrave said. "He's a leader on our team. He takes these younger kids under his wings."
When the high school season is over, Pine will grab a couple of classmates and they'll go right into practice.
"He's a leader," Hargrave said.