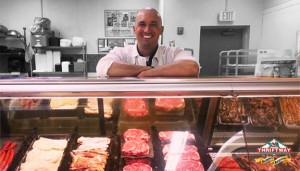 Ahh, Valentine's Day – that celebration of all things pink and lovey, when we spend hours looking through racks of cards, flowers, candy, and jewelry to wow that special someone. Why not make it easier on yourself and earn a free luxury dinner for two, simply by shopping for everyday groceries?
Dining-related gifts accounted for almost 35% of Valentines spending in recent years. With more than 60% of consumers jumping on the pink and red bandwagon (resulting in 11,000 children conceived as a result!), it can be a delightful—if overwhelming—mid-winter holiday.
Ralph's and Bayview Thriftway have long been a source of inspiration, top quality ingredients, and committed community involvement. This year they're proud to again offer their 'Steak and Lobster for Two' promotion where daily purchases can result in the holiday meal of your dreams.
Through February 12, every dollar spent counts as 1 Cupid Point in your ThrifteCard wallet. The ThrifteCard program is not only free but counts towards specialty food rewards; it earns special offers, event notification, and electronic receipts. When you've acquired 400 points, you're eligible for two 4 ounce lobster tails and two 12 ounce sirloin steaks, to be picked up on February 13 and 14.
Storman's Marketing Manager Carly Brettmann explains that "people love this promotion because they don't have to change their normal shopping routine and they earn themselves a great dinner as a reward of continuing to shop with us." She estimates that they gave away almost 400 dinners last year to their faithful ThrifteCard members.
With more than 50% of home-cooking consumers classifying their skills as "confident in the kitchen," turning Valentine's into a night of decadence isn't hard. Steak and lobster are a safe bet for gluten-free and paleo diets, and require little more than heat, salt, and pepper to impress. Add one of Thriftway's stellar bottles of wine, some oysters on the side, a sweet treat for dessert, and a bouquet to set the mood and you're sure to put a smile on anyone's face.
Need another exciting reason to drop in to your neighborhood Thriftway? The same dollars=points that will earn your Valentine's dinner also enter you into their Big Game Giveaway. Through January 28, purchases with your ThrifteCard also enter you to win a 40" Samsung LED HDTV with 1080p display and SmartTV capability. The winner will be announced on Thursday, January 29 so you'll have plenty of time to set it up before the Superbowl comes our way.
Whether shopping or browsing, looking for unique ingredients or inspiration, Thriftway is sure to have exactly what you need. Either way, it's worth a visit in January; the results could put a much-needed spring in your step for the remainder of winter's dreary visit.
Bayview Thriftway is located in downtown Olympia at 516 West 4th and Ralph's can be found at 1908 East 4th. Call or stop by for additional contest details.