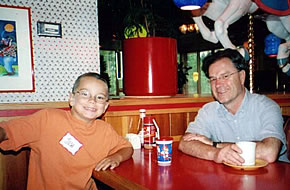 By Alyssa Ramsfield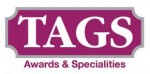 Thurston County residents Josh Woodson and his mother, Jaci, decided to take part in the Big Brothers Big Sisters program when Josh was only eight years old. Never in their wildest dreams did they think that ten years later not only would Josh still be in contact with his matched mentor, Jim Eychaner, but to have actually built a friendship that will last a lifetime.
"Josh's father and I split up when Josh's was a year and half old," explains Woodson. "I always wanted him to have good male role models in his life. Josh said he wanted a Big Brother. It took almost two years to get the phone call that there was a potential match. They had told us it would take a while because the list for male mentors was low and boys needing Bigs was high."
When the call finally came, Josh was ready to meet his potential match. "I remember when I was eight at our first meeting they showed us our interests that we had filled out about ourselves," says Woodson. "I looked at his and I thought it was kind of weird. I never knew a guy who was interested in orchestras or ballet. After talking to him, I thought he was a cool guy. The people at Big Brothers Big Sisters told me to think about if I wanted him to be my Big Brother. My mom and I walked out the door to think about it and we immediately walked back in to tell them he was a good match."
The match was a Washington State Recreation and Conservation Office retiree named Jim Eychaner. "Ironically, it was the example of one of my younger brothers," explains Eychaner when reflecting on why he joined Big Brothers Big Sisters. "I have a sister, an older brother, and two younger brothers. My next brother down had volunteered as a Big for a number of years in the Seattle area and encouraged me to do the same. I was raising two daughters at that time, so I said no. After my daughters became independent, I decided to volunteer. I sought permission from my wife and both my daughters to make sure I had everyone's support."
Picking the perfect match isn't always the case with the program. "You never know what to expect," describes Eychaner. "I tell people that we have enjoyed the most trouble-free match in the history of the program, thanks to Josh."
"Josh is fortunate to have an incredibly supportive mother, and a loving extended family," adds Eychaner. "I believe he has matured so well because he has responded positively to the high personal, academic, and other standards set by his family. He and I share many interests, and he was willing to sample some of mine."
"With Jim, he made everything we did focused on whether I would like it," says Woodson. "I was sports oriented when we met. He gave me many new experiences I would've never tried before. I usually really enjoyed what we did whether it was going to the ballet or an orchestra concert. I fell asleep at one of the orchestra concerts and left early because I was snoring. If it wasn't something I was interested the next activity would be something he knew I would like including my first time going to Old School Pizzeria."
Jim and Josh's relationship has changed over the past decade. "We are more relaxed and more communicative," describes Eychaner. "Josh is certainly more mature. We have both learned a great deal. On my part, I had trouble early on with 'guy talk,' being the father of daughters and more interested in issues typically not male — e.g., ballet, opera, classical music — but I learned to relax and talk about whatever came up."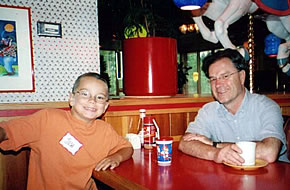 "Jim would meet with me and talk about issues I couldn't always talk about with my mom," describes Woodson. "He taught me about relationships and boundaries. He also taught me everything I know about basketball."
"Men need to know that there is a need for male mentors," says Eychaner. "You do not need to be some perfect guy, a sports hero, or anything like that. Any guy can be reliable, available, interested, and attentive. For some boys, just having an adult male pay attention or listen is incredibly important. Simply showing up for an event important to the boy shows you care and that he is worth your time and attention."
Eychaner wasn't just giving to a young boy through being a mentor, he also gained a lifetime of friendship. "Josh became an important part of my life. He and his mom became family friends. He was never a burden. Outings were a couple of friends doing stuff together. He is now like a favorite nephew. I realized a few years ago that if I were to have a son, I would want him to be like Josh."
As Josh prepares to pick a college and complete his final year of high school, he still finds Jim as someone to talk to. "Jim travels a lot now that he is retired and I'm busy with school, but we always find time to text each other and meet up. We've built genuine comradery. I know that Jim is someone I consider family and will be a part of my family for a long time."
To learn more about becoming a Big Brother or a Big Sister, visit www.swwabigs.org.