By Leslie Merchant

Teaching kids about money is a lot like herding butterflies. They will actually glaze over and flutter away right in the middle of your thoughtful informative explanation. Suzanne Stottlemyre, Griffin School fifth grade teacher, is on a mission to teach her students how to focus and fly straight when it comes to managing personal finances.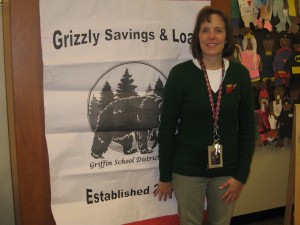 Savvy parents spend time and effort before situations arise to explain how money must come in before it goes out. Others wait until the eleventh hour and then get exasperated when whining and arguing ensue, usually in a store in front of an audience. Stottlemyre saw the need several years ago when she was teaching seventh grade math at Tumwater Middle School. "I saw that these kids needed some basic practical experience just adding and subtracting," she explains.  "Money always inspires people. I woke up in the middle of the night and wrote down all these ideas and thought, 'I've got to do this!'"
At first Suzanne tried to get several local banks to donate materials for her project. When none stepped up, Stottlemyre developed her own curriculum. She made up a template and typed up mock checks herself. She admits it was not the easiest route, but lots of volunteer help made it possible. "I went kind of crazy, but I had a wonderful person who worked at Tumwater Middle School who put it all together for me." When she moved to Griffin three years ago, she was once again blessed with a gung-ho volunteer base that helped launch the program for the fifth grade classes.
Despite her homemade success, Stottlemyre was determined to get an actual bank on board to do some real world education. Her persistence paid off when she connected with Jared Dance, Financial Educational Specialist with Twin Star Credit Union. He volunteered to do a presentation for the fifth grade classes and donated actual checkbooks and registers for the entire grade.
Each child is responsible for depositing a weekly paycheck, paying rent for desk space and technology, and balancing his/her own checkbook. Additional money, called Grizzly Bucks, can be earned for the weekly store and even experiences like a pajama day or an auction. The idea is to offer kids various real ways to spend their money.
"Jared did a really good job talking about other ways to expand this program. Once years ago I offered snow insurance because you are still going to have to pay and things are still due when we have snow days and we did. Some kids bought and some kids didn't and they were like 'no way we have to pay?!' it was pretty cute," reflects Suzanne.
Grizzly Savings and Loan is open for business three days a week at the end of the school day. Stottlemyre teaches her students real life lessons like keeping a small amount of cash on hand and depositing the rest in an account. "Some of the kids would collect a huge stack of money and some kids would miss something and owe me money and not have enough because they spent it all at the store."
She emphasizes, "Math is a skill that so many kids need, this keeps them interested in doing math correctly. It gives them a sense of accomplishment." Earned money is more valuable than free money and spending becomes thoughtful instead of perfunctory. Twin Star Credit Union's role has been vital to the growth of Suzanne's brainchild. Dance presented to all three fifth grade classes and has offered to come in and help with their auction in addition to providing basic supplies and auction items. "If you want something or need something, just ask. A lot of times the community, whether its parents or businesses, they are willing to help," exclaims Stottlemyre.
Dennis McKown and Johanna Dowler teach fifth grade with Suzanne at Griffin. They have wholeheartedly adopted the Grizzly Savings and Loan as part of the fifth grade curriculum. Dowler says, "I see the kids really thinking about saving their money for the auction or the store, and they are very concerned about getting paid. It's a great tool for them to start learning how it doesn't come from the money tree. It's also a great wake up for them to have to pay rent and utilities."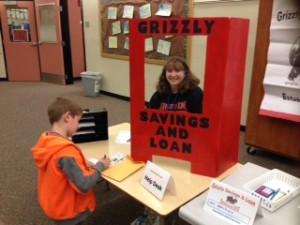 Fifth grade parent Heather Brandsma says, "I love the idea of teaching kids how to manage money early. It reinforces our home financial plan. It helps them learn that if they want to do something they have to earn more money or take it out of their account." Stottlemyre emphasizes the real life application. "I had one mom who said she wished they were doing this in eighth grade because you just kind of get thrown into the world and when you are 18 you just have to do this (manage expenses)."
Parent Barry Diseth adds, "I think the program is fantastic. It gives kids real life exposure using the bank and writing checks." Barry's daughter Hannah Diseth exclaims, "I think the program is really fun. We get to act like we are all grown-up writing checks and we get to pay rent. My friends like the idea of the store and having money."
It might take a village to raise one child, but it takes an entire community to raise a whole bunch of them. Innovative teachers, staff, parents and local businesses are all pitching in to help raise financially grounded Griffin fifth graders.