Submitted by Barb Lally for Rob Rice Homes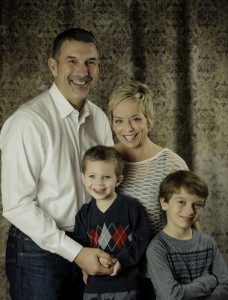 Throughout the entire year Rob Rice and his family generously provide time and support for organizations where they can make a real difference.
"We feel it is our responsibility to give back to the community where we have been building homes for more than 30 years," says Rob. "This is where we live, work and raise our children, and we want to help make it a better place for our family and those in the communities we build."
Their efforts extend far beyond issuing a check to the causes they believe in, they back their support with real action. In 2011 Rob and his wife Helena had determined that they needed to specify a goal for annual giving so they made the decision to prioritize children's needs and homeless pets as causes to help. Now they extend their hands and hearts to two organizations that improve the lives of children and that aid rescue animals.
"There are so many well-deserving charities in our community but we needed to pinpoint two so we could really make a difference," says Helena.
Caring for Animals
"When I married Rob, I had three rescue dogs and he was living in a pet-free home; it was quite a change for him," laughs Helena, who grew up in a family that has always helped animals in need. "It didn't take long though and within a few months he was traveling around with one of my dogs and even taking her to the office to work for the day."
Now she says Rob has a soft heart for rescue animals, even picking them up in communities where he builds to make sure they get to their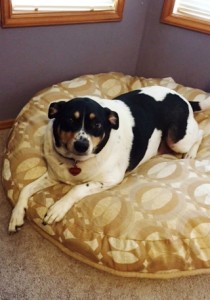 homes or a shelter where they can be helped.
"Just recently Rob stopped on I-5 on the North Fork Lewis River Bridge in Clark County when he saw a confused dog running in the freeway," Helena says. "Rob had to crawl underneath
a truck to eventually get the poor thing out. Rob brought the dog home, took him for veterinary care and we took care of him until we found the perfect owner. One of our staff is now the dog's proud owner so Rob still gets to see 'Lewis' who is named after the bridge where he was rescued."
Every year, the Rice's, along with other business owners, sponsor a fundraising auction for Concern for Animals, an organization that for 34 years has assisted low income families with the food and medical needs of their pets and rescue animals. But they wanted to do more.
"Rob and Helena met with us and asked how they could help us," says Janey Hanson president of Concern for Animals. "We had bought an older 1920s home for our offices after operating out of people's homes for years. We showed them our lengthy wish list so they could pick a project. What happened next was amazing."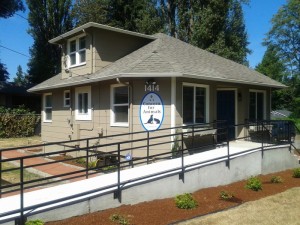 Janey says that the local builder sought the help of many of his sub-contractors who donated their time and materials to completely remodel the home. Rob even assigned one of his superintendents to coordinate the work. The long list of sub-contractors who contributed is on the group's website.
"They cleaned out our project wish list," says Janey. "They even sent in a designer so we could pick our color pallet. They remodeled the kitchen with new flooring, cabinets, counters and backsplash; they fixed a major drainage problem under the house and repaired the basement so we had plenty of room for our food bank. They painted, fixed our ceiling, worked on our heating system and did electrical work and even leveled our parking lot. The list is long."
The group says it would have taken years to complete but Rob and his sub-contractors did it all in just a few months resulting in an office and food bank that will help hundreds of pet owners and their animals.
Contributing to Kids 
"Our son Alex attended the Hands On Children's Museum of Olympia school for 3 years," says Helena. "When Rob and I went to his first parent-teacher conference, we realized what a unique learning atmosphere it is and how beneficial the museum is to children in our community, so we decided we wanted to donate our time and resources to this great institution."
Helena began co-chairing the museum's fundraising breakfast that provides admission for Free Friday Night and then when the new museum was in design stages both she and Rob agreed to provide an entire exhibit that offers kids an experience in construction, a field they know a bit about. The Build It! exhibit allows children to don hard hats and safety goggles while they use builder boards to build a home or they create a Keva structure.
Around the Community
There are many other organizations where Helena and Rob donate their time and resources.
Rob is a lifetime director for the Olympia Master Builders Association and an active board member of Thurston Economic Development Council. He is also well known for presiding over the Home Owners Associations in the communities he builds to help maintain their quality and value.
Rob is a founder of Thurston First Bank, initially helping to start the bank and currently chairing several committees for its board. Helena is a shareholder in the bank as well.
Helena has served on boards for the Pacific Mountain Workforce Development Council and the Thurston County Chamber of Commerce and currently volunteers for the PTO program at East Olympia Elementary, Alex's school.
The Rice's support Saint Martin's University, Boys & Girls Clubs of Thurston County and the South Sound YMCA and Rob coaches most of his children's sports teams, whether it is basketball, football or baseball.
Helena admits it all keeps them very busy yet they don't usually turn away requests for help.
"We feel overjoyed to help out this amazing community," she says. "It is a proven fact that people who give are happier and healthier. That is sure true in our family's case."
Rob Rice is Thurston County's largest local home builder and was voted the Best of South Sound for 2013. He has built more than 3000 homes over the last 30 years. He and his wife Helena live in Olympia with their two sons; Alex Michael and Carson. Rob is a graduate of Washington State University with degrees in construction management and architecture.