By Gail Wood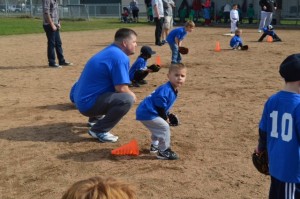 Both Geoff Nelson and Morris Miller have progressed beyond playing catch with their son in the backyard.
They became their coach. Or to be more precise – coaches.
By volunteering for the South Sound YMCA, Nelson and Miller have coached their kids in flag football, basketball, T-Ball, baseball and soccer. They've transitioned between each sport and loved every minute of it.
"There are times I might get a little frustrated, but I love it," Miller said. "I feel it's my way of giving back. It's my way of strengthening my community."
Besides learning how to properly swing a bat, shoot a basketball or throw a football, Nelson and Miller have made sure their teams learn something about commitment to their community, about saying thank you to their family.
"I feel that is equally as important as the game itself," Nelson said about learning life lessons from sports.
Even when they've been at a flag football practice, Nelson will have his players pick up garbage when someone has littered. He's always looking for some kind of chore his teams can complete.
"By doing something, like cleaning up litter, raking the fields and by doing the lines, I feel they get a lesson in giving back to the school or community," said Nelson, who works for the Department of Corrections.
Miller and Nelson both got involved in coaching with the Y when their kids were 4-years-old. Nelson, who was born and raised in Olympia, didn't have much of a sports background. He said he wasn't the star athlete in high school. And now as a coach it's not just sports he's trying to teach.
"Without having a strong athletic background myself, I really try to work on some of the core values that I admire about the Y," said Nelson, who has three children. "Teamwork, respecting others, having a good time, celebrating people – that's what we try to teach."
Miller, who grew up in Lakewood and attended Clover Park High School, turned out for track and football his senior year. That led to him doing the decathlon for the track team at Clark Community College in Vancouver and later playing football for the Olympia Cavaliers, a semi-pro team.
He started coaching when his oldest son, Marcus, was four. That was 11 years ago and Miller, who has three children, continues to coach. Because of his experience with the Y as a kid growing up, Miller turned to this organization when his kids were ready for sports.
"The Y was big in my life because they had a Friday night program at the Lakewood branch," Miller said "That's where I used to spend my Friday nights for the majority of my high school years. It was a positive experience and there were a lot of great mentors. I wanted my kids to have that, too."
When his oldest son turned four, he started playing flag football, then basketball and T-Ball. And Miller was there as the coach, watching and teaching.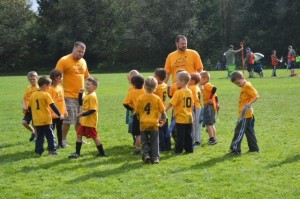 "It was great," said Miller, who works for the Child Protective Service. "It nurtured him."
For 11 years now, Miller has been coaching his kids, sometimes coaching two teams in a season. As a volunteer, the rewards aren't financial.
"I really enjoy it. It's really rewarding," Miller said. "I'm a happier person when I'm coaching. I tried to quit coaching for a year and I was an angry dude. It was really weird. It does wonders for me. I enjoy it. I'm no world-class coach. But I like to teach and instruct, mentor, lead. It's just a good fit for me. I love doing it."
He feels fortunate to be connected to the Y.
"I feel like my values are closely aligned with the Y," Miller said. "I believe in what their programs offer kids. It fits my personality."
It's not that Nelson doesn't enjoy winning, but there's something even more important than the final score. That's to have fun.
"We have a couple of rules – be respectful and have a good time," Nelson said.  "As long as they do both, they should do well."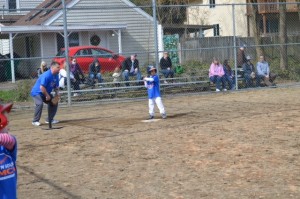 No matter what sport they're coaching, the objective is to learn how to play the game and to learn some life lessons.
"We want the kids when they leave this short, six to eight week season to know something about the game that they didn't know before and for them to know more about teamwork and respect," Nelson concluded.
For both Miller and Nelson, coaching for the Y is the perfect fit.
"The Y is a great program," Nelson said. "There's just a sense of family. Amber Wetzel, the youth director, is just fantastic. I've had nothing but a great experience with the Y."