Submitted by Barb Lally for Rob Rice Homes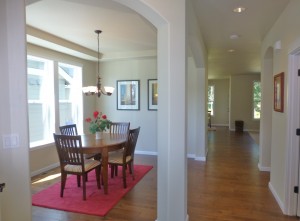 Family traditions… entertaining friends…celebrations with lively conversation…dinner parties and sharing good food—they all involve the dining room.
What is your picture of holiday entertaining or a family gathering? Is it a dinner at a long table with linens and china? Or maybe you prefer a buffet line in the kitchen with football on in the family room and an open dining room where guests can choose their seat.
No matter what your traditions or plans for the holidays, there is a Rob Rice Home with the perfect dining area to suit your preferred hospitality and your family's needs.
Formal Dining Rooms are not Passé
Recent focus groups and surveys asked home buyers what they want in a home and many still want the traditional dining in a room separate from the kitchen.
One recent survey this spring said that nearly two-thirds of home buyers want both a great room for casual dining and one or two more formal spaces.
Formal dining rooms are for those who love to entertain, especially those who enjoy sit-down dinners with candlelight or a dimmed chandelier. For some, the formal dining room provides a place to decorate and dramatically set the mood.
"The formal dining room is a great place to celebrate special family occasions and holidays," says Lisa Poundstone, Home Staging® expert and owner of Design Smart Home Staging &
Redesign. "You can create different looks for each of the seasons by layering the table with different colors and textures using tablecloths, runners, placemats, chargers, dishes and napkins. The centerpiece, typically the focal point of the dining table, can be a simple vase with your favorite flowers or a more dramatic combination of candles and flowers."
The formal dining rooms available in some Rob Rice Homes are a place to display art as well as your crystal, china and silver. Tables for eight and family china hutches, often hard to place in other parts of the home, fit well in the formal dining area. In a pre-sale of a Rob Rice Home, a buyer would also have a choice of several lovely chandelier lighting fixtures.
Both the Rainier plan and the home we call the Magnolia at Evergreen Heights, a conveniently-located community nestled into gently rolling hills in a country setting in Lacey, offer a formal dining room.
And, in addition to their beautifully-designed kitchens with alder cabinets, stainless steel appliances, slab granite or quartz counters and hardwood flooring, these homes have a special "butler pantry" between the kitchen and the dining room with a granite countertop and a wine cooler that allow you to stage food and drink for a formal dinner and serves as storage for that special holiday dinnerware and any other items to graciously serve your guests.
At Campus Highlands in the Meridian Campus amid the beautiful Northwest woodlands and a neighboring popular golf course there are three gorgeous quality-built homes that include formal dining rooms: the Riviera, the Sahalee and the one-story Valhalla.
All of these homes have the potential for both formal and casual dining as they have a dining nook off of the kitchen as well as the open and light great room concept for the wonderful flexibility of entertaining and dining in two separate spaces.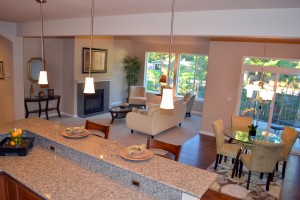 Open, Casual Dining
According to the National Homebuilders Association report "What Home Buyers Really Want," 66 percent of buyers said a dining room is either essential or desirable in their home.
But that does not necessarily mean they all want a formal space. Many homebuyers today are looking for open floor plans, where the kitchen, family room and dining room share one space and a busy family can see and talk to one another.
Many Rob Rice Homes have the great room concept and have kitchens with granite or quartz raised counters where family members can pull up a stool for breakfast. The popular Spruce at EvergreenHeights is an example of a one-story home with a stylish kitchen that looks out onto a bright great room for more casual dining.
Rob Rice has the Home you Want
Find the home that matches your wish list at any of the nine sought-after Rob Rice Communities throughout the area. You can also find a quality-built home on an individual, larger-sized lot outside of our communities at one of our Select Home Sites in ThurstonCounty.
And don't forget that the area's top rated builder, Rob Rice Homes, can custom-build your home with features specific to your family's lifestyle, including your dining preferences.
Rob Rice is Thurston County's largest local home builder and was voted the Best of South Sound for 2013. He has built more than 3000 homes over the last 30 years. He and his wife Helena live in Olympia with their two sons; Alex Michael and Carson. Rob is a graduate of Washington State University with degrees in construction management and architecture.