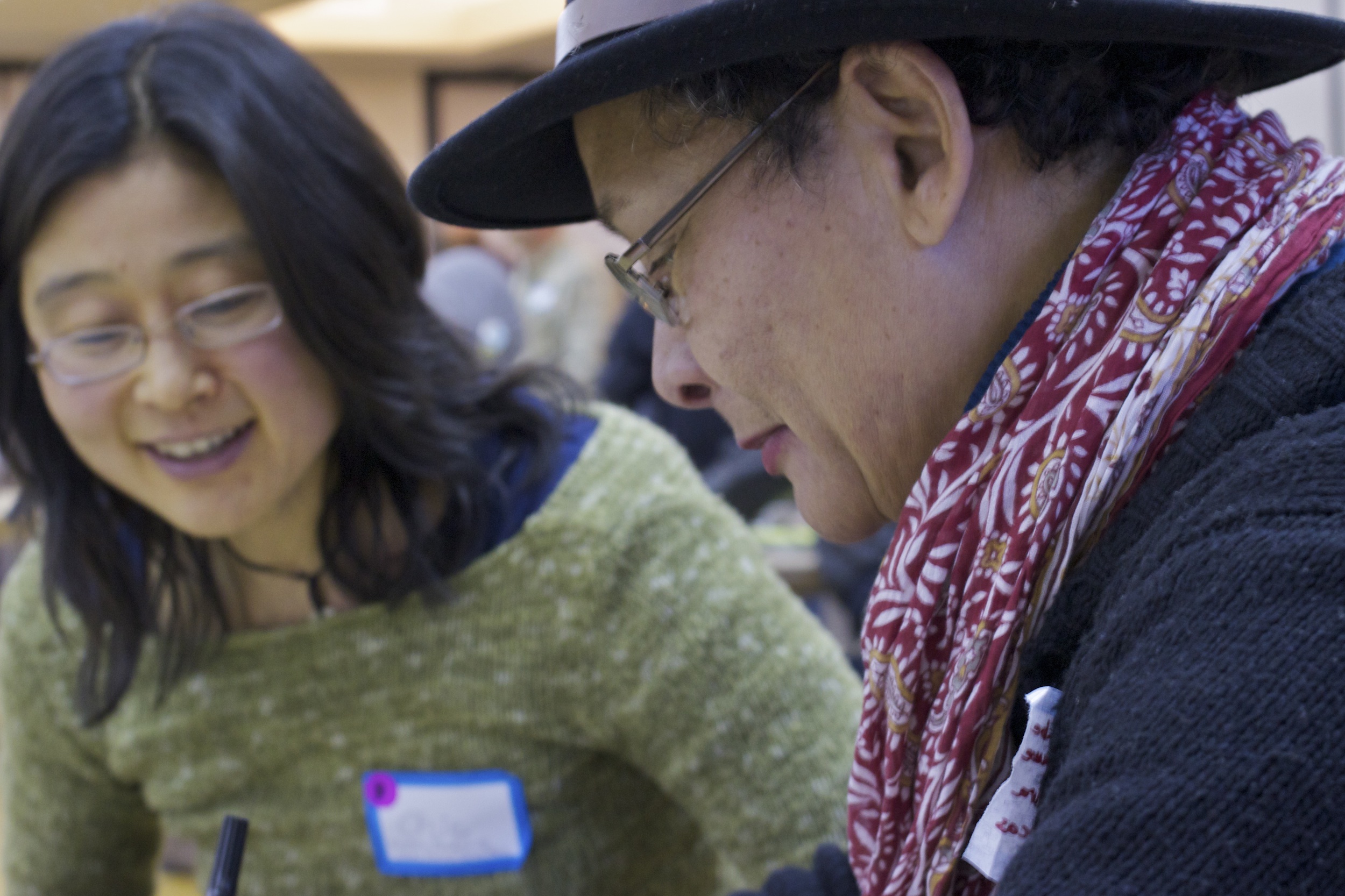 By Jennifer Crain
When you see a note on a menu identifying the farm that grew the vegetables in your salad, it's easy to picture the restaurant's chef out on the farm with the grower, ambling through sunlit rows of Russian kale.
But listening to an assembly of local food producers and food buyers at last year's South Sound Farm to Fork event, it was clear that though meet-ups at the farm can happen in real life, they don't occur as often as you might think.
To build stronger connections among local farmers and food producers in the region, Enterprise for Equity, WSU Extension, Thurston Conservation District and many more partners will once again host their annual South Sound Farm to Fork event on Monday December 8, 2014 from 1:00 p.m. – 4:30 p.m. (program begins at 1:30) at the Thurston County Fairgrounds.
Chefs and growers may both work 80-hour weeks – on opposite schedules. Genine Bradwin of Kirsop Farm, one of four panelists at last year's event, wasn't joking when she said there's about an hour window on any given day when chefs and farmers can even catch one another on the phone.
Lisa Smith, Executive Director of Enterprise for Equity, knows the farmer-buyer conundrum well. Since the organization launched its Agri-Preneur program in 2009, they've helped 68 individuals launch food- or farm-based local businesses.
"We won't build a local food movement without changing the local market," Smith says. "We have to build the capacity of local farms so their business house is in order and they can meet demand. At the same time we need to continue to build the demand side. We have to do both."
On the market side, that means widening the customer base, reaching out beyond farmers' markets and local restaurants to specialty stores, grocery chains, and institutional food providers.
Direct-to-consumer local food sales have ballooned in the past decade, by a whopping 105 percent. But our food system is still a long way from being locally controlled.
Connections between the supply and demand sides of the local food system are difficult to forge, partly because we've lost the systems to help local goods flow into local hands. Stacy Carkonen of Cascade Harvest Coalition noted at last year's event that our industrialized food system, with its dependence on imported foods and massive, centralized distribution centers, has left our modern communities without the local supply chain that existed in our grandparents' generation.
"Larger food growers and food buyers, they have a lot of resources," agreed Smith. "What would happen if we had equally competent, agile, effective logistics in our community to help the many smaller producers and buyers?"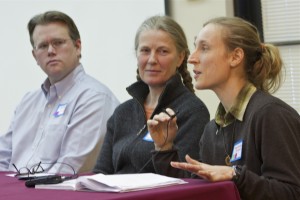 Enterprise for Equity does a lot to shore up the local food market by offering business training programs, technical assistance and microloans for farmers and food-based enterprises.  Through its farm incubator program at Scatter Creek Community Farm, The Thurston Conservation District's Farm-Link program and the South of the Sound Community Farm Land Trust more support is on the horizon to help growers find land to farm.
The purpose the South Sound Farm-to-Fork is to help farmers and ranchers connect with food buyers from around the South Sound. According to Smith, "this type of event helps grocers, chefs, and institutional buyers connect with local farmers and ranchers to increase consumption of food grown nearby, improve health, grow revenues for local and rural businesses and support economic vitality in our region."
The event includes structured time for suppliers of fruits, vegetables, meats, mushrooms, and milk products to hobnob with buyers such as the food service supervisors for both the Olympia and Tumwater school districts, chefs from Mason General Hospital and The Evergreen State College, and regional-scale food artisans (think Trinidadian hot sauce, raw fermented sauerkraut, and Trappist-style cheese), among many others.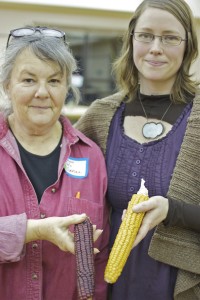 Last year, the event drew more than four dozen food growers, buyers, and spokespeople, including representatives from the Thurston County Economic Development Council, USDA Rural Development, Community Farmland Trust, Thurston Conservation District, and Puget Sound Restoration Fund.
Good food and a meaningful topic will get people talking and that's just what happened when the group was adjourned from the lecture room. Christian Kaelin of Provisions Mushroom Farm could be seen chatting with Chris Iberle of Seattle Tilth. Sandra Bocas of Hot Babe Hot Sauce had a tête-à-tête with Chie Okazaki from the Olympia Food Co-op. In a crowning moment, the school districts agreed to purchase 3,500 pounds of frozen berries from Jim Johnson of Johnson Berry Farm, products he had in cold storage, waiting for a buyer.
Smith beamed when she got word of Johnson's sale. "That's commerce!"
For information about the South Sound Farm-to-Fork or Enterprise for Equity's Agri-Preneur Business Planning program, visit their website or call 360-704-3375.