By Leslie Merchant

What's your dream? Are you living it today? If you are like me, you probably have it stored up on a shelf in your "someday" closet. I recently met a young man named Dylan Kuehl who lives his dreams every day. Dylan is 31-years-old, and a quick look at his resume makes me feel like I have some serious catching up to do.  Published artist, motivational speaker, visual and performing arts company owner – these are some of the hats Dylan wears every day. He also wears an advocate's hat because Dylan happens to have Down syndrome.
"My mother taught me early in life not to be afraid to reach for my dreams and celebrate my abilities," says Dylan in a YouTube video he created with members of his YES team. YES teams are Dylan's secret to success. He explains, "I began building YES teams of support, surrounding myself with special people who believe in me."
One of these YES teams helped Dylan realize his dream of being a drummer in a band. Dylan received his first drum set at age three and began taking private lessons at age 11. His teacher told him that he was good enough to be in a band. "Dylan never let go of that concept," says Terri Rose, Dylan's mother. She says, "Those people that say 'yes' at the right time, that's what this is all about." Rose and Dylan found Mark O'Brien, owner and instructor of Rhythm Fire School of Music and Performance, and he began to mentor Dylan. "I knew immediately that he had skills as a drummer," says O'Brien.
The death of iconic pop star Michael Jackson in 2011 prompted Dylan to action. O'Brien says that Dylan was relentless in his pursuit of a band to carry on Michael Jackson's legacy and heal the world with music. O'Brien was so impressed with Dylan's ambition and vision that he joined Dylan's YES team. And the Jackson Memory Band was born.
The band began as a vehicle to spread Jackson's music and message, but Dylan and his YES team quickly saw the greater opportunity it provided. Rose explains that their dreams of engaging the community to support a common interest (music and inclusion) had arrived in the form of the band. "When the group came together they didn't realize the connections they had with people with special needs. Their lives are touched with people with disability, so it's not hard to see it everywhere."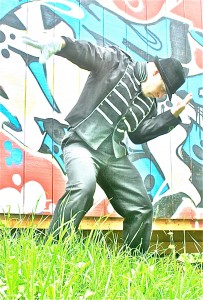 She explains that several band members had autism and Down syndrome in their own families. Dylan is the only person with a disability in the band. Rose calls the four principal members the "Core Four." They include two local high school singers, Kailey Schlenz and Karli Brown, Mark O'Brien on keyboard and guitar, and Dylan on drums. Current band members also include percussionist Manfred O'Brien and bass player Don Parr. The band looks for other community members to join them for performances. This has been the catalyst in spreading the band's mission to bring positive awareness for people with disabilities and to advocate for the inclusion of all people in all facets of life.
The band and its message have been such a success that they have changed their name to reflect their progress. Now known as Living the Dream Band, they hold fundraisers and concerts to support their tour and mission. At each stop they always give a percentage of collected donations to local disability groups to encourage others to follow their dreams. Rose says, "We would like to go to other communities and countries and take our example outside of our own backyard." To that effect, they have already successfully toured throughout the state, opened for the Special Olympics, and toured in Maui.
Gini Koshelnik-Turner is living her dream. She is a 24- year-old singer also living with Down syndrome. Gina is going to be the lead singer for the band's upcoming Music Extravaganza and Dinner Auction later this month. She is an example of the band's mission to prove that Down syndrome and other disabilities are not the obstacles they are often perceived to be.
On Friday, November 21, the Living the Dream Band along with Billy Farmer and the Cavaliers will hold a benefit dinner and auction at Indian Summer Golf & Country Club at 6:00 p.m. Proceeds will go to operational expenses and to local non-profit Kokua Services, which provides supportive services to citizens with special needs. Tickets are $35 per person.
For tickets or more information on Living the Dream Band, please contact Terri Rose at healtheworldtour or call 360-701-9880.