By Gail Wood

Call them the unexpected guests.
With a 5'6″ middle blocker, with a 14-8 record and placing fourth in the 4A Narrows League standings, Olympia High School's volleyball team did the unexpected when it qualified for the state tournament.
In a winner-to-state match at district, Olympia beat a Timberline team that beat the Bears 3-0 twice during the regular season. It was a defining win for a team that struggled to find that winning formula.
From the first match of the season, Laurie Creighton, Olympia's coach for 36 years, has preached "get better." The building block to success was to improve each game. Win or lose, it was all about not quitting.
"There's not a lot of replacement for experience," Creighton said. "We were hoping to get enough of it before we ran out of time. A couple of weeks ago I was thinking, gosh we might run out of time. We just hadn't consistently shown the progress I was hoping that we would show."
A turnaround moment for Olympia came at a team meeting midway through the season when coach and players challenged everyone to get better. And instead of losing dividing the team, it brought them together.
"We really came together," said Hannah Adams, a 6'2″ outside hitter for the Bears and a team captain. "We weren't afraid of anything. We just had fun – just knowing there was nothing to lose and to go all out and play hard."
Another factor in Olympia's surprising turnaround was tradition. Nearly every year, Olympia's volleyball team earns a ticket to state. Last year, Olympia's string of seven straight seasons of qualifying for state was ended. They were determined not to extend that string.
In Creighton's 36 years at OHS, the Bears have reached state 22 times. Without that winning tradition, Jona Spiller, a third-year varsity player and a team captain for the Bears, didn't think Olympia would have made it to state.
"It's a whole different story if you take the tradition of our program out of it," Spiller said. "Because we don't have the best skill compared to the other teams at state. That's huge part of why we're at state now."
With the 5'6″ Lydia Soto playing middle blocker, Olympia had to make a strategy adjustment. The Bears weren't going to be able to play power, smash-mouth volleyball. They were going to have win with finesse, not power.
"Lidia is a great all-around volleyball player," said Creighton, who was inducted into the state's Coaches Hall of Fame in 2008. "But she doesn't have a lot of height. So, she's going to get matched up against a lot of bigger girls."
Without the big, inside blocker, Olympia compensated with hard serves, putting an opponent on the heels and not allowing them to go on the attack.
"Our goal is to serve tough so the middles on the other teams don't get a lot of opportunity," Creighton said. "If we can serve them and force them into less than perfect passes, it's hard to run a middle."
With each serve, Olympia's goal is serve a bullet and place it so an opponent can't set up their middle blocker for a rally-ending spike.
"We don't use the middle as much offensively as we have in past years," Creighton said. "But we use it hopefully enough to keep other teams honest. If they don't pay attention to our middle, we're going to sneak one by them. Hopefully that will open up some opportunities for our outside hitters."
Olympia made its unlikely run to state with teamwork. It had just three all-league players. Adams made first team, Spiller made second team and Julia Fleener made honorable mention. Without a cast of all-stars who will be playing in college on scholarships, Olympia won with teamwork.
"We have a team that understands their role and are committed to filling that role to the betterment of the group," Creighton said. "There might be teams with a lot of great players, but we're a great team."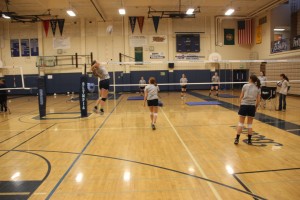 From their first match of the season, Creighton has made sure that her team's focus has been on getting better, improving with every opportunity.
"This whole year, coach has made sure we focus on the process rather than the final outcome," Spiller said. "It's been one practice at a time. One game at a time."
In this turnaround season for the Bears, they've learned never to give up.
"To earn a berth after a lot of people had written us off, it's really rewarding to be enjoying this extra week," Creighton said.