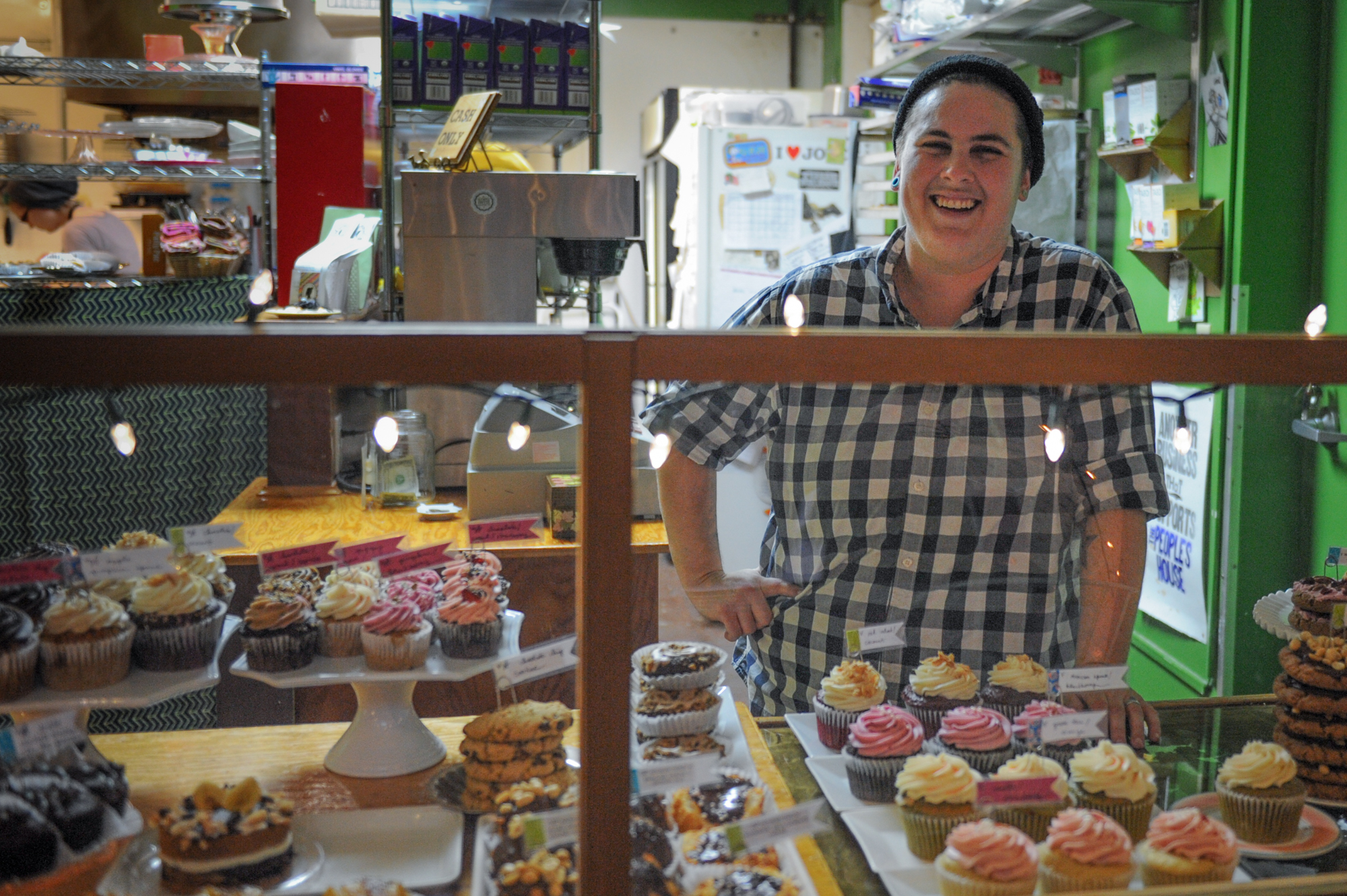 By Melanie Kallas Ricklefs

Are you in the mood for a cupcake?  Maybe you'd prefer a brownie, cookie, or doughnut.  If you're one of the many people who have dietary restrictions, your craving usually means it's time to get out the bowls and measuring cups.  Not anymore!  The Bearded Lady Food Company is a unique bakery in downtown Olympia that specializes in vegan and gluten-free baked goods.  Their cupcakes are divine, and their brownies are pure bliss.  On Friday and Saturday evenings, you can stop in for a treat, while enjoying the cozy atmosphere they provide in their Franklin Street bakery.  The bakers are friendly, approachable, and always happy to answer questions about their ingredients.
The Bearded Lady Food Company began as a wholesale bakery in 2009, when owners Melanie Shelton and Jordan Marsicek acquired the business formerly known as The Blue Lotus Café.  They spent their first year of ownership adjusting to busy baking schedules, playing with recipes, and trying to figure out how to run a business.  In 2010, they "became lonely for customer interaction," so they opened their doors to serve plated desserts a few nights per week.  They later added a bakery case, which is currently stocked with rich, decadent vegan and gluten-free desserts.
For those of you who have never attempted vegan gluten-free baking, it is not for the faint of heart.  There will be trials, there will be errors.  There will be cupcakes that taste like quinoa, and cookies that taste like chickpeas, but not at The Bearded Lady.  These ladies have mastered the art of combining flours and flavors to create luscious baked goods for all to enjoy.  They focus on vegan and gluten-free baking because it makes them happy to see people with eating restrictions, especially children, indulge in their desserts.  They also fill a niche previously unoccupied by traditional bakeries.
In 2012, they started serving brunch on Saturday and Sunday mornings to help keep the bakery open.  Specialty desserts are not a necessity, but brunch appeals to everyone.  It also complements their baked goods, which are available during brunch hours.  They have vegan and gluten-free options for brunch, while also serving dairy and meat dishes.  The owners are proud to let you know that everything in their bakery and on the brunch menu is made from scratch – now that is dedication to perfection.
Their dessert menu is available on Friday and Saturday evenings, when you're more likely to be out on the town, and might want to stop in for a treat.   Limiting their bakery hours allows them to avoid time spent waiting for the next customer.  Realistically, there aren't many people looking for a luxurious dessert at 2:00 p.m. on a weekday, and keeping the bakery open all day is costly.  During their evening bakery hours, you can build your own sundae, which can include any of their homemade dairy, or vegan ice creams, vegan and gluten-free baked goods, homemade sauces, whipped cream, and more.  They even have a vegan caramel sauce!  You read that right, vegan caramel sauce, three sweet words almost never spoken in the same sentence.
When the bakery front is not open, the bakers at The Bearded Lady are hard at work (and play!) creating scrumptious goodies to supply to their wholesale customers.  The next time you need a sweet pick-me-up during the week, look for their products at any of the following local businesses:  Olympia Food Cooperatives, Bayview Thriftway, Traditions Cafe, Caffe Vita, Quality Burrito, Tofu Hut, Flaming Eggplant Cafe, Olympia Coffee Roasting Company, or Batdorf & Bronson.  You can also special order from the bakery, but they need one week advanced notice period, so no cupcake emergencies!
While the Bearded Lady was built on cupcakes, the owners admit that there are other desserts they prefer to create.  Don't get me wrong, they both love coming up with exotic flavor profiles for their cupcakes (which change with the season), but there's more to life than cupcakes.  Melanie confesses that her favorite desserts to create are tarts and pies with custards and curds.
Jordan enjoys making ice cream and waffle cones, and creating the "little details" that put their desserts into a league of their own.  One of Jordan's little details is the vanilla bean paste responsible for the full-bodied flavor of their supreme vanilla bean frosting.  I won't give away any secrets, but the paste making process is labor intensive, time consuming, and oh…so…worth it!  Don't take my word for it, find out for yourself.
Visit their website for brunch and dessert hours, special orders, and upcoming baking classes for kids, teens, and adults.  For questions about their products, call (360) 943-6235.
The Bearded Lady is a cash only business located at 412 Franklin Street in Olympia.  Be prepared because there are so many delicacies, you won't want to limit yourself to just one.