By Katie Doolittle

"I'm sort of a frustrated twentieth-century archaeologist," says Olympia resident Bob "Sully" Sullivan. It's a pithy way to summarize his unusual and fascinating hobby: Sullivan is a collector and preservationist who researches and restores street clocks, antique automobiles, and "unusual mechanical things."
As Sullivan describes his wide-ranging collection, I can't help but wonder if I've tumbled into some sort of Steampunk Wonderland. His particular passion is for transitional technology or, as he puts it, "strange, unusual things–the odder the better." This would explain why he's sunk his time and treasure into refurbishing such items as a coin-operated orchestrion or a twelve-seater steam car.
Sullivan's hobby is on vivid display on Lindell Road. Here in his front yard, Sullivan has installed a gorgeous, towering street clock. If time is of the essence–specifically, the essence of an era–then it's no wonder this piece evokes both decadence and grace. First purchased in 1915, the clock originally stood at the corner of 2nd and Marion in Seattle. In those days, Sullivan tells me, "Seattle used to be called the City of Clocks. They had more street clocks than any other city in the United States."
This particular clock was made by the Seattle-based manufacturing jewelers Joseph Mayer and Brothers, who started their company at the height of the Klondike Gold Rush and went on to become the leading west coast supplier of street clocks. According to Sullivan, Mayer clocks "are considered about the fanciest street clock that was made."
"Fancy" doesn't even begin to cover this massive fantasia of filigree and fleurs-de-lis. Lanterns and globe lights surround the four-faced clock, all supported by a Corinthian column erupting from a base of acanthus leaves. The total weight of this cast iron behemoth is somewhere around 8,500 pounds, and it's all been painted in the Mayers' iconic color combination of green and gilt.
When pressed to place the clock within a larger stylistic movement, Sullivan settles on Art Nouveau. However, he is quick to point out that this is commercial art meant to draw the eye, not necessarily to adhere to any particular aesthetic philosophy. Businesses (most often jewelers) would commission clocks as a form of advertising and then maintain them as a public service. Pedestrians could use the street clocks to check the time or reset their own watches.
New forms of advertising, coupled with the the rise of automobile traffic, rendered street clocks obsolete. "They ceased to be functional," says Sullivan.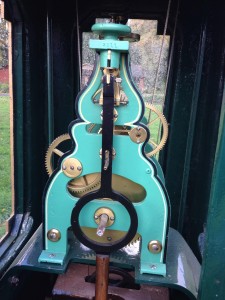 But the urban landscape's loss is the private collector's gain. Ever since childhood, Sullivan has loved four-faced street clocks. In fact, he's coveted this particular clock for years. "I just like street clocks," says Sullivan. "I have no excuse, it's just how I am. This is one thing I love."
Sullivan opens a little door to provide a better view of the clock's mechanical guts, otherwise known as the movement. Though some collectors update these inside parts to minimize hassle, Sullivan's renovation remains true to the clock's original gears and weights. As such, he has to hand-crank the clock every eight or nine days to keep it running properly. According to Sullivan, the well-maintained clock "keeps very good time; almost satellite time."
Hardcore horologists may notice some slight updates to the clock. Sullivan, after all, is a practical purist. He replaced the glass door with bullet-proof plastic and protected the glass dial faces with aircraft-grade plastic.
I imagine restoring the Mayer clock as a Herculean task, but Sullivan shrugs it off. "It's nothing exotic if you're into clocks. It's just big – very big." I ask more questions to uncover the effort beneath his expertise. It turns out that moving a piece this size takes a crane, several people, and a truck. Literally, not an endeavor to be taken lightly!
Sadly, Sullivan's neighbors will soon be treated to that very spectacle. Sullivan speaks of his decision to sell the clock to another private collector: "It's a beautiful thing and I look at it every day and I'm sorry to see it go." He estimates that it will be a couple of years before his other street clock is fully restored and bolted in the Mayer clock's place.
Another street clock? Sullivan smiles. Oh, yes: a 1906 Howard clock with plenty of filigree and lights. There's no telling how long it will take for the Howard's full restoration, but I'm already planning to check back with Sullivan in 2016. Something tells me that the new clock will be more than worth the wait!