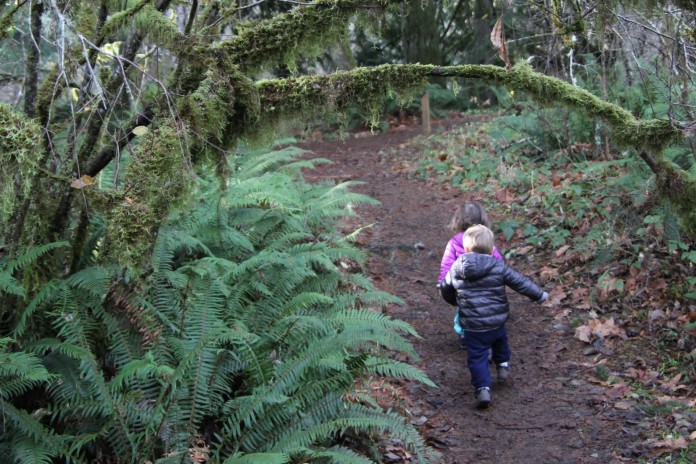 By Kathryn Millhorn

Nature is the best teacher.  American botanist Luther Burbank summed things up by saying "every child should have mud pies, grasshoppers, water-bugs, tadpoles, frogs, mud-turtles, elderberries, wild strawberries, acorns, chestnuts, trees to climb, brooks to wade in, water-lilies, woodchucks, bats, bees, butterflies, various animals to pet, hay fields, pine cones, rocks to roll, sand, snakes, huckleberries and hornets: and any child who has been deprived of these has been deprived of the best of his education."
The US Fish and Wildlife Service determined that "if children are raised with little or no connection to nature, they may miss out on the many health benefits of playing outdoors.  Nature is important to children's development— intellectually, emotionally, socially, spiritually, and physically…Studies show that schools that use outdoor classrooms and other forms of experiential education produce significant student gains in social studies, science, language arts and math."
Found locally halfway between Olympia and Shelton, the Kennedy Creek Salmon Trail has served as inspiration for thousands of life-long learners.  Jerilyn Walley, Kennedy Creek Salmon Trail Coordinator, loves the site's appeal for school field trips, hikers, families, and nature lovers.  She explains that "last year, the 'classes' that visited the Trail ranged from Pre-K to Senior Citizens.  Most of the classes are 3rd-5th grade, but we do get the occasional college class and the South Sound Seniors are coming back again this year.  Two 7th and 8th grade teachers used the opportunity to teach both poetry and science.  Students studied salmon anatomy in class through dissection, visited the trail to view spawning behavior, and wrote poetry about the sights and smells at the Trail."
The site is "our region's premiere salmon-viewing experience.  Every November, over 5,000 people visit the Trail to learn more about the salmon life cycle and to observe Chum spawning and courting behaviors.  Thanks to our volunteer docents, no questions go unanswered and all visitors get a rich Pacific Northwest experience."
An easy half-mile walk, the trail offers 11 informative viewing stations to watch as 20,000 – 80,000 salmon return to their spawning grounds.
Because visiting the trail is free for everyone—with donations always appreciated—the South Puget Sound Salmon Enhancement Group will host two Chum, Chowder, and Chocolate open house fundraisers from 11:00 a.m. – 1:00 p.m. on November 15 and 22 featuring geoduck chowder from Xihn's Clam and Oyster House and steamed clams and mussels from Taylor Shellfish.  The Trail is run by volunteers and community support so every little bit helps.
The Trail is open to the public on weekends through the month of November from 10:00 a.m. – 4:00 p.m.  You can also access the trail on Veteran's Day and the day after Thanksgiving.  Teachers can find scheduling information online, for weekday field trips, before contacting Jerilyn Walley to schedule a trip and arrange for visit-specific curriculum.
In the Northwest, our mild climate means we can explore mountains, rivers, oceans, plains, and forests.  Hidden gems like Kennedy Creek prove that even with no money, using only minimal gas, you can fully experience all nature has to teach us.
Visit their Facebook page for amazing photos and updated trail information.  To reach Jerilyn, email her at jerilynw@spsseg.org or call 360-412-0808, extension 107.
Driving directions to Kennedy Creek Salmon Trail can be found here.
Thrifty Thurston highlights inexpensive family fun in Thurston County.  The weekly series focuses on family-friendly activities throughout our community.  If you have a suggestion for a post, send us a note at submit@thurstontalk.com.  For more events and to learn what's happening in Olympia and the surrounding area, click here.