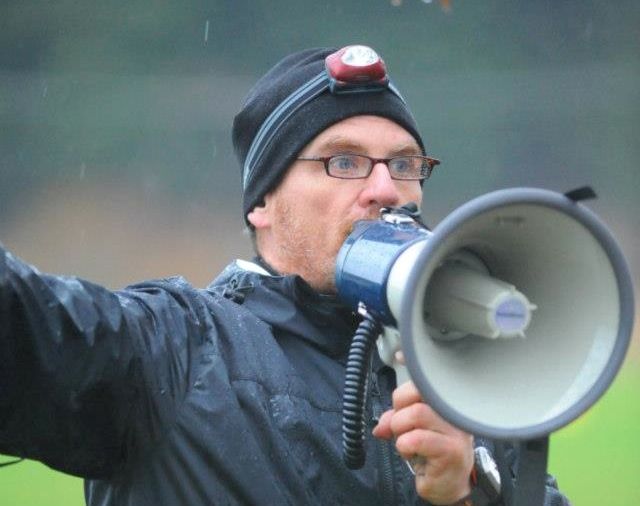 By Gail Wood

Bill Herzog had a unique incentive for tying up his brand new running shoes and going for his first jog nine years ago.
The nudge to get out the door and down the street was his wife, Tammy. His incentive was a kiss.
"My wife got into running before me," Herzog said. "It gave me an incentive. If I couldn't run as fast as my wife, I was never going to get a kiss."
So began Herzog's unlikely journey in running that has led him to 5K road races, to half marathons, marathons, triathlons and (gasp) to being the president of Club Oly Road Runners in 2009 and is now race director for the club. His chase for kisses led him to a community embrace.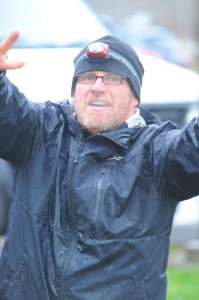 "It's all about giving back," the 48-year-old Herzog said.
And it's about getting people to get out and run, to pursue fitness and good health. In hopes of being a nudge for others to take that step and get involved in running, Herzog is helping to organize the annual Turn Back The Clock run, which will be held Nov. 2 at Rainier Vista Community Park in Lacey. Since it's on Daylight Savings, the day we turn back the clock and get an extra hour that day, Herzog is encouraging people to take part in a "healthy, enjoyable and well-organized event." Runners can choose to do a 5K, 10K or, for the first time, a half marathon that day.
Growing up in southern California, Herzog was never much of a runner. His sport of choice was rock climbing and surfing. Tammy, looking for a way to get into better shape so she wouldn't be panting as she taught her self-defense classes, helped change that.
Unexpectedly, Herzog's running fetish turned him a marathon man. But after running five of them, he made an important discovery.
"I ran into trouble with marathons," said Herzog, who is a professional high-rise window cleaner. "Marathons were not the best distance for me."
After running over 200 miles in preparation for the marathon and then running the marathon – his best time was 4 hours and 6 minutes – his legs would tighten up about a month after the event. That nudged Herzog to triathlons.
"I think by mixing it up and doing different activities and not just running was better for me," Herzog said. "Some runners can tolerate a lot of running. Others can't. I break. If I just run and do nothing but running, I have injury problems."
Just under 5'11" and weighing 200 pounds, Herzog doesn't have the lean body of a long-distance runner.
But by mix in running with swimming and biking, Herzog can go on and on. He's done about 50 triathlons, including the Leadman Triathlon, which is a longer version of the Iron Man.  It's held every September in Bend, Ore., and the swim portion of the race is 3.1 miles, the bike portion is 138 miles and the run is 14 miles. This year, Herzog did the shorter version.
"Doing the swimming, biking, and running has been best for me," Herzog said.
Interestingly, while Herzog has found his niche in triathlons, he's not content with it just being about his accomplishments. Instead, he gets involved, volunteering.
"I think it's important to give back," Herzog said. "I think it's really important not to be so self-focused."
Over the years, Herzog has been involved with non-profits. He moved here to Washington from California nearly 20 years ago and helped plant a couple of churches. So, when Herzog got involved with running and joined the Club Oly Road Runners, he saw it as his responsibility to raise his hand and volunteer to help.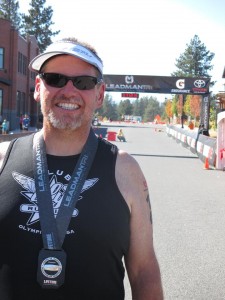 "People had helped me, nurtured me. And given me help," Herzog said.
Andy Fritz, Miguel Galena and Rich Brown befriended Herzog and helped him learn more about running and training. Brown, the Tumwater High School cross-country coach, is now coaching Herzog's daughter.
"There were things that needed to be done. Someone needed to put a hand up, a hand in and help out," Herzog said about his commitment to volunteering. "I just started helping. That's the other thing that the club is all about – giving back and helping others. It's always been about volunteering."
Herzog, with his passion for triathlons, was a catalyst in bringing the Black Hills Triathlon back. He's on the committee for that event that's held every year at Long Lake Park.
In addition to encouraging others to start running, Herzog and the running club he's part of also helps by donating money to organizations and individuals. They help Crime Stoppers put on its annual run, the Reindeer Run. They've also helped the Olympia Education Foundation with a number of races. Their upcoming race – Turn Back The Clock – is a fund raiser for local high school cross country programs.
"We're all about helping the running community," Herzog said.
On occasion, they've also helped individual families. They donated about $600 to a club member's family when her husband went through cancer treatment.
"We try to help where we can," Herzog said.