By Barb Lally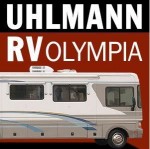 A shiny red 1936 Ford fire engine stands proudly in the first apparatus bay of the Littlerock Fire Station on Littlerock Road and can be seen by visitors entering the lobby.
The old, but well-preserved engine is a constant reminder of the commitment a group of special local citizens had to start a fire department there more than 50 years ago.
History Told from the Fire Station
"Most settlers came to the Littlerock area in the mid 1850s," says Lt. Lanette Dyer, Public Information Officer for the West Thurston Regional Fire Authority in Littlerock and an avid local history buff.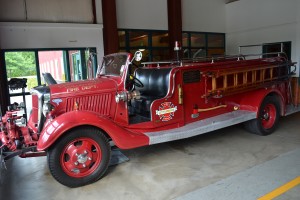 Early on, Littlerock was known as Black River, though the name didn't work because it was used elsewhere. A Rutledge family member filed paperwork to name it "The Rock" after the rock in town that helped the ladies get off and on buckboards and side saddles and served as a meeting place for mail and supplies.
"I was told that someone at the post office didn't like the name and somehow the application got approved as 'Littlerock'," says Lanette. "That same rock sits today in front of the old Rutledge farm covered with moss with no reference to its historical value. But I know. I love that old rock."
Two Fires in One Year
On June 27, 1925 the town of Littlerock was engulfed in fire, and the established Olympia firefighters had to be called in to keep the fire from spreading through the whole community.
The next month another massive fire in the area destroyed the Maytown Mill, nine homes and ten bunk houses. Two fires, just a month apart, were devastating to the community.
Fire was one of the biggest threats of the era. In an effort to improve public safety the Washington State legislature provided for the formation of fire districts in 1939.
A Fire Department for Littlerock, WA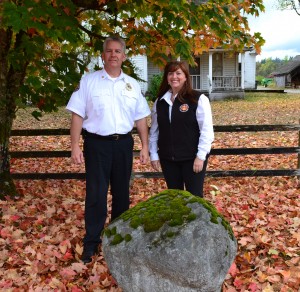 Community fire departments began forming, but Littlerock was not quite ready. By 1956, five families in the area knew something had to be done to prevent history from repeating itself.
In August of 1957, at the request of those local citizens, a special election was held to determine if Fire Protection District No. 11 should be formed. The ballots cast were 121 "yes" votes and 4 "no" votes. The first fire district commissioners— Alvey Morehouse, John Seed and Homer Hedgepeth—were also elected.
The vision of those five families had paid off. But the story of their commitment doesn't end there. They still needed a fire truck and had no money to get one. The only way to get a fire engine was to go buy it themselves. A 1936 Ford was purchased in 1958 from the Kent Fire Department for $500.
"I have been told for years that those five families mortgaged their homes to buy that engine," Lynette relates. "What they paid doesn't seem like much but in 1958 a new Ford started out at around $2,000 and people around these parts made less than $4,000 a year."
The Engine that Could, Did
The names of those responsible for the formation of the fire district are memorialized on the plaque affixed to that 1936 Ford. Harold Bade, Davie Brown, Homer Hedgepeth, Lloyd Jones, Alvey Morehouse, John Seed, and Carlos Winkle had the commitment to sacrifice their personal finances to acquire the district's first fire engine.
"When I hear the word hero, I think of that 1936 Ford that sits quietly in the bay next to my office," says Lanette. "It tells a story of vision, sacrifice and a lot of trust. They are not forgotten by those who serve here."
Citizen Sacrifice Pays Off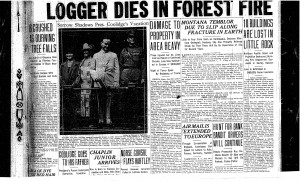 When first established, the Littlerock fire district was only 55 square miles.
Today, the West Thurston Regional Fire Authority, a partnership between Thurston County Fire District 1, 11, and 14, now has a 168 square mile response zone serving 25,000 residents in the communities of Bordeaux, Delphi, Gate, Grand Mound, Littlerock, Maytown, Michigan Hill, Rochester and Scott Lake. Nearly 70 of the 100 professionals that work in the firehouse on Littlerock Road are volunteers from the community.
"Our district founders' commitment continues today in our many volunteers, some who have been serving for over 25 years," says Russ Kaleiwahea, Chief of the West Thurston Regional Fire Authority. "Just last month they contributed a total of 1855 hours. They are crucial to our duty of providing timely service for our growing communities. It makes a difference in saving lives and saving properties." 
Special thanks to Lt. Lanette Dyer for her help with the article. She credits her knowledge of the history of Littlerock and its fire station to the late Mr. Dale Rutledge and to information passed down from fire department forefathers and from the archives.