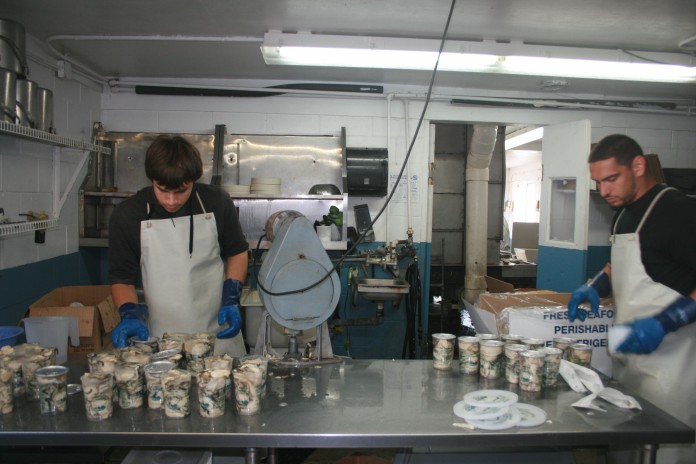 By Cara Bertozzi

An amazing benefit of living in the Pacific Northwest is our proximity to seafood so fresh that it might scoot off your plate if you aren't quick on your toes. One such example is "Nisqually sweets," Pacific oysters that derive their characteristic fresh flavor profiles from the glacial freshwater of the Nisqually river, which descends from the glacier of the same name on the southwest flank of Mt. Rainier. These tasty bivalve molluscs have been farmed by National Fish and Oyster Co. (NFOC) at this location since 1936, along with Manila clams and geoducks.
Miranda Ries, the business manager at NFOC, is the great granddaughter of Samuel Bulldis, a local pioneer of oyster farming and NFOC's founder.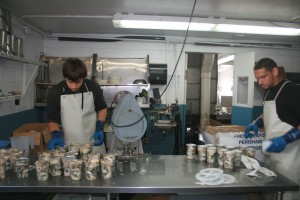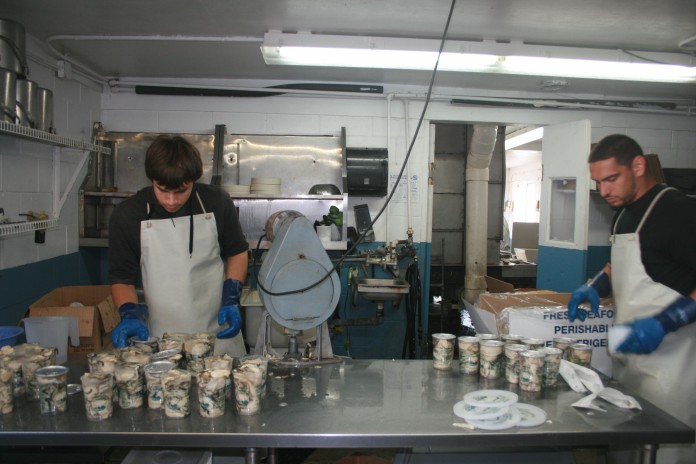 Today, Miranda manages the 350 acres of tidelands that are owned by NFOC in addition to the 900 acres the company leases to farm additional crops. She likes to think of herself as raising the fifth generation of oyster farmers, as her young children enjoy running around the farm and getting a first-hand look at the family business, where five additional family members and a couple dozen full-time and seasonal employees earn their living.
The process of farming oysters is remarkably uncomplicated, requiring no chemicals beyond a small amount of bleach to clean the tanks and no artificial feeds, chemicals or antibiotics. Spat, or baby oysters, are initially raised in saltwater tanks where they are fed algae grown by NFOC. They are then planted in bags attached to cages that are secured to the floor of the tideland, essentially forming oyster reefs.
As the waters ebb and flow, they naturally bring needed food and oxygen to the oysters, which are filter feeders. Interestingly, an oyster can filter up to five liters of water an hour, and in a process Miranda describes as "magic," these small aquacultures have an enormous positive impact on the quality of Puget Sound water without retaining any heavy metals or chemicals themselves.
Oysters have been extensively studied for their nutritional content and to ensure that they can be safely eaten. In fact, oysters are a delicious, low-fat source of protein, good cholesterol and minerals that has a demonstrably low carbon footprint, especially if you live in Thurston County.
In the hotter summer months, oysters are great grilled on the BBQ and served with some butter and garlic, BBQ sauce or a shallot and vinegar mignonette. In cooler weather when the water temperature is inhospitable to Vibrio bacteria, raw oysters are fabulous slurped down with cocktail sauce and chased with some bubbly. One could also bread and fry them and serve them over a fresh salad.  Find more oyster recipes here.
There are some interesting parallels between oyster farming and more traditional farming. The crops need to be rotated to keep the ocean floor healthy and give it time to settle after a harvest. Oyster boats rake the tidelands periodically to promote oxygenation of the soil and prevent burrowing shrimp from colonizing the area. The crops are flagged by GPS, and their growth is monitored to determine the appropriate harvest time. Conditions such as seaweed levels are also tracked, as too much seaweed can smother a crop.
However, sometimes the best-laid plans go awry, and here, shellfish farmers have a distinct advantage over traditional crop farmers. Last year, China banned US imports of geoducks just prior to Chinese New Year, which is typically a high-demand period for this crop. Geoducks retail for upwards of $100 per pound in Hong Kong, and the industry was stunned by the sudden loss of consumers.
Fortunately, the crop could stay in the ground for a bit longer while new relationships with other Asian countries were fortified and new demand was created. China has since lifted the ban, but it was a good lesson in flexibility.
In addition to the geoducks, a third of the shucked oyster meat that NFOC produces is sold internationally. This is a point of pride for Miranda, who loves to note that the Pacific shellfish industry is not only creating local jobs and cleaning up the environment but is also developing a product with high global demand.
Further, it is an exciting time, as more women are assuming positions of responsibility and taking a seat at the table in a field that has traditionally been dominated by men. Thus, the diversity of perspectives is increasing among those moving the industry forward.
NFOC is partnering with many local stakeholders, including the Pacific Coast Shellfish Growers Association, native American tribes, the Department of Natural Resources, the Department of Fish and Wildlife, and the University of Washington to explore ways to further improve and protect the water quality of the Nisqually River and Puget Sound for all to enjoy. There are rising concerns about ocean acidification and how that will affect marine life, and it is reassuring that many members of our community are taking action to preserve the beauty and health of our home.
For those who would partake of this local fare, National Fish and Oyster Company's fresh oysters and clams can be purchased at their base of operations at the end of Meridian Road in Lacey.
The shucked oyster meat can be found locally at numerous restaurants and retailers. The retail hours are Monday-Friday from 8:00 a.m. – 4:00 p.m.