By Kate Scriven
Northwest Harley-Davidson is an anchor in our community.  Their flagship store in Lacey is celebrating nearly 12 years, marking the beginning of tremendous growth in the Hawks Prairie area.  And a large part of that community commitment is their close ties and continued support of the South Sound's military community.
"The community knows we are involved with the military," shares Tina Torfin, Marketing Manager at Northwest Harley-Davidson, "but I don't think they understand at what levels we are involved, above and beyond selling motorcycles to Joint Base Lews-McChord."
In fact, their involvement runs deep.  Northwest Harley-Davidson is a longtime member of the Association of the United States Army (AUSA). Torfin serves as the president of the local AUSA Lacey sub-chapter.  In addition, they are members of Pierce Military Business Alliance (PMBA) with Torfin serving as Secretary on the board as well as members of the Air Force Association (AFA) where she also sits on the board.
Torfin is on base often conducting motorcycle safety courses and other classes for soldiers and their families.  "We love our military customers and want to ensure that when they ride their Harley, they are doing it in the safest way possible," she shares.
Another means of showing their support is through NW Harley-Davidson's Military Purchase Program.  With exceptional financing rates and often no money down on qualifying bikes to active US Military, Reservists and Guardsmen, the barrier to owning the motorcycle of their dreams can be removed.
Staying connected not only with military customers, but the organizations supporting the troops allows NW Harley to keep close ties to the community and step in with support when times get tough.
NW Harley is heavily involved in Operation Turkey Drop and Ham Grenade. Although it's hard to say without a bit of a chuckle, both of these
events are important to soldiers and their families as well as to the NW Harley-Davidson family.  What are Operation Turkey Drop and Ham Grenade?  Through AUSA, NW Harley-Davidson purchases turkeys and hams for families of enlisted soldiers on JBLM, both Army and Airforce.
"It's a really great cause," explains Torfin. "Every November we host a Freedom Ride and every penny of the proceeds go directly to Operation Turkey Drop and Ham Grenade."  They also host smaller events and fundraising activities throughout the year that donate to the purchase of the Thanksgiving turkeys and holiday hams.
"I have the unique opportunity to go on base and deliver the turkeys in November and hams in December," Torfin says. "Last year, two of the receiving soldiers were actually at headquarters, which doesn't always happen.  One of the young soldiers, in his 20's, said, 'You have no idea what this means to our family.'  The other soldier shared, 'My wife and I have a four-year-old and we just had a new baby and this is going to help us tremendously this holiday season.'
The connections created between NW Harley and the soldiers and airmen on the base are solid and long-standing, something that is important to the stores owners and employees alike.
Last May, NW Harley along with the Lancer Soldier and Family Fund hosted a huge event for the Second Stryker Brigade (Lancers).  "The Second Stryker Brigade is the only brigade on JBLM that doesn't have a memorial built in their honor.  There is a park on JBLM with memorials for each brigade to honor their fallen soldiers.  The Second Stryker doesn't have one," explains Torfin.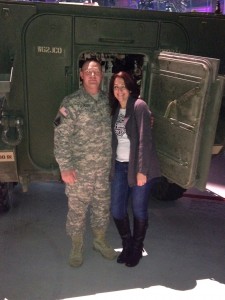 The Lancer Soldier and Family Fund were looking to raise $40,000 to build a memorial for the brigade and approached NW Harley-Davidson for help. "We jumped at the chance to be involved," recalls Torfin.  "We had between 3,500 and 4,000 soldiers here on May 16, 2014.  The Lacey Police pitched in to help with traffic and we raised over $39,000 dollars for their fund that day."
The Second Stryker Brigade Commander, Colonel Louis A. Zeisman, attended the event and the entire community rallied around this honorable cause.
The event was the largest ever undertaken by the Lacey store in its 12 year history.  "It was amazingly successful and we are hoping to make it an annual event to support the troops," says Torfin.  The Second Stryker Brigade is planning to break ground on their memorial this November.  Gold Star Families (families who have lost someone during deployment) will be flown in for the dedication and NW Harley-Davidson hopes to host another event to help with the costs of transportation.
Connection to community is part of the backbone of Northwest Harley-Davidson.  Supporting the special men and women who bravely put their lives on the line for our freedom is an integral part of that connection that will never fade.
Northwest Harley-Davidson
8000 Freedom Lane NE in Lacey
360-705-8515