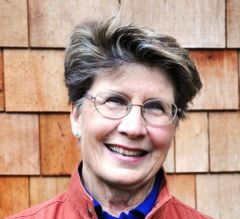 By Megan Conklin

Mary Gentry's first book might be Quite Contrary, but she is decidedly not. I had the privilege of catching up with this Boston Harbor resident and chatting with her about her new book, her family, and her love of all things ordinary.
Mary never set out to write a book, she just set out to write. She began when her daughter, Kate, was a child, and mostly wrote stories in which Kate starred for the amusement of her youngster. Then, after nearly thirty years of practicing law in Olympia, Gentry retired in order to "have time to do some 'other things.'  One of those other things was writing." And write she did.  Her first book, Quite Contrary, is complete, and her second, Too Far from the Tree, a series of stories about family relationships, is due out in April 2015.
When I spoke to Gentry about writing, she shared amusing, interesting, and relatable stories – much like she does in Quite Contrary. My favorite was her tale of finishing law school and studying for the bar exam as a young, married woman. As she studied, Gentry explained, she kept inexplicitly falling asleep over and over again. It wasn't until later that she received two delightful pieces of news: she had passed the bar and she was expecting a baby.
"It's about me, but I hope when you read it, you'll realize it is about you, as well." Gentry clarifies,  "As it wanders through the ordinary events of my life – walking dogs, making pie, cleaning behind the clothes dryer – I trust you will see yourself and smile."
Always a reader of newspapers, Gentry mourned the loss of op-ed greats such as Ellen Goodman and Anna Quindlen, and like these writers, Gentry chronicles the connections between relationships, life events, and that which may seem like minutiae, but is really the meat of life.
Her genre of choice is "the personal essay," a style she describes as "part memoir, part commentary, mainly musings." The genre suits her and the voice in her writing resonates with warmth, humor and intelligence.
The process of creating and publishing a book has been eye opening, Gentry notes.  "Writing is a ruminative process for me.  Long before I ever approach the keyboard, I have talked out whatever it is I want to write about." And this process has proved fruitful. Gentry's editors of choice were originally friends, but she quickly realized that they knew her too well and did not require the clarity that a more objective editor might. "They could read between the lines," Gentry admits, so she sought out an editor that could provide that professional objectivity and is grateful that she did.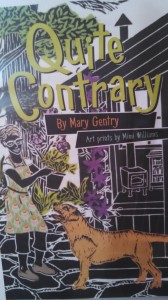 One friendship relationship that worked beautifully when writing the book was that between Gentry and artist Mimi Williams. Longtime friends, Gentry describes Williams as her "co-conspirator" on the project. A former elementary school teacher at Pioneer Elementary in Olympia, Williams has been creating her unique carved linoleum block prints for almost twelve years. Williams' art is the perfect complement to Gentry's personal essays and is also available locally at Childhood's End Gallery, Compass Rose, The Evergreen State College bookstore, The Olympia Food Co-op, and Orca Books.
Gentry has also stayed local while creating a website, to feature her work. Micah Gilman, co-owner of Say This, Say That, a web design firm in downtown Olympia, is currently finalizing the site where Gentry can more easily share her news, musings, book events.
A few of those events are upcoming. Gentry and Williams will both be at this weekend's Arts Walk in downtown Olympia. On Friday, October 3 and Saturday, October 4  they will share their work at All About You, Tore Johnson's charming mani/pedi shop located a block west of Ralph's Thriftway at 117 Fir Street, NE. They will also be hosting an event at the Boston Harbor Marina on October 10, from 4:00 – 5:30 p.m.
On Saturday, October 18 from 3:00 – 4:00 p.m. at Orca Books, Gentry will read from Quite Contrary and answer questions. Mimi Williams will join her to demonstrate linoleum-cut block print-making techniques. True to their local, community minded roots, Gentry and Williams will be sharing a portion of the proceeds from the books with the Child Care Action Council's Raising a Reader program. Quite Contrary will be available for purchase at Orca Books after October 18 and at the Boston Harbor Marina after October 10.
"I guess if I had a message to convey," Gentry offers, "it would be that if you want something to happen, make it happen. I wanted to write a book, and I made it happen." Mary Gentry's essays about the ordinary life, and how the simplest things in life are often the most significant, is a delightful read from an engaging and inspirational local author; it is not to be missed.