Everyone loves a makeover. Reality shows like "Designed to Sell" and "What Not to Wear" are popular because they show how design can be transforming for a home or an individual.
The exciting local company Design Smart Home Staging and Redesign, LLC , voted the Best of South Sound in Interior Design, does those transformations daily for homes, rooms, offices and individuals.
Their team of Design Smart experts is in high demand. The hot trend in home staging, now considered a magic ingredient to selling homes within weeks, if not days of being staged, has become a necessary step in a real estate marketing plan.
Design Smart Home Staging and Redesign is not only the go-to company here for Home Staging but has been applauded area wide for its other home design and personal style services. Here are the premium services offered by this sophisticated and stylish company in our own back yard.
Home Staging to Sell: Home Staging enhances a home's assets, so that buyers can envision themselves living there. It is not home decorating, it is arranging and accenting the home with color and furniture venues to show off the use of a home's space. It is a powerful marketing tool. Once staged, homes fly off the market!
Home Staging has become a "must-do" that many Realtors are offering their clients.
Listen to what, Jodi Ashline, from Coldwell Banker Evergreen Olympic Realty, one the area's top brokers has to say: "Design Smart is a very effective tool in my bag of marketing techniques! Lisa and her team know how to bring out the best in a home, to help accentuate its finest features. First impressions are very important, and the magic of Design Smart can be key to putting the home's very best foot forward, right from the beginning!"
Lisa Poundstone, the company owner, studied directly under Barb Schwarz, the creator of the Home Staging® concept and is an Accredited Staging Professional (ASP®). She posts the amazing results of Home Staging on her Facebook page.
"The investment in Home Staging is always less than the first price reduction a seller has to make because their home won't sell," says Lisa. "No matter how beautiful a home is, if it is vacant, it just looks empty and boring without the professional touch of Home Staging. There is an art to it and it works."
"Staging to Live" Consultation: You don't have to sell your home to benefit from Design Smart's Interior Design and Decor services.
Design Smart can rearrange your existing furniture and accessories to create a completely new feel to a single room or multiple rooms in your home. They call it "Staging to Live," a creative way to give your room or entire house a fresh new look.
Staging to Live is also known as "redesign" or "use what you have" design.  It is for those who need design assistance without the expense of buying all new furniture and accessories.  One customer says "brilliant design.  I really love my home."  Joel, another customer adds, "you have done a great job and I am really amazed."
Organizing and De-Cluttering: When your environment is cluttered, science has shown it restricts your ability to focus. The clutter around you distracts you from processing information as well as you would in an uncluttered, organized, serene environment. 
Professional Organizing and De-Cluttering services are for those homeowners that have messy, chaotic, and disorganized spaces in their home and are ready to clear the stress away.
Color Consultation:  We know. It is hard to decide on colors once you have mustered the courage to paint your stark white walls. Your collection of paint chips is rivaled only by the many splashes of color you have tested on your walls.
In a Color Consultation, Design Smart experts will help you take the guesswork out of which colors would suit your home.
They will help you with colors for a room with advice on coordinated window treatments, furniture, pillows, lighting, art, and accessories for an updated color palette that revitalizes your home.
"I love all of the colors – You are a color genius," says a happy customer, Tiffany.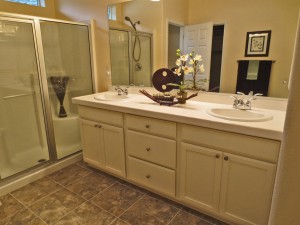 Wardrobe/Styling Consultations: Design Smart's wardrobe and style consultations are for those people that want a new look, whether it's for a one-time special occasion or for a completely new look for a new stage in life.
Are you a professional who wants a new image or an on-the-go Mom who wants a way to look "put together"? Design Smart helps men and woman who are in a life transition like weight loss, a new career or relationship and want to dress for the "new them".
Consultations are custom tailored to clients and are based on what is currently in their wardrobe.
The best in town
"We provide these premium design services that are unrivaled in the South Sound," says Poundstone who has seen great growth in her business. "It is a privilege to provide transformations to homes and to people that can often be life-changing."
Learn more at Design Smart Home Staging and Redesign, LLC or contact the Design Smart team for a consultation at (360) 480-5810.