Submitted by Ballet Northwest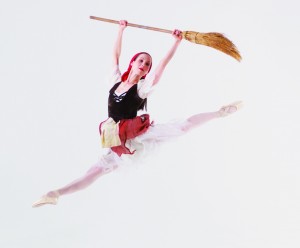 Twenty-five years ago the Eugene Ballet Company came to Olympia to perform Cinderella. This professional dance company tours the world, yet they often recruit local dance students as extras in their performances. Ken Johnson, now one of two artistic directors at Ballet Northwest, was an extra in that production. "I was nine-years old and was a ballet student at the Johansen Olympia Dance Center. I was a gnome. It was a lot of fun and it was a great opportunity to be able to dance with professionals," he said.
This year, on October 19, 24 local children, ages 10 to 12, will have the opportunity to perform on stage with the Eugene Ballet when they, once again, journey to Olympia to perform Cinderella, set to Prokofiev's beautiful score. Auditions for a role as a gnomes or sprite will occur simultaneously as the Ballet Northwest Nutcracker auditions.
"The Eugene Ballet is one of the few ballet companies in the region that will go on tour. Ballet Northwest is excited to bring Cinderella to Olympia because it appeals to audiences of all ages and backgrounds. If someone has seen a lot of dance or is totally new to dance they'll enjoy the experience," said Johnson.  "This is a great performance for introducing ballet to children."
Eugene Ballet tours the country extensively and most recently visited Olympia in 2011 with its production of Romeo & Juliet. Toni Pimble is the Artistic Director and Choreographer. The New York City Ballet, Pacific Northwest Ballet, Oregon Ballet Theatre, and Atlanta Ballet have all performed her work.
Tickets are available at olytix.org and proceeds benefit Ballet Northwest.
Since 1970, Ballet Northwest has been a community-based group dedicated to promoting, teaching, and preserving the art of dance in Southwest Washington.