Submitted by Northwest Christian High School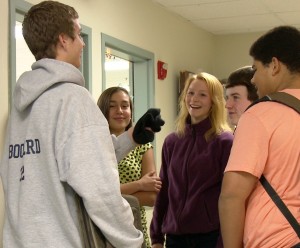 Northwest Christian High School has had another successful start to the school year and staff and students alike are excited by the many changes for 2014-2015.  Highlighted below are some examples of the progressive, rigorous and in-depth educational advances happening at NCHS.
AP Courses and STEM: New Advanced Placement (AP) courses in biology, chemistry, math, and US history. We are planning more STEM (science, technology, engineering, and math) related course work as well. Read an in-depth review of STEM offerings here.
Concurrent Credits Available: Did you know that NCHS offers classes that not only earn credits toward a student's high school diploma, but also credits at Northwest Nazarene University? Your student could graduate from NCHS with a diploma and a transcript from NNU to apply to nearly any college they choose to attend.
College Scholarships: Beginning with the graduating Class of 2015, Northwest Nazarene University is offering a scholarship established at $5,000 per year for every year a student attends NCHS full time between grades 9 and 12. The student must also graduate from NCHS with a cumulative 3.0 GPA and be in good academic standing at the time of graduation.
Grand Canyon University: Northwest Christian students who are accepted to attend GCU will receive a $5,000 (on-campus housing) or $2,500 (off-campus housing) scholarship at GCU per year for each year of attendance at NCHS (students must also meet the eligibility requirements).
Both of these scholarships could save students up to $20,000 on college tuition over the course of four years.
Career Center: To equip our students to reach their God-given potential, NCHS is in the process of researching, developing, and implementing a Career Center that will help students
identify their talents/calling and assist them to establish a career path. We will also work with them to strengthen ACT & SAT skills by offering training, support, and practice exams. Stay tuned for more information about our new innovative career center—especially in the area of financial planning and potential scholarships for college.
Robotics Club: Dr. Norm Neilsen is forming a new robotics club at NCHS. Dr. Nielsen taught robotics last year and is expanding his teaching to a new innovative robotics club this school year.
New Staff members: NCHS welcomes several new teachers this year. National board certified teacher Mrs. Michelle Whittaker joins regional science teacher of the year Dr. Norm Nielsen in our science department. Mrs. Whittaker is a published scientist with several years of successful teaching and industry experience.
Mr. Josh Burdick is teaching Bible and Public Speaking this year at NCHS. Mr. Burdick holds a Master's degree in Theology and a Master's degree in Strategic Communication from Liberty University in Virginia. Mrs. Lauren Hendrickson is teaching an array of subjects including English and Academic Proficiency. Mrs. Hendrickson earned her degree in English and History from Seattle Pacific University. Our new technology teacher Pam Summers is a graduate of Humboldt State University in Computer Science and spent over a decade in industry as a successful computer programmer and consultant.
You can learn more about Northwest Christian High School in Lacey at our website or feel free to call us at (360) 491-2966.