Submitted by The City of Lacey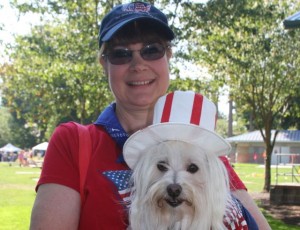 The Lacey Community Market invites families to enjoy the sunshine and bring their best furry friend to Huntamer Park this Saturday, September 13 for Pet Day. Free activities and entertainment await pets and their owners and will feature plenty of watering bowls, pools, and a misting station to ensure everyone stays cool while strolling through the outdoor marketplace. More than 60 vendor booths of flowers, produce, food, bakery treats, hand-crafted gifts, and re-purposed treasures will be on hand.
In addition to unique shopping, families will enjoy plenty of pet-centric activities including St. Bernard cart rides, duck herding demos, face-painting, and canine rally courses. All ages will be entertained with presentations on the main stage by professional groomer Kayla Swearingen who will demonstrate doggie hairdo makeovers at 11:00 a.m., followed by introductions to the newest four-legged recruits to the Thurston County Sheriff's K-9 Unit at noon. Starting at 1:00 p.m., proud pet owners are invited onstage to enter their "furkids" in contest categories ranging from 'Cutest Pet' to 'Best Trick.' Participation ribbons, award baskets, and raffle prize tickets will be distributed throughout the day at all activities.
Animal Services will also be on hand from 10:00 a.m. to 1:00 p.m. to offer pet licensing and a low-cost micro-chipping clinic in partnership with the veterinarians from the JBLM 218th Medical Detachment.
The Lacey Community Market has plenty of free parking and is conveniently located just four blocks from the freeway on Woodland Square Loop at College Street, behind the Lacey Fred Meyer. Market times are from 10:00 a.m. to 4:00 p.m. More information can be found on the city's official website at www.ci.lacey.wa.us/market.