Submitted by The City of Olympia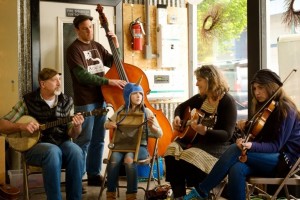 Mark your calendar for Arts Walk XLIX! On Friday, October 3, from 5-10pm, and Saturday, October 4 from 12-5pm, 96 downtown businesses will open their doors to showcase the wonderfully rich and diverse resource of visual and performing arts of the South Sound Region.  Enjoy two days of drawings, paintings, prints, sculpture, ceramics, photography, fibers and other visual art. Take in diverse performing arts, from family theater to a variety of musical styles and dance from Ballet to Butoh, Blues to Barbershop! Check out the gastronomic arts in the Cajun Culinary Throwdown! Whatever art form moves you, chances are you'll find it downtown during Arts Walk.  Arts Walk maps are available at participating locations, The Olympia Center, 222 Columbia St. NW and Olympia City Hall, 601 4th Ave E, after September 21. A digital map can be found here (also after September 20).
For youth and families, the City of Olympia Parks, Arts & Recreation Department sponsors a hands-on activity area with the Hands on Children's Museum.  Stop by Friday, October 3, at Washington Street and 5th Avenue between 5-9pm for kid's face painting and art making!
The Arts Walk map cover this fall features the artwork Night Spirits, by Kristin Etmund.  Born and raised in the Pacific Northwest, Kristen studied art and art history at The Evergreen State College, earning her Bachelor's Degree in 2003. While at Evergreen, she had the opportunity to work with great professors and experiment with several different printmaking methods, eventually falling in love with the woodblock medium. Kristen has been creating and showing her work, often inspired by the beautiful flora and fauna of the Puget Sound, in Olympia for almost ten years.
Arts Walk is sponsored by the City of Olympia Parks, Arts & Recreation Department and the Olympia Arts Commission, with support provided by Art House Designs, Capitol City Press, Mixx 96 FM, and the Washington State Employees Credit Union along with participating artists and businesses.  For more information, please contact Olympia Parks, Arts & Recreation, at 360.753.8380 orolympiaparks@ci.olympia.wa.us