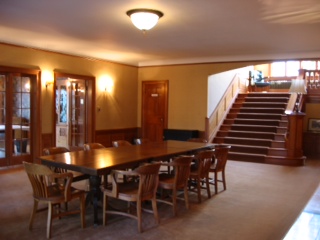 By Leslie Merchant
Even though Washington State is 125 years old, it is still a baby compared to the rest of the nation. Older states are able to showcase their pasts through their rich architecture, yet the 42nd state is somewhat lacking in classic structural marvels. For a glimpse of Washington's past, a quick trip to Shelton and the Colonial House will reward history buffs with one of only a few historical homes that reflect the glamour and decadence of times gone by.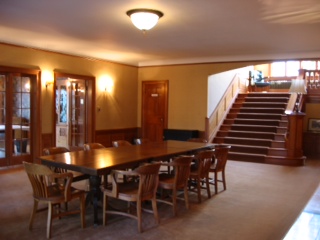 Built in 1920 by Mark Reed and Irene Simpson Reed, the Colonial House was unlike any other home in Shelton. With a hefty stake in the family logging business, the Reed's had the budget to design any type of house they desired. The couple put tons of thought into how the house would be used in years to come, yet surprisingly, they only occupied it for ten years before moving to Seattle. That's another story… From the Douglas fir paneling to the imported Sweet Gum wainscoting, the Reed's spared no expense when building their dream home.
Irene Simpson Reed was the eldest daughter of Sol Simpson, who founded Simpson Logging Company back in 1890 in Mason County. Her husband Mark was Mayor of Shelton back in the early 1900s and took over the Simpson interests in 1914. Mark Reed wanted to keep the building and design of his home as local as possible, and to that effect he used architect Joseph Wohleb to design his dream home. Wohleb is known for being architect to the state's capitol, the Temple of Justice and the McCleary House in addition to many buildings in Shelton.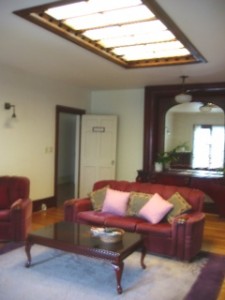 The Reed's envisioned a manor-like home that would be used both for entertaining and as the family residence. With two offices flanking the grand foyer and exotic elements from the Reeds' global travels, the Colonial House was by far the most ambitious home ever built in the little town of Shelton.
Patty Case, Public/Regulatory Affairs Manager with Green Diamond Resource Company, is a dedicated historian with Sol Simpson's former company. Her knowledge of the home's history and her enthusiasm for maintaining its legacy have been paramount in reviving the once sumptuous home.
"I think the telling thing about the Reed's is that both he and she had offices with doors to the outside, and they both had office hours," explains Case.  "He was managing the family company and had another office right downtown. Irene was involved in a lot of civic affairs; she was on the school board for many years and the Reed's kept their voting address in Shelton even after they moved to Seattle," continues Case.
Mark and Irene planned to have visiting dignitaries and guests stay for days at a time rather than just stopping by, and the home boasts eight original bedrooms and six original baths along with an expansive billiards room on the second floor. Building the home was a feat in itself as transportation was severely lacking back in the early 1900s. Horseback or boat were the only options to and from Shelton.
As with many old homes, rumors of paranormal activity abound in the Colonial House. Case says that most folks who work in or visit the home experience some sort of "ghostly" activity, but she is quick to point out that it is all of the good benign kind and not the bad mischievous sort. She herself has had experiences of lights turning on their own, doors slamming, and other odd things. Case chalks up a lot of these happenings to the fact that the house is really old and of post and beam construction, meaning a lot of natural creaks and groans.
Rumors of a resident ghost who died in the home are most likely due to the sensational story of Sol Reed's murder at the hands of a disgruntled employee. Sol was one of the Reed's three grown sons. The fact that the murder happened at his brother Frank Reed's home and not at the Colonial House itself does not seem to make its' way into most of the retellings.
Case explains that making sure that injured workers (loggers) had the best medical care nearby was of utmost importance to Mark Reed. A worker named Arnold George had been recovering at Shelton Hospital, and unbeknownst to anyone had become fixated on his friend and employer, Sol Reed. George was despondent over the fact that he was languishing in recovery while Sol seemed to have everything (i.e. a beautiful new wife, elaborate new home, community status). George pulled a gun from under his wheelchair blanket on Sol and shot him before shooting himself.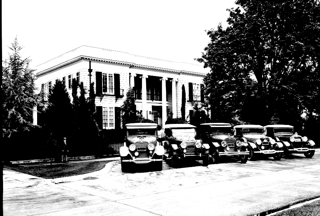 The Reed's moved to Seattle after the incident along with Simpson's headquarters. A horrible tragedy occurred in the community that the Reed's had put their lives into, and it was just too traumatic for them to continue living there.
The house was unoccupied for a while before a menagerie of people moved in and out, converting it for their own uses at various times. It became a boarding house, an office building, and is currently used for visiting contractors, executives and Green Diamond interns.  The home is also available for weddings and other select events on a case by case basis.
For more information on Shelton's historical Colonial House whether for a tour or an event, please contact Patty Case at pcase@greendiamond.com.