By Alyssa Ramsfield
On Saturday, September 6, the Brats, Brews, and Bands Festival plans to put to the "fun" into fundraising! Sponsored by Thurston County's newest rotary, Gateway Rotary, the event is set to bring in money to support a variety of local charities and bring the community together.
The Gateway Rotary Club is only 3 years old, but it is already leaving a lasting impression across Thurston County. "Rotary International is first and foremost a service organization," explains President of Gateway Rotary, Jonathan Sprouffske. "Our goal is to do service for our community. We decided early on that our focus would be specifically on children's needs in Thurston County. Our biggest donations go to the local Boys & Girls Clubs of Thurston County."
"We started with only 24 members in the club," says Sprouffske. "We had a vision of what we wanted to accomplish in our community and we've been striving to do that. We are now up to 80 members and continuing to grow! It has been amazing to watch just how many people want to make a positive impact on our community and we are always looking for more people to join us in our mission."
Part of that positive impact includes putting together the Brats, Brews, and Bands Festival as a fundraiser. "It's our first club fundraiser," describes Sprouffske. "Last year, it was a two day event, but this year we wanted to focus on making a one day event that packs a punch! We are constantly thinking of ways we can make this year more successful than the last. We want people to come out and have a good time all while raising money for our community."
Last year, the Gateway Rotary was able to raise money to support local charities including The Boys and Girls Clubs of Thurston County, The Gold Star Wives of America, Lacey Police Explorers, Cool Jazz Clean Water, Rebuilding Together Thurston County, and Homeless Backpacks.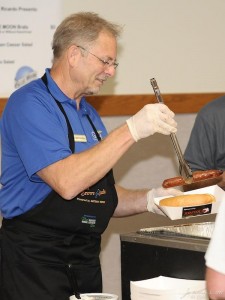 Volunteers are a very important aspect of the event. "We really couldn't do it without them," says Sprouffske. Volunteers are admitted to the event free of charge and are asked to help out in three-hour shifts. A few of the available jobs during the event include food runner, grounds crew, gate guards, and beer/wine support. All interested volunteers must at least 21 with a valid I.D.
"Fifteen dollars gets you a lot," explains Event Chair, Jerry Farmer. "Bands will be playing all day long and you get a taster card for three beers. Once inside the event, $5 will get you anything you need including more tastes or a brat. These aren't your average brat either. These brats will be cooked up by Ricardo's Restaurant. There will be a variety of sauces and toppings to choose from so you know it's going to be good!"
"The Rotary is all about service above self and we found this to be a good way to raise money and have a great time," summarizes Farmer. "It's all about getting together with friends, eating some hearty brats, listening to some great bands, and helping our community."
Brats, Brews, and Bands
Saturday, September 6 from 1:00pm – 9:00pm
South Puget Sound Community College
2011 Mottman Rd SW
Olympia, WA 98512