Submitted by Hartley Jewelers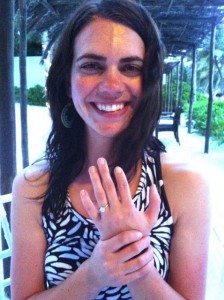 Eliot Wong thought about a big box jewelry store when the time came to propose to Emily Becker, but he kept coming back to Hartley Jewelers.
Eliot, who lives in Denver, grew up in Olympia and was best friends with Travis Thornton, Hartley Jewelers' marketing manager and son of owners Rick and Linda Hartley.
"In the back of my mind, I knew I wanted to go through Hartley Jewelers, because I trust Rick and Linda," Eliot says. "I shopped around a little here in Denver, thinking it would be easier to do something local, but I felt like I wasn't getting the full story from them."
Eliot wanted a very specific stone clarity, cut, size, and certification for Emily's engagement ring, but the big jewelers he spoke to told him they don't certify every stone because their inventory is too large to do so.
"That's when I contacted Linda at Hartley Jewelers," Eliot says. "And they were awesome."
Eliot spoke to Linda in January and, working via phone calls, emails and instant messages, the rest of the Hartley team helped him find the perfect ring with which to surprise Emily.
Eliot proposed this past April while the couple vacationed in Tulum, Mexico. But before he could get down on one knee, he needed just the right ring in hand.
First he searched for clues on Emily's Pinterest page.
"I knew Emily wanted a skinny ring because she had all these things on Pinterest," he says with a laugh. "I had to break into her account to find a picture."
Working with Rick, Linda, Ashley and Craig at Hartley Jewelers, Eliot pinned down the ring's design – a narrow band with an ideal-cut, round diamond – and purchased the somewhat rare stone he desired.
"It's very simple but elegant," he says of the finished ring. "I wanted something that would show off the diamond and Linda recommended white gold, because it will maintain it's high polish for longer and will be easy to restore its luster when it gets scratched.
"My ring is a really timeless, classic design," says Emily. "I feel like if you were to find a picture of a wedding ring in a fairy tale book, my ring is exactly what it would look like."
The finished design is a tapered band with a six-prong setting and a stunner of a round solitaire diamond.
"Because the ring is rather simple in design, it's really the details that you notice," says Emily, who likes the low setting, which helps the ring not spin on her finger or catch on things.
Eliot is quick to say that Hartley Jewelers made the whole process – even from long distance – fun and simple.
"For a guy, it can be extremely overwhelming," Eliot says of picking out an engagement ring. "With the number of vendors Hartley Jewelers uses, they have access to tens of thousands of rings."
But Craig was there to answer every question Eliot had about diamonds and Ashley did extensive research to find just the right band. When the first diamond they selected arrived, Rick and Craig scrutinized it carefully.
"It was a stone that was on the rare side and they did a lot of work to find it," says Eliot. "When Rick and Craig inspected and sent it back because they didn't think it was good enough, I just thought, these are the best, most trustworthy people in the industry."
Eliot is the first to admit he's a tough customer. "I was extremely picky," he says, "and they were upbeat and very helpful the whole way through."
In fact, the experience was educational for Eliot. "Craig, their diamond guy, is amazing. He'd write these super-long, detailed explanations in response to my questions. He really educated me far beyond what I think the normal jeweler would."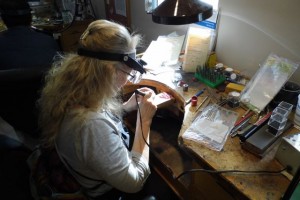 With the finished ring in hand, Eliot surprised Emily – with the help of an employee of the hotel they were staying at in Tulum, Mexico.
"I had called the owner to see if I could arrange for them to put a sign on the beach in kind of an isolated area so we'd walk by and she'd be totally surprised," Eliot explains. "But it ended up being too windy."
So a hotel employee stood holding the sign on the beach at the appointed time and place – but mistakenly facing the wrong direction.
Eliot laughs at the memory. "So we walked right by her and I made something up – 'Oh, hey honey, I think there's an old Mayan ruin over here!'"
The couple turned around and the woman holding the sign ran toward them. Eliot got down on one knee and held up the very special ring.
"I had wanted to do it in an isolated, secluded area but it just so happened there were tons of people around, so we got a lot of cheers and clapping and yelling after I proposed," he said. "It all worked out."
"When I first saw the ring I thought, I can't believe this is happening!" says Emily. "And then I thought it was the most beautiful ring any girl had ever said yes to. It was a really special moment for us."
The couple will marry next June in Denver. They plan to pop in at Hartley Jewelers later this year while visiting Olympia to pick out their wedding bands.
"It's absolutely incredible how accommodating Hartley Jewelers have been," Emily says. "I feel like they have really gone above and beyond to help both Eliot and I throughout the process."
"I would recommend anyone anywhere go through Hartley Jewelers," he says, "And I actually have." He's suggested Hartley Jewelers to other Denver friends in the market for engagement rings.
Learn more about Hartley Jewelers by visiting www.hartleyjewelers.com.