By Gail Wood

Three years ago,  Lynnette McCarty and her husband opened a private elementary school in Tumwater, fulfilling their dream and giving parents an option to schooling their children.
The school's mission is to ensure each student's success. To fulfill that goal, Serendipity Academy, with its certified and passionate teaching staff, creates a healthy and challenging education environment.
"I think what separates us is that we meet the children right where they are," McCarty said. "As opposed to one singular curriculum. We do what we can to give to the child what's going to make them successful."
McCarty said a benefit to attending Serendipity Academy is the teacher-student ratio. With an enrollment of 60 students, the teacher-student ratio is 15-to-1. Classes are no bigger than 15 students.
In the fifth and sixth grade classes, the teacher-student ratio is even lower. With smaller classes in the fifth and sixth grade, it's about 5-to-1. That allows for more teacher-student interaction, giving students struggling with a problem more access to help.
"We try to meet the level of the kids wherever they are when they come to us," said Emily Walsh, the principal at Serendipity Academy. "And we try to push them as far as we can with their education."
In 2000, Serendipity Academy started with one kindergarten class. Later that summer, Dan and  Lynnette McCarty bought the building that housed the kindergarten class and continued to expand. On Sept. 6, 2011, Serendipity Academy opened, offering classes from kindergarten to sixth grade with a state-approved program. Walsh became the school's principal in February 2013.
A goal of Serendipity Academy is catering student needs with curriculum.
"I've always believed that the public school system works more with the mindset that every child, no matter who they are or where they come from, fits in to the round hole," McCarty said. "If they're a square peg and they don't fit in the round hole, somehow there are gaps and that's what sets us apart."
At Serendipity Academy, it's an educational experience that's aimed at learning by doing and by experiencing.
"We try to learn through projects," said Emily Walsh, the academy's principal. "We have lots of field trips."
In addition to field trips to museums and doing service projects like taking water samples, students at Serendipity Academy also get to hear from experts in their field. It's hands-on learning, or learning by doing.
"They can relate a little better when they've been out in the field and learning things," Walsh said.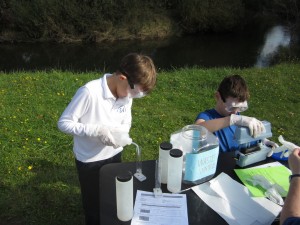 Besides class sizes, another benefit to attending Serendipity Academy is that the school is doing its best to teach every subject. They have music specialist, art specialist, and P.E. specialist.
"We're still trying to keep all that, whereas the public schools a lot of times with all of the testing requirements, a lot of your day is taught teaching reading and math," Walsh said.
And some those other subjects get pushed aside in a public school as the focus and budget is on state testing.
"And the science piece gets left out," Walsh explained. "Or the art piece gets left out. Or the music. All those things help make kids a well-rounded child and have a well-rounded education. Those things sometimes get pushed out unfortunately. We do our best to keep those things in."
At Serendipity Academy, teachers shape their classes and assignments according to their student's needs and abilities. For example, Walsh said if a first grader was capable of doing fourth grade math, then they'd do whatever they could to get that student working at that level.
"So they could really excel and work at the level they're capable," Walsh noted. "We meet them at their needs, at their level."
Conversely, if a second grader is reading at a first-grade level, then that student is assigned reading at the first-grade level.
"We have the ability to do that with our small class sizes," Walsh said. "We have a real collaborative teaching team that is willing to share the knowledge and work together and figure out how we can meet everyone's needs and not just how do I meet my student's needs, but how do I meet all the student's needs."
Another reason Serendipity Academy is attractive to parents thinking about enrolling their child into a private school instead of a public school is the opportunity for their child to develop leadership qualities and talents. The academy has student government. There are elections and input in planning at the school.
"They become the communicator for their class," Walsh said. "And this small group helps make decisions for our school."
Another area Walsh said students can get involved in outside of the classroom is with the Green Team, which works with recycling and compost. That group was also involved in community projects.
"They find out what we can do to help the earth by recycling and by composting," Walsh said.
While Serendipity Academy is a private school, it is not a religious school, explained Walsh.  Instead, academics are their focus.
"That's one reason why parents come to us," Walsh noted. "They might want the private school and not the religious affiliation. That's another thing that sets us apart."
Understanding that education doesn't happen by accident, Walsh said that successful education is a cooperative effort between teacher, administrator, parent and child. In the school's mission statement it says "We celebrate the pursuit of lifelong learning and are committed to nurturing high self-esteem and respect for others. We believe the overall development of the student is fundamental to their success and their future."
McCarty added that an important part to education is keeping the student challenged. A bored student is an indifferent student. Serendipity Academy has a solution to that problem.
"If a child is bored they may end up with negative behavior," McCarty said. "We can challenge them. And when they're challenged the child is happy and learning and growing as a child should."
McCarty has been working with education for 25 years and has owned Serendipity Academy for 21 of the program's 25 years.
"We know what we're doing," McCarty said. "We have great teachers. We have great specialists on board. Every thing we have on board exceeds a public school because we are small in classroom size. We can meet the individual needs."
For more information, go the academy's website at http://www.serendipity-academy.com.