Submitted by Lucky Eagle Casino & Hotel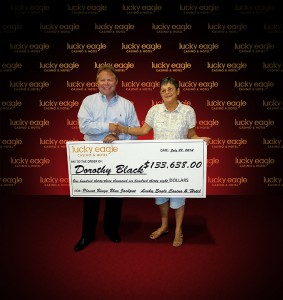 When Dorothy Black of Olympia, Wash., went to Lucky Eagle Casino & Hotel in Rochester, Wash. on July 29 to play Bingo, she was hoping to win big, but she never expected to make history by winning $133,639, the largest bingo jackpot the casino has ever awarded.
Black won the Teeter Totter Bingo game as part of the regular evening Bingo program and what she thought was a nice $300 prize. It wasn't until after a Lucky Eagle Bingo team member looked at her card, that she was informed that she had also won the MPBingo® Blue Jackpot, a multi-progressive Bingo jackpot linked to more than 20 casinos nationwide.
"I thought I had won $300," Black said. "When they told me I had won $133,639, I just freaked."
Word spread quickly and soon everyone in the Bingo Hall was standing and cheering, a feeling Black described as "unreal."
"It's awesome to have one of our own win such a huge regional jackpot," Lucky Eagle CEO John Setterstrom said. "Thanks Dorothy for choosing Lucky Eagle."
Black plays Bingo a couple times a month at Lucky Eagle, traveling from Olympia because she loves the Bingo staff, the games and her fellow Bingo players.
"I love Bingo at Lucky Eagle," she said.
With her winnings, Black is planning a trip to bring her whole family to visit her ill brother whom she hasn't seen in more than 25 years, she said.
"I have other plans (for the money), too, but that's the most important one."
Lucky Eagle Casino & Hotel has live Bingo five days a week, and features among the richest programs in the region. Guests can buy-in for $4 into the MPBingo® jackpots that are featured within several bingo games.
"Everyone who plays Planet Bingo (MPBingo® Jackpot) here hopes of winning," Bingo Manager David Dupuis said. "Winning the Blue jackpot would be like winning the lottery!"
MPBingo® Blue Jackpot is a supplement to regular Bingo program in which players can win large jackpots by getting a special Bingo within regular games. The last MPBingo® Blue Jackpot awarded was in April 2014 for $182,002 to a man playing at Ft. McDowell Casino near Phoenix, Ariz.
Lucky Eagle Casino & Hotel is proudly owned and operated by the Chehalis Tribe. The casino features more than 1,000 slot machines, plus live poker, blackjack, keno and bingo. The newly expanded 171-room Eagles Landing Hotel is connected to the casino. More information on upcoming events and promotions at Lucky Eagle Casino & Hotel is available at www.luckyeagle.com