By Doris Faltys

"Don't buy food from strangers," says Steve Wilcox. "It is a motto I like, though I did not come up with it." Wilcox has put a couple of lawn chairs out in a shady spot near his impressive vegetable garden.  As we enjoy the shade and the garden view, he tells me about his involvement in the beginnings of the Olympia Farmers Market, located in downtown Olympia, and how his business, Sea Blossom Seafoods, got its start.
Wilcox graduated with a degree in Industrial Engineering in 1967 from Lehigh University, Bethleham, PA.  He spent time in Arizona as a VISTA volunteer and eventually came to Olympia in the early 1970s, where he worked primarily as a community organizer and part-time longshoreman.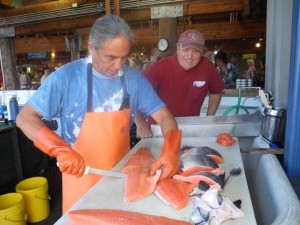 Wilcox expresses a deep love of the farmers market concept as a community-builder, a town focal point. His discussion of his own business, Sea Blossom Seafoods, is inextricably linked to his involvement in and views regarding the Olympia Farmers Market.  He begins our talk with a short history of both.
"In the early 1970s, in Olympia, I helped start the Olympia Food Conspiracy Coop, which consisted of a number of food buying clubs. It was a time when the idea of organically grown food was catching hold in the area. Buying club members were concerned about the quality of their food," he explains.
Around that time, Wilcox continues, a different group of people in Olympia, mostly seniors, were also thinking about food and quality. They were meeting at the Olympia Community Center to discuss the possibility of bringing a farmers market back. These folks remembered the original farmers market.  It used to be held on the site where Capitol Lake Park is now, but had closed sometime in the late 1940s.
The seniors remembered that the waterfront farmers market was the place to go to purchase fresh vegetables, meats, fish, and shellfish. Also, and perhaps just as important, it was a place to visit with friends and gather as a community. It was a place that brought people from many walks of life together and these seniors missed that.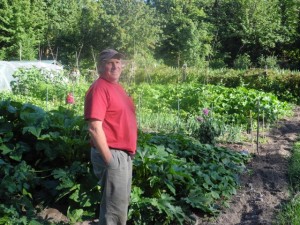 Wilcox attended the market-related meetings. "By this time the Westside Buying Club had reorganized into the present Olympia Food Co-op." Wilcox continues, "Myself and some of the remaining members of the Olympia Food Conspiracy Coop decided to join forces with the seniors group. We changed the name of the Olympia Food Conspiracy Coop to The Farmers Market." Wilcox drew up the corporate papers and in 1975 the Olympia Farmers Market was launched.
"1981 was the year that my wife Laurie and I entered the Farmers Market as vendors. An old friend Frank Sayonc, who owned eight acres in the Nisqually Valley, offered Laurie and I a sharecropping arrangement. His land was good. He had farm equipment, tractors, and the knowledge. Laurie and I began farming with Frank's advice. We grew vegetables to sell at the market. We split the produce with Sayonc 50/50.
"One day, Sayonc asked me if I was interested in selling fish as well," Wilcox continues.  "Sayonc owned a wholesale fruit and produce business known as Nisqually Valley Produce. In the past he had a license to purchase fish from native fisherman, based on growing up in the area. My wife and I took out the license and Frank showed us the business."
"At first, Sayonc brought me two or three fish at a time.  One day, he was not back with the fish before it was time for me to leave for the market. I got set up in my booth. I was expecting Sayonc to arrive with the usual couple of fish, but when he got to the market he began unloading box after box.  Instead of three fish, Sayonc brought 30," Wilcox remembers, selling out within an hour and a half.
"That day was the beginning of Sea Blossom Seafoods," says Wilcox of the defining moment when he and his wife decided to switch from vegetables to fish.  "It was an easy decision. Instead of $50 a day from vegetables, we took in $500."
Wilcox sold vegetables for one year. He has been selling fish for 31 years.  Sea Blossom Seafoods specializes in fresh and smoked salmon.  "Sayonc always said he was on this earth to be the best salmon smoker and he kindly taught me how to smoke fish," says Wilcox.
Today, at the Sea Blossom Seafoods booth, Ross Paddock is filleting a salmon. "This is a king salmon caught in Neah Bay by native Makah fishermen," says Paddock.
"Steve Wilcox taught me how to fillet fish," he adds.  "I met Steve when I was the chef at Seven Gables restaurant. I used to buy fish for the restaurant from Sea Blossom Seafoods."
Paddock has worked for Sea Blossom Seafoods for 12 years. For the last 5 or 6 years he has been buying into the business. "Paddock has about 30% ownership in Sea Blossom Seafoods," comments Wilcox. "He is building a fish processing plant near his home in preparation for moving the business over."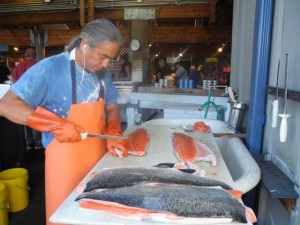 Wilcox can be found at the Sea Blossom Seafoods booth occasionally. He spends most of his time in the business office keeping the books. Paddock is the one who is usually at the booth these days. He fillets the fish for sale and cuts it for smoking.  Barb Chambers, who likes to keep a low profile, has worked retail sales at the booth for 20 years.
When asked about their favorite way to eat salmon, both Paddock and Wilcox say, "smoked."
"Smoked salmon in a cream sauce over pasta is the best," says Wilcox.
"That's the way I made it at the Seven Gables restaurant," adds Paddock.
What is the secret of Sea Blossom Seafoods' and Wilcox's success?   "Find fishermen who take good care of their fish, buy premium, sell premium. It is not the cheapest, but it is the best."
He is the first to recognize that his success is also tied to the success of the Olympia Farmers Market.  Regarding the increase in business over the years, Wilcox says, "The entire year's sales in 1975 were less than what today's market does in the first 10 minutes on any Thursday morning.
"I have a lot of faith in this membership-run structure like we have here at our market. Sometimes things go off course, but there is always a correction.  Our market is somewhat unique in that it is run by the vendors.  Some markets are run by the biggest farm, the person who owns the property, or the city.  The values that I believe have served this organization in the past and will best serve it for the future are to talk out problems and allow conflicting opinions to be voiced."
"The Farmers Market is bigger than the sum of its parts. In this town, people talk about our market the way they talk about their mom and apple pie.  It cuts across politics," Wilcox adds.
Sea Blossom Seafoods is located at the Olympia Farmers Market located in downtown Olympia. More information can be found here.