By Eric Wilson-Edge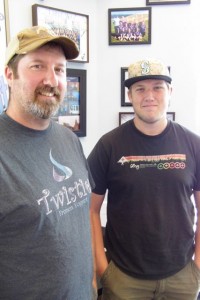 I get a sense that Chad Thomas likes a good challenge. I meet the owner of Twisties Frozen Yogurt at his shop near the intersection of College and Yelm. Thomas is tall, I'm guessing in the neighborhood of 6'5".  He takes a sip from a coffee cup. The mug is bright yellow and has a hand painted soccer ball on the front with the word "coach" sprawled just above.
"I've been self-employed for 15 years," says Thomas. In the back of the store is a small office where Thomas does his other job. He works as an architectural structural draftsman when he's not working the floor at Twisties.
Thomas and his wife Debbie opened Twisties about three years ago. Neither Chad nor Debbie had experience in the yogurt business and so securing a bank loan was difficult. "My wife and I decided we could do it on our own," says Thomas.
The venture quickly turned into a family affair. Chad designed the store while Debbie did the tile work.  Thomas' daughter came up with the name and his son became the unofficial taste tester. "My kids work here as does my wife and niece," says Thomas.  "And my mom used to work here."
Thomas' son comes over to talk with his dad. The younger Thomas wants to know if they have a soccer match today. Dad smiles, sure of what's next. The teen complains about his ankle hurting. He doesn't ask the question but hints at it enthusiastically. Father reminds son that he played a good game the other day on the same bum ankle which, by the way, didn't seem to be bothering him at the moment.
Chad says he tries to instill in his kids the idea of working hard. As a small business owner this philosophy serves him well. Thomas' days start around seven in the morning and end…whenever. "I have to think in my head, 'okay, what's going to happen on Tuesday or what's going to happen on Wednesday.' Every day I'm out having to do something."
The frozen yogurt business has taken off in recent years, inspiring some creative competition. Twisties offers a variety of frozen yogurts including sugar free flavors and sorbets. You'll also find chili, soup and, in the fall, a hot dog bar. Waffle Wednesdays are a bit hit in the winter. If all you want is a cup of fro-yo be sure to add some fresh fruit from Spooner's or some candy. When you're done ask to have your concoction thrown in the blender.
Twisties has a homey feel which you'd expect from a local, family run business. There are the usual tables and chairs but you can also enjoy your frozen treat in the comfort of a plush couch. If you get bored you can watch some TV or use the Wi-Fi to check your email.
Eating at Twisties pays off. Thomas offers a punch card – buy ten and get one free. Thomas also uses the Five Stars Rewards Program.  "It's based off points. Every dollar you spend you get a point.  Thirty points gets you six free ounces, 60 points gets you 12, and so on."
Chad and I talk for the better part of an hour. He gets up regularly to help customers and answer questions from his son. The constant back and forth doesn't seem to bother him. He likes the responsibility.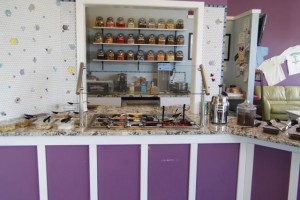 5500 Corporate Center Loop SE
Lacey, WA 98503
360-628-8044
Hours:
Sunday through Thursday from 11:00 a.m. – 9:00 p.m.
Friday and Saturday from 11:00 a.m. – 10:00 p.m.